Nutrition
EVERYTHING ABOUT OMEGA-3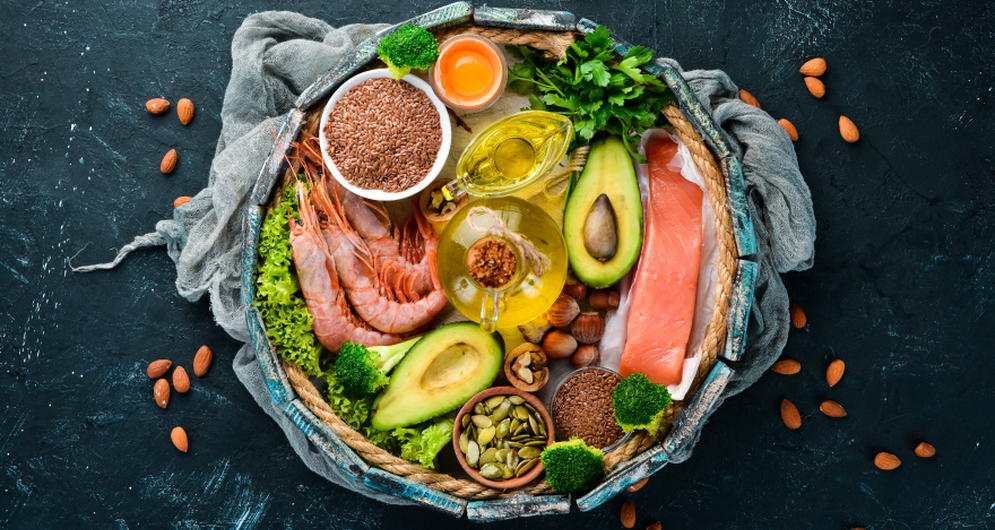 No matter what kind of lifestyle you follow, fats like omega-3 are an essential part of a healthy, balanced diet. They not only add flavour and texture to our foods, but on a molecular level, fats play a significant role in a whole range of functions in our bodies. In particular, we're talking about unsaturated fats, or "healthy fats" (as opposed to the less healthy kind called "saturated" or "trans" fats, which are high in foods like butter, cheese and red meats). Omega-3 falls within this group. Here, we'll look into what omega-3 actually is, its benefits and the foods and omega-3 supplements that can help support your active lifestyle.
WHAT IS OMEGA-3?
The term 'omega-3' refers to a group of essential polyunsaturated fatty acids. Of these, three are vitally important: ALA (alpha-linoleic acid), DHA (docosahexaenoic acid) and EPA (eicosapentaenoic acid). Essential fatty acids are fats that your body cannot make itself, although it needs them to function properly. So, you have to get them from your diet. ALA can be found in plants and vegetable oils like soy, canola and flax. EPA and DHA are found in fatty fish. Ideally, you should include all three in your diet.
WHAT ARE THE BENEFITS OF OMEGA-3?
Just like these 5 vitamins for an active lifestyle, omega-3 fatty acids have a range of important health benefits. In particular, DHA and EPA both:
-          support the maintenance of normal blood triglyceride levels (triglycerides are a type of fat found in the blood — a high level can increase the risk of heart disease).
-          help maintain normal blood pressure.
-          contribute to the normal function of the heart
ALA also contributes to the maintenance of normal blood cholesterol levels.
Additionally, there is continued research into omega-3 fatty acids and its effects on sleep1, eye health2, mood3, inflammation4, brain health5 and more.
WHAT IS THE DIFFERENCE BETWEEN OMEGA-3, 6 & 9?
As we've already mentioned, omega-3 fatty acids are essential polyunsaturated fats. They're essential because your body cannot make them by itself. The 'polyunsaturated' part describes their chemical structure, where:
Poly = many
Unsaturated = double bonds
So, omega-3 fatty acids have many double bonds.
What about 'omega-3'? The tail end of a molecular chain is the 'omega' (the beginning is the 'alpha'). The final double bond of this particular chemical structure sits three carbon atoms away from the omega. Hence the name 'omega-3'.
Omega-6 fatty acids are also essential polyunsaturated fats, yet the last double bond sits six carbon atoms away from the omega. You'll find omega-6 in many plant-based oils such as corn, soybean, and sunflower oil.
Unlike omega-3 and omega-6, omega-9 fatty acids are monounsaturated. This means they only have one double bond. They're located (you guessed it) nine carbon atoms away from the omega but are not considered essential because the body can produce them by itself. One of the most common omega-9 fatty acids is oleic acid. As an unsaturated fat in the diet, oleic acid contributes to the maintenance of normal blood cholesterol levels.
WHAT ARE THE BEST SOURCES OF OMEGA-3?
You can find omega-3 naturally in lots of different foods, including:
-          Fatty fish like salmon, mackerel, sardines, herring, and tuna.
-          Flaxseed*
-          Chia seeds*
-          Walnuts*
-          Soybeans and soy products like tofu and edamame
-          Plant oils (linseed, rapeseed, soybean, canola, flaxseed)
*a great addition to your favourite smoothies, breakfast bows, oats and salads.
HOW MUCH OMEGA-3 SHOULD YOU CONSUME PER DAY? 
The recommended daily intake of omega-3 fatty acids varies depending on age, gender, and general health levels. However, according to the European Food Safety Authority (EFSA), healthy adults should try to maintain a daily intake of 250-500 mg of EPA and DHA6. For specific health conditions, like high triglyceride levels, higher amounts of may be encouraged.
The NHS recommends eating at least one portion (140g) of oily fish each week7.
Although omega-3 supplements can be used to stay on top of your omega-3 intake, it's best get it from your diet first. Always speak with a healthcare provider before starting any new supplement regimen, especially if you have a medical condition or take medication.
WHEN IS THE BEST TIME TO TAKE OMEGA-3 SUPPLEMENTS?
It's generally recommended to take omega 3 supplements with a meal. This way, the body is better able to tolerate them as it is absorbed with other nutrients. So, you can take your omega 3 fish oil tablets or capsules with breakfast, lunch, dinner or a late-night snack before bed.   
WHICH ARE THE BEST OMEGA-3 SUPPLEMENTS?
In general, omega-3 supplements differ in things like dosage, purity, fish oil source, brand reputability, price, and the product's testing and manufacturing process. Our high-quality Body&Fit Omega-3-6-9 capsules provide essential fatty acids from a blend of flaxseed oil, evening primrose oil and omega-3 fish oil. We also stock a range of omega-3 fish oil, krill oil, vegan omega-3, chia and flaxseed products. Our Body&Fit Multi+Omega-3 contains 20+ vitamins, minerals, enzymes and plant extracts alongside 223mg of omega-3 (108mg EPA and 71mg DHA) per tab to support all kinds of active lifestyles.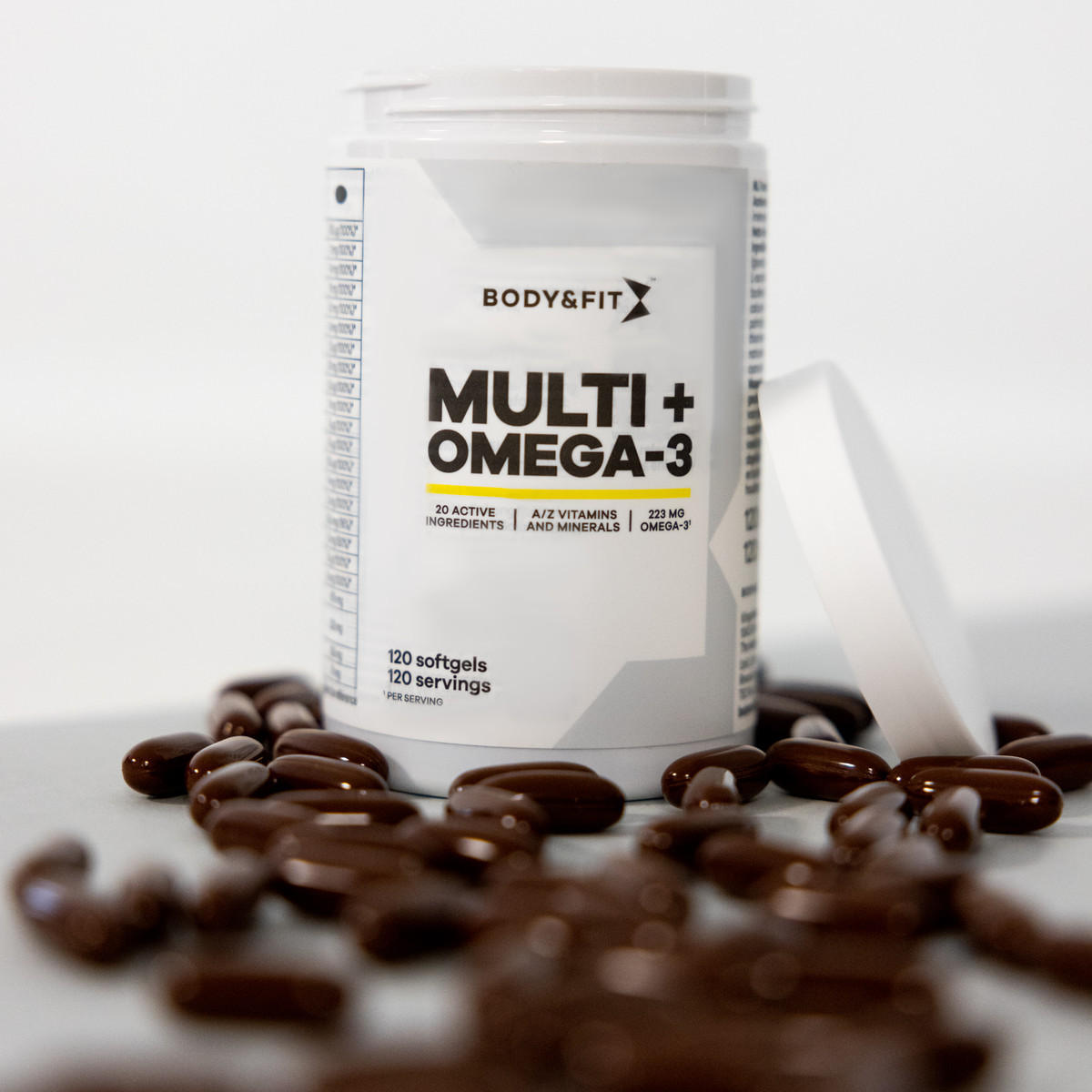 WHAT IS THE DIFFERENCE BETWEEN OMEGA-3 FISH OIL & KRILL OIL?
Omega-3 fish oil and krill oil are both supplements that are rich in omega-3 fatty acids, although there are a few key differences between them. Krill oil is extracted from krill, which are tiny crustaceans found in the ocean. In addition to EPA and DHA, it contains phospholipids, choline and a powerful antioxidant called astaxanthin.
WHICH IS BETTER: OMEGA-3 FISH OIL OR KRILL OIL?
A mainstream supplement for decades, omega-3 fish oil is better studied than krill oil and tends to have a higher level of EPA and DHA. On the other hand, krill oil is thought to be more absorbable by the body8 and have more antioxidant properties due to the presence of astaxanthin. Still, more research into krill oil needs to be done on humans to get a fuller comparison.
Until recently, krill oil was considered a more sustainable option than omega-3 fish oil. However, the boom in krill oil supplements has raised some concerns over the effects of krill harvesting9.
WHAT HAPPENS IF I DON'T GET ENOUGH OMEGA-3?
If you're eating a healthy, well-balanced diet with at least one portion of oily fish per week, your body is most likely getting all the omega-3 it needs. For those who are living a plant-based lifestyle or simply don't eat certain omega-3-rich foods like fish, omega-3 and vegan omega-3 supplements are widely available. In short, an omega-3 deficiency is rare and research into its specific symptoms is still in the early stages. Moreover, there's currently no test to diagnose an omega-3 deficiency. The potential symptoms may include dry, irritated skin, joint pain, depression and dry eyes.
OMEGA-3 OVERVIEW
It's clear that omega-3 fatty acids are essential for our overall health and wellbeing. Particularly DHA and EPA, which play an important role in heart and brain function and the maintenance of normal blood pressure. As we always say, however, it's best to get your intake through food over supplements — oily fish, plant oils, walnuts, chia seeds and flax seeds. If you're not getting enough omega-3 through your diet, omega-3 supplements are widely available. For any further questions surrounding omega-3 and omega-3 supplements, don't hesitate get in touch via Instagram or the customer service channel on our site. Our team of Nutrition Experts are always on hand to help you #FINDYOURFIT.
Sources:
1.      Differential Effects of DHA- and EPA-Rich Oils on Sleep in Healthy Young Adults: A Randomized Controlled Trial - PMC (nih.gov)
2.      Omega-3 Fatty Acids and Eye Health: Opinions and Self-Reported Practice Behaviors of Optometrists in Australia and New Zealand - PMC (nih.gov)
3.      Effect of Long-term Supplementation With Marine Omega-3 Fatty Acids vs Placebo on Risk of Depression or Clinically Relevant Depressive Symptoms and on Change in Mood Scores: A Randomized Clinical Trial - PubMed (nih.gov)
4.      Omega-3 fatty acids in inflammation and autoimmune diseases - PubMed (nih.gov)
5.      Effects of Omega-3 Polyunsaturated Fatty Acids on Brain Functions: A Systematic Review - PMC (nih.gov)
6.      Tolerable Upper Intake Level of EPA, DHA and DPA | EFSA (europa.eu)
7.      Fish and shellfish - NHS (www.nhs.uk)
8.      Absorption rate of krill oil and fish oil in blood and brain of rats - PMC (nih.gov)
9.      Licence to krill: the destructive demand for a 'better' fish oil | Marine life | The Guardian