Desserts
The Body&Fit festive meal: dessert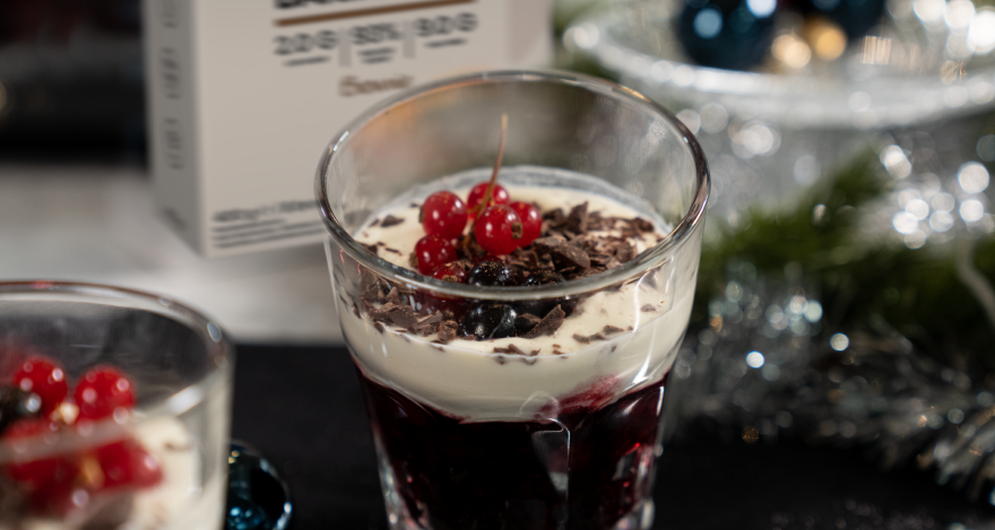 Directions
The festive season is finally here. It's time to take a break from busy schedules and intense fitness routines to relax, have fun and reconnect with the people we love. We all celebrate in our own unique ways, yet there's one thing we're pretty sure everyone looks forward to this time of year — the festive food. Oh yes. In fact, it's so good that it can be easy to let ourselves go, especially after a year of hard work getting after our goals. So, we've put together this delicious festive meal plan to help you celebrate the festive season without losing track. Each course has three versions tailored by our Nutrition Experts to match different goals — healthy, vegan, and bulk.

You've already enjoyed our warm salad of grilled seasonal Brussels sprouts and pancetta starter and a main of stuffed and roasted butternut squash with cranberry sauce. Ready for dessert? Of course you are!

Festive berry trifle

Healthy
Method:
Make the jelly by blooming the gelatine in cold water and blending the fruit with 60ml room temperature water until smooth. Dissolve the gelatine in 60ml of boiling water. Add the blended fruit to the gelatine water, stir, and set in the fridge for at least 4 hours.
Meanwhile, prepare the brownies according to the instructions on the packaging. Don't worry, it's just adding water.
If set in the fridge overnight, the can of coconut cream will have split into liquid and solidified cream. Turn the can upside down, open, drain out the liquid, and scoop out the cream.
Mix the coconut cream together with the Natural Flavouring on high heat for 5 minutes.
Assemble the trifle — form three layers of brownie, jelly, and cream. Top off with shavings of Smart Chocolate. Any extra fruit, these Body&Fit Cacao Nibs or mint leaves work great as well.
Vegan

Give this classic dessert a vegan twist by making your own brownies instead of using our Easy Baking Mix.
Ingredients for vegan alternative to brownies:
Method:
Preheat the oven to 180°C. In a food processer, blend together the red beans, tahini, and agave syrup until smooth.
Add the cacao powder and protein powder and blend again. Lastly, fold in the chocolate chips.
Transfer to a tray and bake for 15 minutes.
Last thing on your list to make this recipe vegan is to replace the gelatine with a plant-based alternative. Agar does the job. It's available in most supermarkets and substitutes gelatine in equal amounts.

Bulk

If you're still thinking of bulking by the time you've reached dessert, we've got you covered. Try adding a scoop of Body&Fit Whey Perfection to the coconut cream. Be sure to mix up the coconut cream without the protein powder first, for about 4 minutes. Once it has loosened up, you can add the powder. Keep in mind that Whey Perfection is already flavoured, so you may want to leave out the Natural Flavouring. When the mixture gets thick, just add in some of the coconut liquid. Our favourite Whey Perfection flavours for this recipe are Vanilla, Toasted Marshmallow, Creamy Coconut, and Red Velvet, but you can give it a go with any you like. Consider adding a fourth layer of sliced bananas to this trifle for even more nutritious calories.
So, there it is — your festive dessert in three different versions to match your healthy eating, vegan, or bulking goals over the holiday season. Don't forget to tell us what you think and share your own special twists on this recipe @bodyandfit_official. After all, it's all about celebrating the festive season your way. We're just here to help you enjoy it to the max while staying on top of your health, fitness & lifestyle goals. Stay tuned for even more recipes, workouts and expert advice, and most importantly have a wonderful festive season and a very merry fitness from everyone at Body&Fit!