Side dish
Vegan protein falafel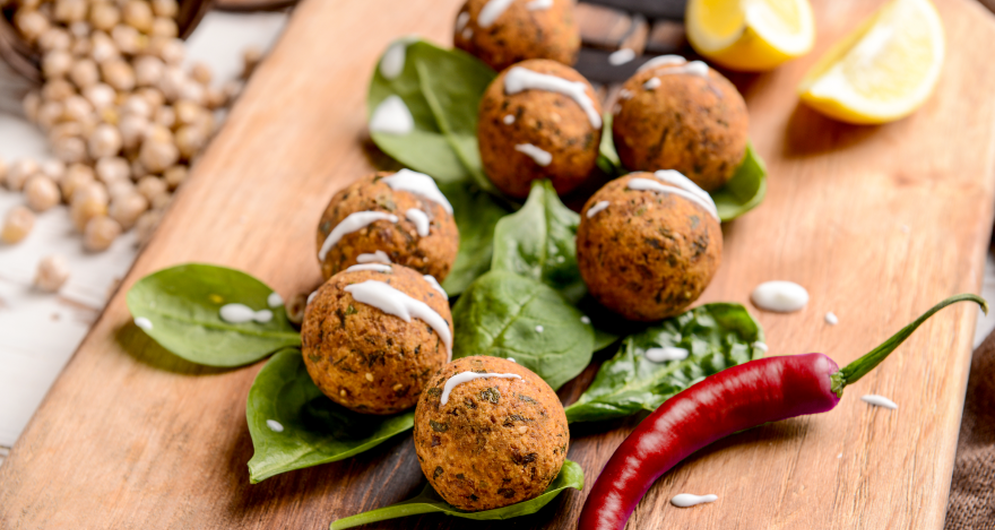 Directions
Falafels are popular with vegans and non-vegans alike, they make a great snack, lunchtime or evening meal. You can combine falafels with loads of different sauces and serve them in a number of ways depending on how you like to eat them. We've all grabbed pre-made falafels when we've been on the go – but why not try to make your own? With this recipe, it's fast, healthy and easier than ever to make your own, and the almond flour will give them an extra protein kick over using a different kind of flour.
Boil the cashew nuts in lightly salted water for 15 minutes. Then place all your ingredients into a food processor and blend for 1-3 minutes.
Scoop out a portion of your mix with a tablespoon and roll it into a ball with your hands. Place on a plate on the side. Repeat this step until all of the mixture is used up.
Heat the sesame oil in a frying pan and fry the balls for about 15 minutes, making sure to turn them regularly to crisp them on all sides. Alternatively, you can drizzle a little oil on and put them into the oven to bake.
If fried, place them onto a kitchen towel to remove excess oil while cooling for 10 minutes. If baked, take them out of the oven and allow them to cool.
Mix all of the sauce ingredients in a bowl.
Serve your falafel balls with a nice fresh salad of choice and sprinkle the vegan yoghurt sauce on top.
TIPS AND TRICKS
We said they were really versatile, so here are some other options to mix them up a little. You can create a green pea protein version of these falafel balls through replacing some or all of the Body&Fit Pure Almond Flour with Body&Fit Pea Protein. You can create a more filling meal and make a sandwich over the salad — use a pita bread then stuff your falafels, salad and sauce inside or wrap them up with a splash of your sauce in a Body&Fit Smart Wrap.