Desserts
Rainbow no-cheesecake (vegan)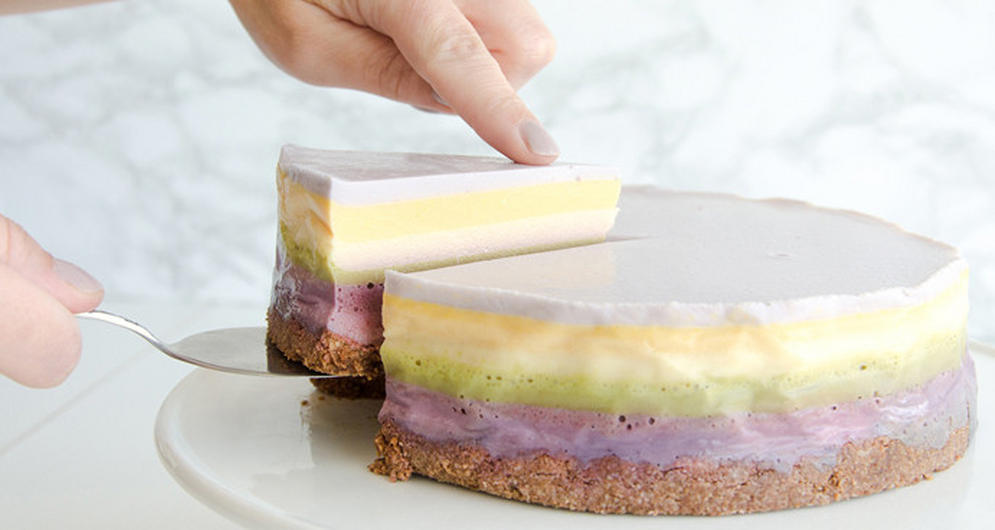 Directions
Surprise your family or friends with this amazing vegan Rainbow cheesecake! We admit, you have to be patient to get this done, but the end result is well worth it. Go shine in the kitchen, choose your favorite rainbow colors and get started!
Bottom
Soak the dates briefly in warm water.
Put the dates in the blender or food processor and grind.
Put all the ingredients for the bottom in a bowl and mix through.
Line the bottom of a baking tin with the dough and press well.
For a more crunchy bottom, bake the bottom in a preheated oven at 180 degrees for 15 minutes. Prefer a raw cheesecake? Then you simply don't bake it.
Filling
Put 100 grams of coconut yogurt in the blender with the fruit in the color you want to start with.
Blend until smooth.
Add some of the coconut blossom syrup to make the filling slightly sweeter. Taste per layer of yoghurt-fruit mixture whether it is sweet enough, some fruits are less sweet and could use a little more syrup.
Put the mixture in a saucepan and add 1 / 6th tsp agar agar. Bring to the boil while stirring well with a whisk.
Remove the pan from the heat and spread the mixture over the bottom of the cheesecake.
Repeat this with all layers at intervals where each colored layer can become stiff in the refrigerator. If you do this too early, the colors will run together.
Let the cheesecake set in the fridge for a few hours and serve.
Tips!
Prefer more protein in the cheesecake? Then add a scoop of Vegan Protein or Whey Perfection (not vegan) to the yogurt.
For a non-vegan version, simply replace the coconut yogurt with low-fat cottage cheese or Greek yogurt 0% fat. Also very tasty!