Dinner
The Body&Fit festive meal: main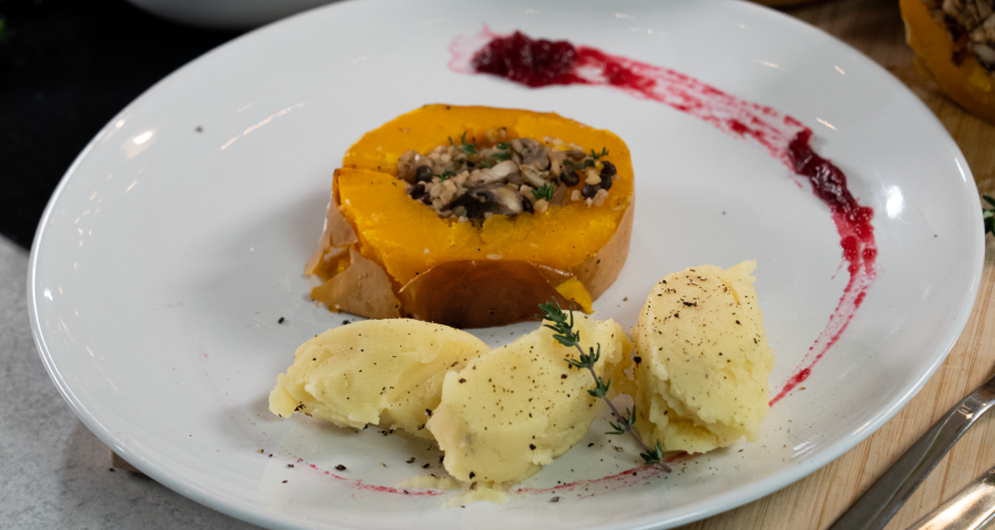 Directions
The festive season is finally here. It's time to take a break from busy schedules and intense fitness routines to relax, have fun and reconnect with the people we love. We all celebrate in our own unique ways, yet there's one thing we're pretty sure everyone looks forward to this time of year — the festive food. Oh yes. In fact, it's so good that it can be easy to let ourselves go, especially after a year of hard work getting after our goals. So, we've put together this delicious festive meal plan to help you celebrate the festive season without losing track. Each course has three versions tailored by our Nutrition Experts to match different goals — healthy, vegan, and bulk.

You've already enjoyed our warm salad of grilled seasonal Brussels sprouts and pancetta starter, so let's move onto the main course, which is a great alternative to the classic roast turkey (although there's no way we could leave out the cranberry sauce!).

Stuffed and roasted butternut squash with cranberry sauce
Healthy

Although it's commonly thought of as a vegetable, butternut squash is actually a fruit. It's great in savoury recipes and is a popular ingredient in warming soups, salads and roasts during the festive season. Butternut squash is rich in nutrients and antioxidants (including vitamin A, vitamin C, magnesium and potassium). It's also low in calories yet packed with filling fibre, making it ideal for supporting weight loss goals.
Method:
Preheat the oven to 170C. Halve the squash and remove the seeds.
Brush the squash with maple syrup and season with salt and pepper. Roast 30-40 minutes until soft, but not fully cooked yet.
For the cranberry sauce, soak the cranberries in lukewarm water for half an hour. Add with 100ml water, the sugar, juice, and zest of an orange to a pot. Leave to simmer until it's reduced to your desired thickness. This will take around 30 minutes.
Meanwhile, heat olive oil in a frying pan, add the onion and garlic until soft. Add the beef for about 5-7 minutes until it browns. Add the mushrooms, parsley, and cinnamon to the pan and finish cooking for a few more minutes.
Stir together the quinoa, beef, and cranberries.
Generously fill up one half of each squash with the filling, cover with the second half and tie up with twine. Glaze again with maple syrup and roast for another 10-15 minutes.
Slice up your roasted squash and serve with cranberry sauce.
Vegan

This recipe is almost vegan as it is, but of course you'll need to swap out the beef. We suggest completing the stuffing of this roasted squash with lentils, beans, rice or a mixture of all three. Alternatively, you can stick to a quinoa and cranberry stuffing and add a side dish, like some vegan mashed potatoes (see below using coconut milk and vegan butter).
Bulk

We're giving you two easy recipes for home-made pesto and a side of mashed potatoes to give this roast a bit more body to help you through your winter bulk. Pesto is rich in calories, protein and unsaturated fats, mostly from the pine nuts and extra virgin olive oil. Potatoes are full of complex, starchy carbs and simple sugars to help give you the energy need to keep lifting big throughout the festive season.
Ingredients for home-made pesto
Clove of garlic
30g pine nuts
50g grated parmesan cheese
30g fresh basil
4tbsp extra virgin olive oil
Salt and pepper to taste
Method:
Add all your ingredients to a food processor, blend until combined. Yes, it really is that easy!
Ingredients for mashed potatoes
1kg potatoes
150ml whole milk
30g unsalted butter
1/4 tsp nutmeg
Salt to taste
Method:
Cut the potatoes into evenly sized chunks. Leaving the skin on is easier, less wasteful and more nutritious. Boil the potatoes into salted water until done. Depending on the size of your potatoes, this will take about 15 minutes.
Meanwhile, heat the milk and melt in the butter. Do not let the milk-butter mixture boil.
Drain the potatoes, mash, and add the milk and butter until combined.
Season to taste with nutmeg and salt.
So, there it is — your festive main in three different versions to match your healthy eating, vegan, or bulking goals over the holiday season. Don't forget to tell us what you think and share your own special twists on this recipe @bodyandfit_official. Stay tuned for our final course — dessert — coming soon to the blog. Most importantly, have a wonderful festive season and a very merry fitness from everyone at Body&Fit!