Dinner
The Body&Fit festive meal: starter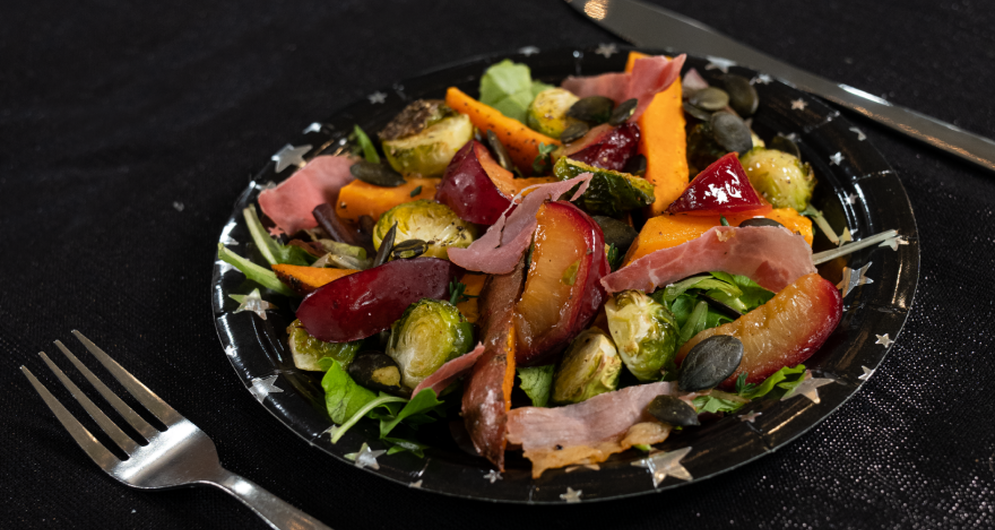 Directions
The festive season is finally here. It's time to take a break from busy schedules and intense fitness routines to relax, have fun and reconnect with the people we love. We all celebrate in our own unique ways, yet there's one thing we're pretty sure everyone looks forward to this time of year — the festive food. Oh yes. In fact, it's so good that it can be easy to let ourselves go, especially after a year of hard work getting after our goals. So, we've put together this delicious festive meal plan to help you celebrate the festive season without losing track. Each course has three versions tailored by our Nutrition Experts to match different goals — healthy, vegan, and bulk.
Let's kick things off with this easy starter, packed with seasonal flavours, that's sure to get everyone in the festive spirit.

Warm salad of grilled seasonal Brussels sprouts and pancetta

Healthy

We're set on making Brussels sprouts the stars of your festive starter. These little green veggies are rich in fibre, antioxidants, minerals and vitamins (especially vitamin K, which is essential for bone health and blood clotting). They're also a classic at the festive table. Paired with sweet potatoes, pancetta, and a fresh dressing, this is healthy Brussels sprouts like you've never tasted before.
Preheat the oven to 180°C.
For the roasted vegetables, mix the sweet potato, Brussels sprouts, peaches, olive oil, thyme, maple syrup, orange juice and zest, salt, and pepper. Roast until golden-brown (25-30 minutes), tossing halfway.
Spray a frying pan with Smart Cooking Spray and fry the pancetta until crisp.
Combine all ingredients for the dressing.
Arrange the lettuce and roasted veggies on a platter. Sprinkle with dressing, pumpkin seeds, pancetta, and any leftover fresh herbs.
Vegan

There're only two simple swaps you need to make this recipe vegan. The obvious one is getting rid of the fried pancetta (see our alternative below). Most vegans also don't feel comfortable eating honey, so you can swap the honey used in the dressing for maple syrup or a few drops of our low sugar Body&Fit Natural Flavouring (lemon or natural will go down a treat). We do recommend maple syrup for roasting the veggies though, as this will help caramelise them for a nice, crispy flavour.

Vegan alternative to pancetta:
Okay, so this won't taste like the real thing, but it will make a tasty, crunchy and smoky vegan topping for your salad.
Method:
Use the same setting on your oven as for the roasted veggies: preheat to 180°C.
Combine all ingredients and lay out on a lined baking tray. Roast until crisp in the oven, tossing from time to time.
Bulk

Giving this recipe an upgrade to support your winter bulk goals is relatively easy, as you can just add calorie and nutrient-rich toppings. These are our suggestions:
So, there it is — your festive starter in three different versions to match your healthy eating, vegan, or bulking goals over the holiday season. Don't forget to tell us what you think and share your own special twists on this recipe @bodyandfit_official. Stay tuned for your main and dessert coming soon to the blog. Most importantly, have a wonderful festive season and a very merry fitness from everyone at Body&Fit!