Dinner
3 poké bowl recipes: fish, meat and vegan
Directions
Once a fisherman's snack, now a foodie sensation, the poké bowl is a delicious mix of fish, rice and vegetables originating from the sunny shores of Hawaii. Not wanting to waste any part of the catch, local fishermen used to cut the leftovers of the fish into small pieces, marinate it and enjoy it as a well-earned snack. The whole world has since become acquainted with the vibrant colours and fresh flavours of the poké bowl. We've put our own spin on this ever-evolving dish in three versions (fish, meat and vegan) to match a range of lifestyles and dietary preferences.  
The poké bowl base 
Instead of normal sushi rice, we use Body&Fit Smart Rice for our poké bowl base. It's made from glucomannan, a vegetable fibre of the konjac plant, and contains no wheat or starch at all. A 200g serving contains only 18 calories (the same portion of regular cooked rice contains around 260 calories).
Smart Rice is an ideal replacement if you're trying to lose weight or want to add more toppings to your bowl.
Ingredients for 1 serving:  
Method: 
Drain the Smart Rice and rinse in a sieve under running water for 20 seconds. 

Boil the Smart Rice for 2 minutes. 

Drain the Smart Rice and add to a non-stick frying pan over medium high heat. Cook the rice so that it loses some of the moisture and dries up a bit (around 5 minutes). 

Put the Smart Rice into a serving bowl. While the Smart Rice is still warm, add the rice vinegar, sugar and salt, stir and leave covered until further use. 
Fish poké bowl 
Let's start with the classic fish poké bowl made with marinated salmon. We make it nice and spicy by using red peppers. If you're not a fan of a little heat, you can simply leave them out. 
Don't be scared by the amount of fat in this recipe. It's mainly coming from healthy sources like fish, avocado and seeds.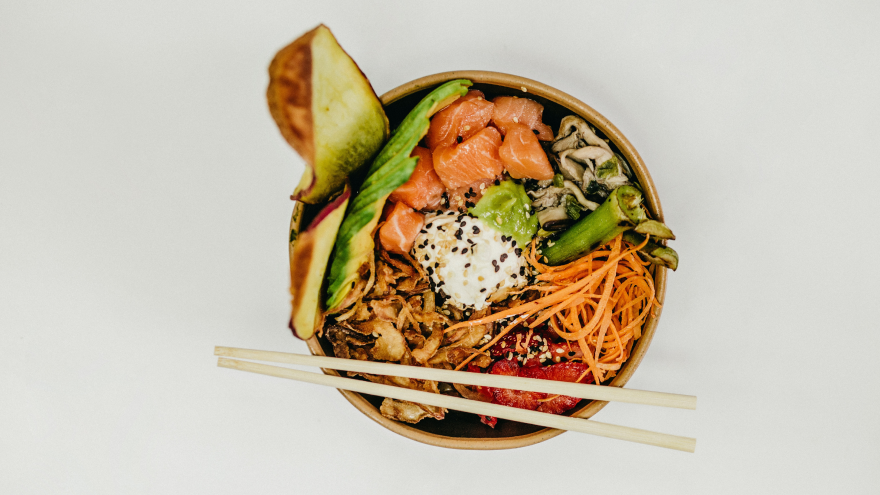 Ingredients for 1 serving: 
1 salmon fillet (approx. 175g), diced 

1/2 avocado, sliced 

1/4 cucumber, diced 

5 radishes, sliced  

1 tsp Body&Fit Omega Seed Mix 

1 tsp rice vinegar 

1 tsp sesame oil 

1 tsp lime juice 

1 tsp honey 

3 tbsp soy sauce 

1/2 red pepper, in rings 

1 serving of Body&Fit Smart Rice 
Method: 
Mix the rice vinegar, sesame oil, lime juice, honey, soy sauce and the red pepper in a bowl. Add the salmon fillet to marinate for at least 30 minutes, or ideally overnight. 

Place the rice base in a bowl and divide the marinated salmon, avocado, cucumber and radish over the rice. Garnish with the Omega Seed Mix. 
Nutritional values per serving: 
Calories: 621 

Protein: 35 

Carbohydrates: 10 

Fat: 49 
Meat poké bowl 
For this poké bowl recipe we switch the traditional fish for crispy chicken with Chinese five-spice. Add some mango and carrot for a fresh, sweet taste and a burst of colour. 
This bowl is packed with protein from the chicken and edamame.
Ingredients for 1 serving: 
1 chicken breast (approx. 200g), cut into thin slices 

100g mango, diced 

100g edamame beans 

50g carrot, julienne cut 

1 tsp five-spice powder 

1/2 tsp salt 

1 tbsp flour 

1 egg, whisked 

3 tbsp panko 

1/2 tbsp sunflower oil
Method: 
Mix the five-spice powder and salt into the flour. 

Coat the slices of chicken breast with the flour, egg and panko. 

Heat the oil in a frying pan over medium heat and cook the chicken until crispy and golden brown. 

Place the rice base in a bowl and divide the crispy chicken, mango, edamame beans and carrots over the rice. 
Nutritional values per serving: 
Calories: 546 

Protein: 66 

Carbohydrates: 30 

Fats: 18 
Vegan poké bowl 
Our vegan poké bowl is loaded with veggies and gets a boost of protein from edamame beans, which contain roughly 18g of protein per 150g portion — ideal for feeding those gains the clean way.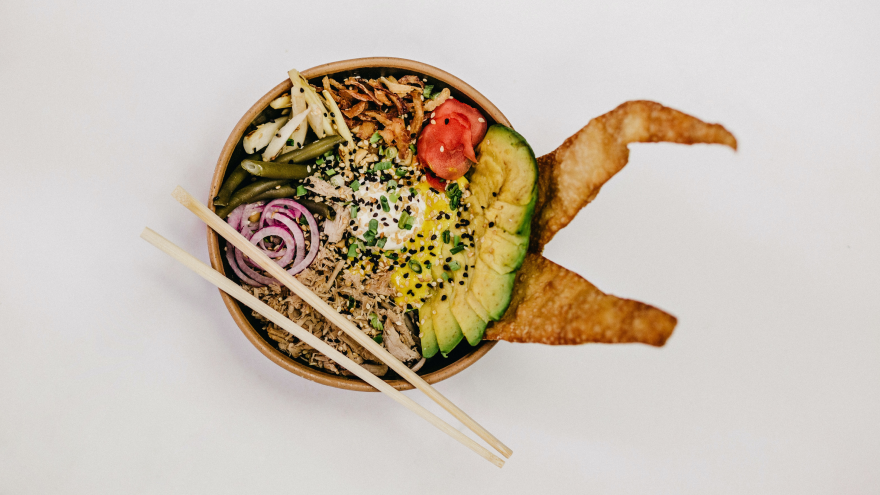 Ingredients for 1 serving: 
1/2 avocado, sliced 

50g edamame beans 

100g broccoli 

1 spring onion, chopped 

1 tbsp finely chopped Body&Fit Pure Macadamia nuts 

50g seaweed salad 

1 sheet of nori, torn into pieces 

2 kimchi 

1/2 tbsp fried onions 

1/4 tbsp olive oil 

Salt and pepper to taste 
Method: 
Heat the olive oil over medium heat in a grill pan. Grill the broccoli until the edges begin to turn brown. Season with salt and pepper. 

Place the rice base in a bowl and divide the avocado, edamame beans, grilled broccoli, seaweed salad, nori and kimchi over the rice. Garnish with the spring onion, macadamia nuts and fried onions. 
Nutritional values per serving: 
Calories: 460 

Proteins: 19 

Carbohydrates: 15 

Fats: 36 
The beauty of the poke bowl? The possibilities are endless! Feel free to make any of these recipes your own by adding even more of your favourite toppings and don't forget to share your creations via @bodyandfit_official. Discover further foodie inspiration on our recipes page alongside expert advice to help you on your unique health & fitness journey.