Stay Healthy
Meet Orville: lifter & basketball fan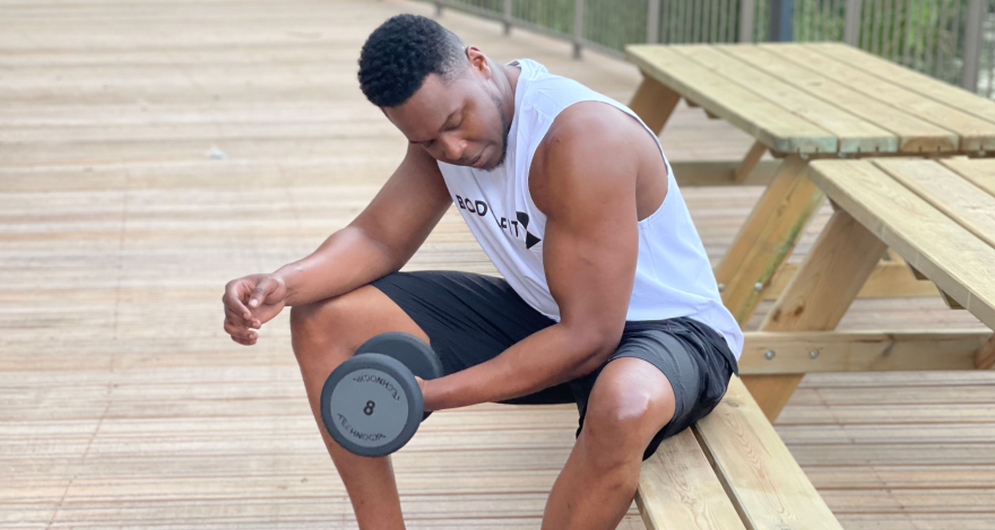 We at Body&Fit are on a mission to inspire the world live a fitter and healthier life. Whatever people are into, for all their personal fitness journeys, we're here for them with the products, expert nutrition and community they need. 'Fit' is not a one size fits all, which is what our recently launched #FINDYOURFIT campaign is all about. So, who better to inspire you than real people who are part of our community, and their own stories of finding their fit. This is Orville; a gym enthusiast, weightlifter and basketball fan from the Netherlands. Visiting the gym, weightlifting and basketball are an important part of his life — and he likes to train with family and friends in his home gym when he can. #FINDYOURESSENTIALFIT.
My fitness journey began trying to 'bulk up' for basketball
"I was born and raised in the Netherlands in a town just outside of Utrecht called Nieuwegein. I was always a confident kid. Never shy. Always the one to loosen up the vibe. Actually, you could even say I was a bit of a loudmouth. I got into basketball from a young age and played centre. If you know anything about basketball, you'll know that this is usually a position played by the strongest, tallest, biggest guy on the team like Shaquille O'Neil or Kareem Abdul-Jabbar. I had a growth spurt when I was a teenager, so I had the height (not always the co-ordination), but I was slim. I needed to bulk up. So, I started weight training and my dad introduced me to protein shakes to help me build size, power and strength. I totally fell in love with lifting weights and eventually it took over from playing basketball, but I'm still a massive fan."
Early inspiration for hitting the gym can come from anywhere
"I remember when I was a bit younger, my dad was close friends with the owner of the gym he was training at. My dad was quite big at that time — really into his weight training. Until he got into a car accident, which stopped him from lifting at that same level. When he used to babysit me (I was between 5-10 years old) he would take me with him to the gym. Those were my first experiences of the gym world. I viewed him as a bodybuilder, but he was a true hard worker outside of the gym too – running his business. I wanted to be like him one day. He inspired me a lot."
Building strength and confidence at the same time
"Still, when it came time to start bulking up for basketball, I was nervous to step foot in a gym. I actually started training at home in my bedroom with the one dumbbell I had. Eventually, I found a gym buddy and built up the courage to go. I saw huge improvements in the first few months and I got more and more into it from there. My first goal was to be able to bench and squat my own bodyweight, but one of the mistakes I made was only working out the glamour muscles — chest, biceps, triceps, etc. I started watching YouTube videos to learn about different exercises, techniques and nutrition and chatted with other people in the gym to get tips. The more I learned, the more I realised how important it is to build a solid foundation. That's when I started to incorporate more compound lifts and exercises into my workout routine, like squats, deadlifts, pull ups etc. I discovered I could bring more muscle groups into my training by doing this, while lifting heavier weights. It's a more effective way to build muscle and strength and you burn more calories. It's really about finding that balance between challenging yourself and being conscious of your body. You have to listen to it, as it'll tell you what does and doesn't feel right. Finding that mind-body connection really helps to achieve better results over time and puts more fun into working out. I quickly became more comfortable in the gym and definitely felt myself becoming stronger both physically and mentally, even though I do sometimes still struggle with shoulder pain from those early days of not training quite right."
Getting into sports and performance nutrition came later
"I got more into the nutrition side of training in my early 20s. I never studied it or anything like that. It was just something I found interesting. I started eating well and trying out different supplements and learning about them with friends. Overall, I'd say health and fitness just became a part of my everyday lifestyle. It gives me more confidence. I feel good in my mind and body. I'm energised. I set myself daily goals and it's satisfying when I achieve them. Also, I think it's good to have some discipline in life. When I was studying communication management in Amsterdam, I lost focus for a while in my training. For me, training is a good way to stay on track and keep my head in the game."
What fitness training means to me today
"Today, one of the things I love is the social aspect of going to the gym. I like to help people out where I can and I enjoy it when others help me. I'm a member of the Gold's Gym in my hometown. For those who don't know, it's a famous chain of gyms that started up in Venice Beach, California. It was where Arnold Schwarzenegger used to train. The one I go to is the only one in the Netherlands, so there's some pretty serious lifters there to learn from. Then I moved to an apartment building with its own gym, which is great because I can invite family and friends over to workout. It doesn't matter what level we're at. We're all still learning and our goals change. It's just a great way to connect, share what we've learned and push each other further towards what we want to achieve. For me, that's what it's all about and the reason I love to train."
A day in the life of our gym enthusiast
"I'm not really too much of a structured guy. I usually get up at around 7am and have a coffee with my own special shake (don't worry, I'll give you the recipe later). I like to listen to podcasts in the morning — US sports, ESPN, basketball — that kind of thing. Then, I start my working day. Most of the time I train at lunch or after work. I don't let it take over my life though. In my spare time, I collect records, so music is a big thing for me when it comes to winding down and relaxing. I obviously love to watch basketball too. I'd say the Knicks have to be my favourite team. I'd love to go see them play in Madison Square Garden, New York, someday."
Orville's Body&Fit Shake:
1 scoop of Body&Fit Just Whey
2 scoops of Body&Fit Ultra-Fine Oats
Oat milk
Water
The Body&Fit ESSENTIAL SERIES products Orville likes to use
I like to use the Body&Fit ESSENTIAL Series because it's got everything you need in one simple range — I can just grab something and go with it. Alongside Protein, Creatine was a big game changer for me in terms of adding size and increasing performance. I also take Body&Fit Multi-Men to keep my immune system in check, as well as Body&Fit Vitamin D.