Supplements
FInd the right Body&Fit protein powder for you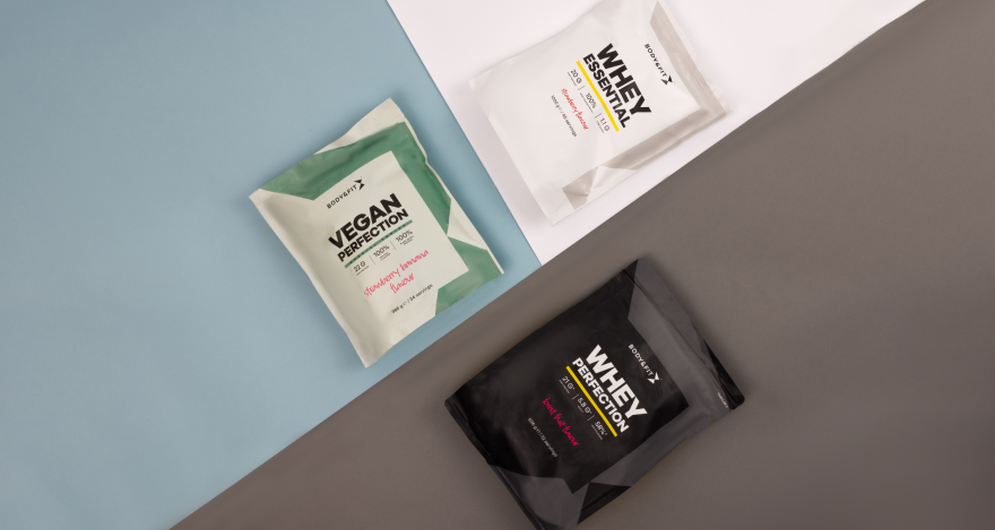 Everyone has their own unique goals, bodies and versions of what 'fit' means to them. From building muscle to losing weight or simple healthy living, we're here to support you with one of the widest and most innovate product ranges around. When it comes to protein powders, it can be difficult to know which to choose, especially if you're just starting out or moving on to new aspirations. To help you, we've put together a list of our most popular protein shakes across all fitness levels, goals and dietary needs, so you can find the right one for you. 
WHAT IS PROTEIN POWDER?
The most commonly used protein powders are made from whey, which is a residual product of the cheese making process. It's later dried and turned into a powder, where different ingredients can be added to arrive at a final product, like vitamins, minerals and cutting-edge formulas. Whey protein contains all nine essential amino acids, which the body can't make by itself but needs for tissue repair, synthesis and other functions. This makes it a complete protein source. Whey protein is commonly used by athletes and gym-goers to support the growth and maintenance of muscle, although it can be used by anyone looking to up their protein intake in a quick, easy and tasty way.   
WHAT IS THE DIFFERENCE BETWEEN WHEY PROTEIN CONCENTRATE, ISOLATE AND HYDROLYSATE?
There are three main types of whey protein: whey protein concentrate, whey protein isolate and hydrolysed whey protein. It's good to understand what the difference is exactly, because it says a lot about the quality and use of the product. In the process of making whey protein supplements, a large part of the carbohydrates and fats are filtered out. The degree to which they are filtered results in the various forms of whey:  
Whey Concentrate typically contains around 70-80% protein and tends to have the best flavour due to the presence of lactose and fat.  

Whey Isolate is filtered to remove most of the carbohydrates and fat and usually contains around 90% protein.  

Whey Hydrolysate is considered 'pre-digested' as it's gone through partial hydrolysis (a process that allows the body to absorb protein). So, it's usually easier to digest than other forms of whey protein.  
For even more information about whey protein, take a look at our Whey Protein 101.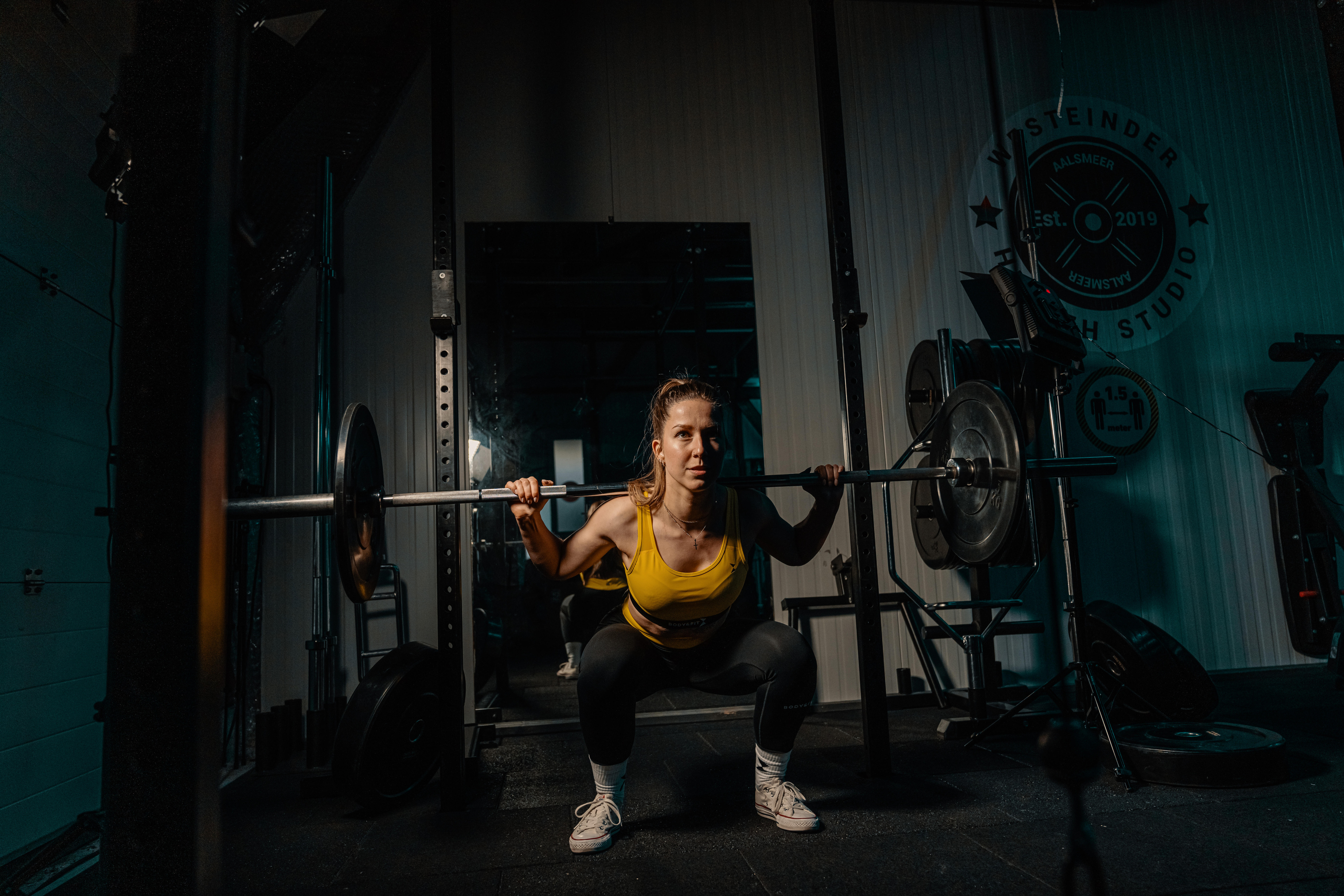 IS PROTEIN POWDER USEFUL? 
Protein is important for everyone, particularly strength training and endurance athletes, as it contributes to the growth, maintenance, and recovery of the muscles. You can find proteins in foods such as legumes, dairy, fish and meat, so it's important to remember that protein powders and shakes are not a replacement for your normal diet. They are, however, an efficient, convenient and easy way to increase your protein intake without unnecessary calories, fats or sugars.  
WHICH PROTEIN SHAKE IS BEST? 
Finding the right protein powder for you simply depends on what you want to achieve. If you're an avid athlete, you'll probably benefit most from a more complex shake that's extra high in protein. For new starters, a simple, entry-level shake will likely be the best choice. If you're trying to lose weight or are paying attention to your calorie intake, then a low-calorie meal replacement shake is ideal.  Alternatively, high-calorie protein powders are great for packing on muscle mass. There's also a whole selection of plant-based protein powders out there that are just as effective and delicious as dairy-based shakes. No matter what your goal or lifestyle, you can always find the right shake for you across our range. Read below to learn more about our protein powders, developed with over 25 years of expertise in the sports nutrition industry.  
WHEY ESSENTIAL, THE PERFECT ENTRY-LEVEL PROTEIN SHAKE 
You don't always need complex and expensive protein blends to get to that next level, especially if you're just getting started on your health & fitness journey. Whey Essential is a versatile and effective protein powder made for anyone looking to introduce protein to their routine. It's made using only whey protein concentrate, making it a simple yet effective way to support the growth and maintenance of muscles. One shake contains 18-21 grams of protein and just 93-102 calories. Check out our Whey Essential blog to learn all about this delicious protein powder and discover all the unique and surprising ways you can use it in 5 ways to use Whey Essential.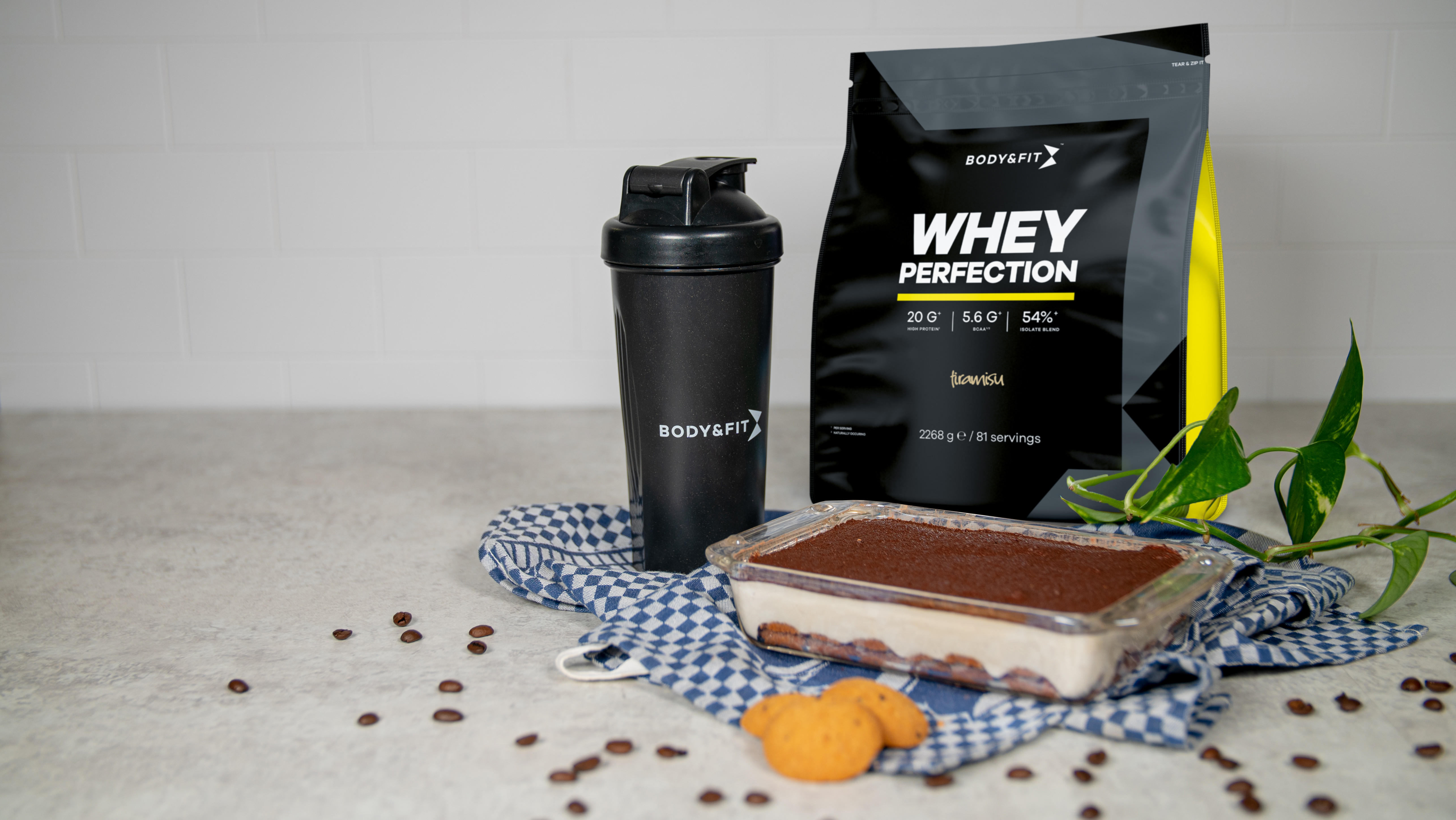 WHEY PERFECTION, OUR BESTSELLING PROTEIN POWDER 
Our most well-known and beloved protein shake is a blend of whey protein isolate, concentrate and hydrolysate. Each low fat, low sugar shake delivers 20-23 grams of protein and has only 100-103 calories, so it's great for fuelling those gains after a hard workout. On top of all that, you get 5 grams of naturally occurring BCAAs per serving. You really can't go wrong with this one, even in the kitchen. Try these high protein waffles made with Whey Perfection stroopwafel flavour — heavenly! 
WHEY PERFECTION SPECIAL SERIES, NATURALLY SWEETENED AND FLAVOURED 
Whey Perfection Special Series is like Whey Perfection, yet it's 100% free of artificial additives. It's also naturally flavoured and sweetened (with steviol glycosides from the leaves of the Stevia plant). You'll get no less than 22-23 grams of protein per shake from a blend of whey protein isolate and concentrate, and there's only 104-108 calories — great for supporting all kinds of active lifestyles. 
Tip: many of our other protein powders are also available in 'natural' flavour, which also has no artificial sweeteners or flavourings at all.  
ISOLATE PERFECTION, PROTEIN FOR THE SERIOUS ATHLETE 
The name says it all: as a protein source, we've only used whey protein isolate for this next-level product. During processing, the natural structure of the proteins is not damaged by heating, which means they can really work to their full potential. One shake gives you 22-24 grams of protein and has just 97-99 calories, plus it's lower in fats and sugars than the shakes mentioned above. If you take your protein intake seriously, this is the powder for you. 
WHEY ISOLATE XP, OUR PUREST PROTEIN POWDER 
The proteins we use when crafting Whey Isolate XP are naturally filtered under low pressure and temperature, so that their structure and functionality remains optimal. One shake contains a whopping 24-25 grams of protein, has no added sugars, is fat-free and contains 101-102 calories. This product is great for supporting the growth of muscle mass and contributes to the recovery of muscles after those intense training sessions.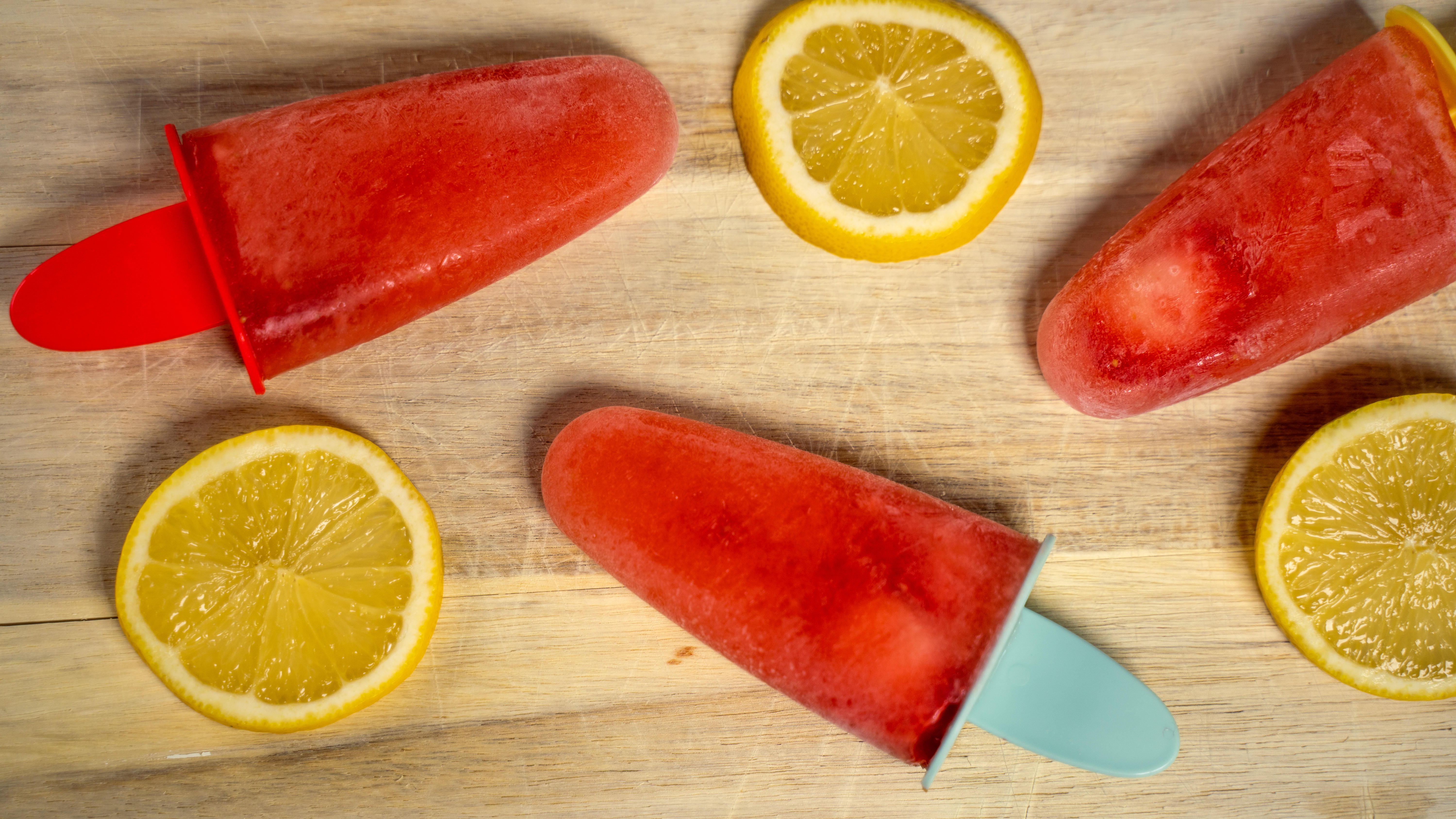 JUICY WHEY ISOLATE, A REFRESHING PROTEIN SHAKE 
If you find regular protein shakes a little too thick or heavy, our Juicy Whey Isolate is a great addition to your kitchen cupboard. It's a high-quality shake with a light, refreshing, juicy taste (more like a low-sugar lemonade than a classic protein shake) and 19-21 grams of whey protein isolate per serving. Juicy Whey Isolate is wonderfully thirst quenching in the summer and perfect for making protein popsicles. Each serving has between 88 and 90 calories. 
MICELLAR CASEIN PERFECTION, SLOW-RELEASE PROTEIN 
Casein protein is another form of protein commonly found in cow's milk, yogurt and cheese. It's a complete protein that has a slow rate of digestion (taking roughly six to seven hours to digest fully), providing the muscles with a steady supply of amino acids over an extended period. Micellar casein is considered the gold standard of casein protein powder. Ours offers 18-21 grams of micellar casein protein per shake and has only 90-93 calories. It's usually recommended to take casein protein before bed to support muscle growth and recovery while you sleep. You can also take it a few hours before working out to provide the body with a steady supply of amino acids during your session. Casein protein also lends itself well to tasty recipes like this funky protein fluff.   
MICELLAR CASEIN PERFECTION SPECIAL SERIES, NATURALLY SWEETENED AND FLAVOURED 
Just like Whey Perfection Special Series, Micellar Casein Perfection Special Series has no artificial sweeteners or flavourings. It delivers 22-23 grams of protein per shake to support the growth and maintenance of your muscles and contains 105 calories per shake — perfect for those looking for a more natural approach to their protein supplements.  
SMART PROTEIN, WITH ADDED VITAMINS AND MINERALS 
Smart Protein is a top-notch protein powder featuring an added a blend of vitamins and minerals, including vitamin B12 to help reduce tiredness and fatigue. It also includes choline, which has been scientifically proven to contribute to normal lipid metabolism and normal liver function. With 18 grams of protein and only 80-99 calories per shake, this protein powder is ideal if you're trying to lose weight while maintaining muscle mass.  
LOW CALORIE MEAL, A COMPLETE MEAL REPLACEMENT 
Unlike our other protein powders, Low Calorie Meal is a complete meal replacement for weight loss*. It consists of 36% protein and contains at least 30% of the recommended daily allowance of vitamins and minerals (from A to Z). Low Calorie Meal is a great replacement for your breakfast, lunch or dinner, providing 22 grams of protein and 219-221 calories per shake. Want to know more about losing weight? Discover how you can do in the healthiest way with online coach, personal trainer and Body&Fit ambassador, Shelly Wubbe. 
HIGH PROTEIN BREAKFAST, AN EASY MORNING SHAKE 
No time to have breakfast? It happens to the best of us. High Protein Breakfast gives you a full, fibre-rich meal in no time (22 grams of protein and 208-210 calories), which you can easily take with you on the go. It's made with whey protein concentrate, oat flour, and an extensive blend of vitamins and minerals. When you do have chance to enjoy yourself in the kitchen, don't forget to check out our recipes page, where you'll find lots of healthy inspiration, like this delicious chocolate oatmeal with peanut butter. 
MASS PERFECTION, PERFECT FOR YOUR BULK 
Many fitness fanatics go through periods where they consume a higher calorie intake to build more weight and muscle. In other words, they're bulking (read our beginner's guide to bulking for more information on building muscle mass). It can be quite a challenge to get those extra calories in a consistent way, which is where Mass Perfection comes in handy. Unlike a normal protein shake, a so-called "weight gainer" contains a blend of proteins and carbohydrates. Mass Perfection contains various forms of whey protein, oat flour and whole grain rice flour. Despite the calories and carbohydrates, it's also low in fat and sugar. All in all, you get 19-20 grams of protein and 230-235 calories per shake to help you pack on that mass.  
Tip: see a weight gainer as a supplement to your normal diet, not as a replacement. This way you can ensure that you'll get the extra calories you need. 
MASSIVE GAINER, THE ULTIMATE WEIGHT GAINER 
Massive Gainer contains even more calories than Mass Perfection and has a larger portion size. You'll end up with, hold on… 50-53 grams of protein and 1079-1087 calories per shake. In addition, we've added a blend of vitamins and minerals, including vitamin D and calcium, both of which contribute to normal muscle function.  
CLEAN GAINS, NATURALLY SWEETENED AND FLAVOURED 
Our third weight gainer is Clean Gains, which is specially made for those who prefer not to consume artificial sweeteners or flavourings. It has everything else you can expect from a weight gainer: 37 grams of protein, 351-352 calories per shake and an added blend of vitamins and minerals to support your bulk and help you hit those targets. 
VEGAN PROTEIN, OUR PREMIUM PLANT-BASED PROTEIN POWDER
Vegan Protein combines pea protein isolate, hydrolysed pea protein, fava bean protein, pumpkin seed protein and watermelon seed protein. Packed with at least 20g of protein per serving and completely sugar-free, it's ideal for athletes and passionate gym-goers looking for an equally effective and delicious alternative to dairy-based shakes. It also contains an added blend of essential vitamins, minerals and DigeZyme® (a unique multi-enzyme complex), going above and beyond to help your body perform at its absolute best. This innovative formulation is matched with an incredibly smooth taste and selection of luxurious flavours (116-121 calories per serving). Find out more about Vegan Protein right here and discover how you can feed your goals with the power of plants.  
VEGAN PERFECTION SPECIAL SERIES, PLANT-BASED PERFECTION
Vegan Perfection Special Series is a blend of rice and pea protein that together provides 22 grams of protein per shake. Just like our other 'special series' protein powders, it has no artificial sweeteners or flavourings. At only 116-119 calories per serving, it makes a great addition to your morning smoothie bowls and sweet vegan treats.  
JUICY VEGAN PROTEIN, A REFRESHING PLANT-BASED PROTEIN SHAKE
A deliciously light and refreshing shake that'll really put you in that summer mood, Juicy Vegan Protein delivers 10 grams of protein alongside added vitamins C and B6. It comes in a range of summery flavours and with only 54-55 calories per serving, it's great for adding to your cocktails, mocktails and popsicles. If you want to maintain those gains the vegan way while adding some fresh fun to your protein routine, then this is the one for you.  
SOY PROTEIN ISOLATE, SIMPLE BUT EFFECTIVE
Soy protein is a lean and lactose-free protein sourced from soybeans. It's one of just a few complete plant-based proteins (along with quinoa, hemp seed, amaranth and chia). Soy Protein Isolate contains 24-26 grams of protein per shake, so it's great for those wanting to build muscle or increase their protein intake while living an active vegetarian or vegan lifestyle. A high-quality soy protein powder like this is just as effective as whey or casein and tastes just as good, too. For non-vegans, it can be an ideal alternative to dairy-based shakes, especially for those who are lactose intolerant or struggle with digestive issues. For more information about soy as a protein source, check out our post: 8 of the best vegan protein sources.  
Summarised 
The table below summarizes the most important properties of our protein powders: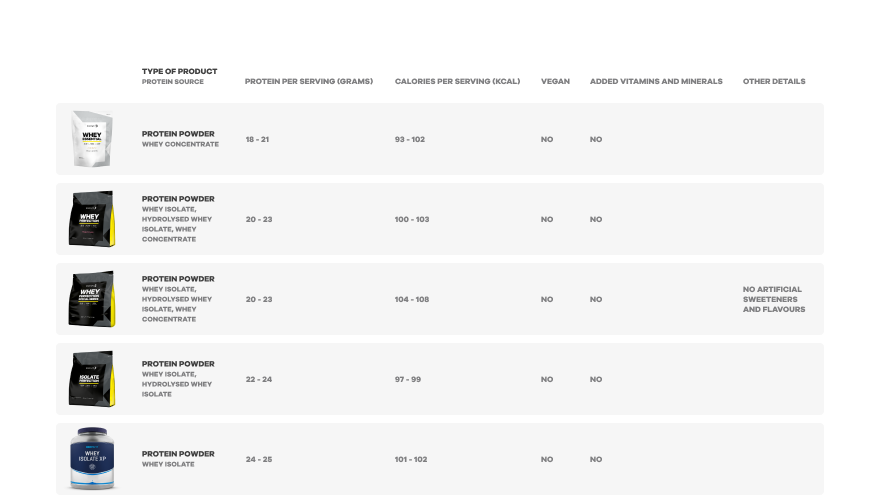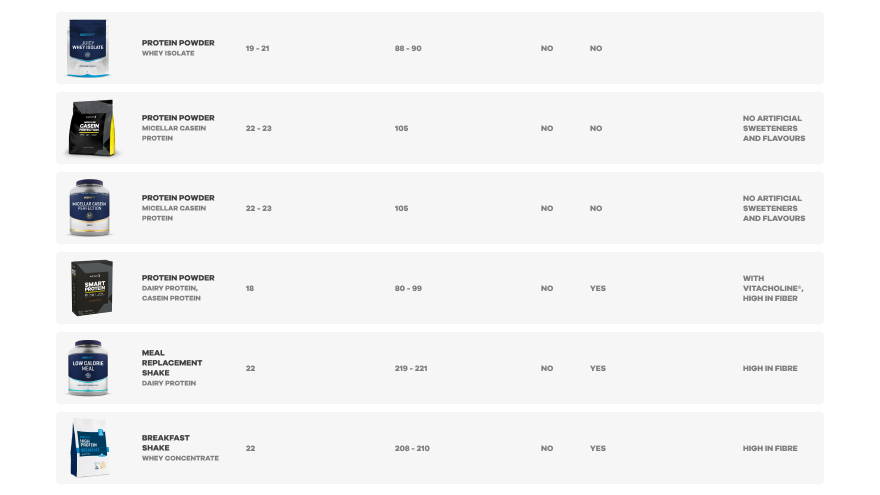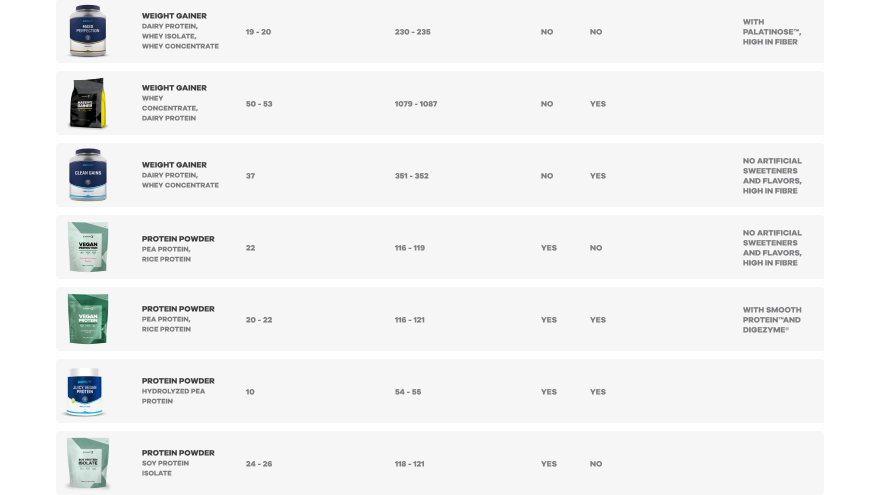 If you're still struggling to choose or have some questions, don't hesitate to get in touch with our team of Nutrition Experts via our customer service channels. They're always happy to help you #FINDYOURFIT.