Desserts
The best high-protein waffle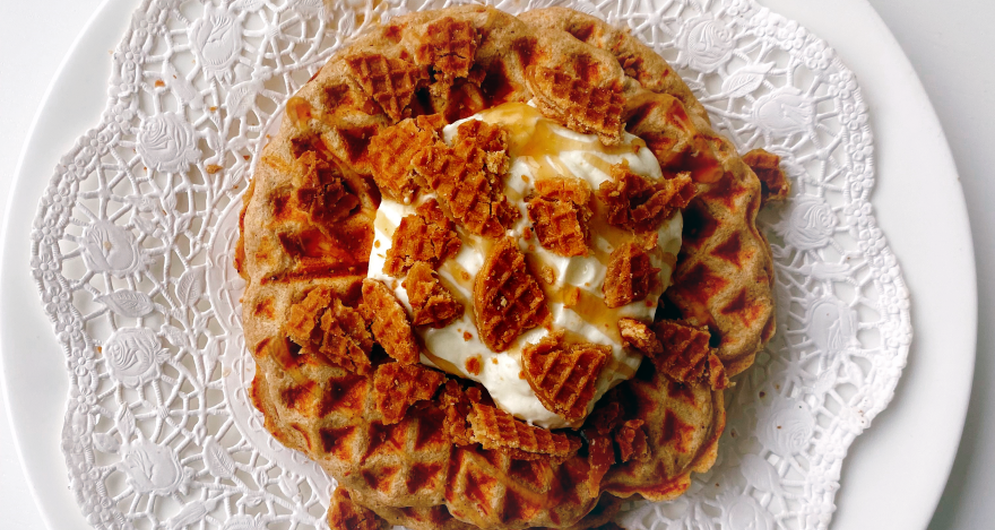 Directions
March 25th is coming up... If you don't have a birthday, anniversary or anything else to celebrate, don't worry, we're giving you the perfect reason to throw a party. The 25th of March happens to be international waffle day and this year we're giving it a Dutch twist to take you to our roots. We're excited to introduce you to the stroopwafel: a delicious wafer waffle filled with gooey caramel. It's so delicious that we made it a Whey Perfection flavour, and we couldn't help but use it in our waffle recipe dedicated to this special day.

In a large bowl, mix all ingredients with a blender or food processor.
Whisk the batter until light and semi fluffy.
Spray your preheated waffle iron with Smart Cooking Spray. Ladle in some batter. Cook until golden brown.
Top your waffles with yoghurt, Smart Sauce Caramel, and the stroopwafel.
Tips & Tricks
For a golden-brown waffle, make sure both your waffle iron and cooking oil are properly heated before scooping in the batter.
Clean your iron in-between waffles to prevent burnt bits and sticking.
If you're planning on celebrating international waffle day in style, experiment with different Natural Flavourings and Whey Perfection flavours to make the waffles to your own taste.
Our Natural Peanut Butter, Pure Ground Coconut, and Superfood and Nuts Mix also make great toppings.
Follow us @bodyandfit_official for more recipes and be sure to tag us to show us your results!