Stay Healthy
Bars 101: find the right Body&Fit protein bar for you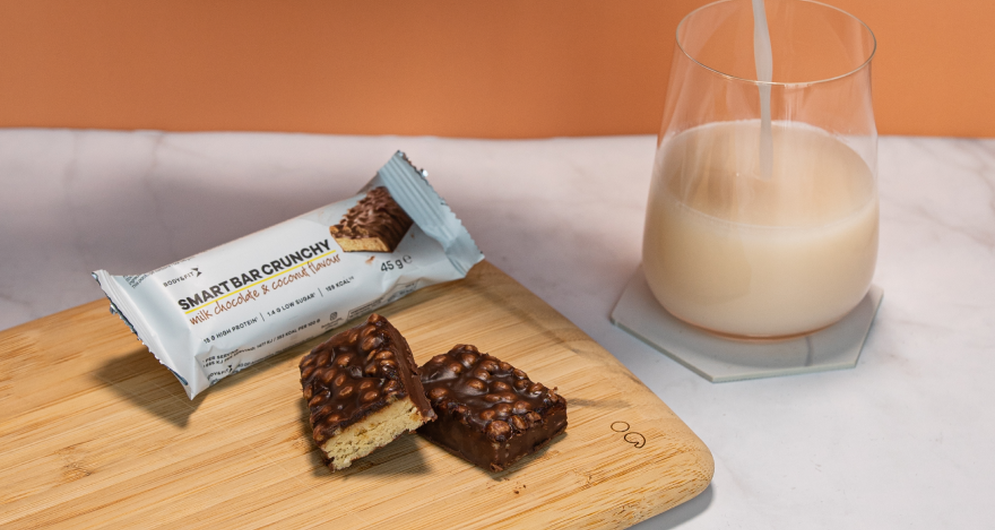 Are you looking for a convenient and tasty way to boost your protein intake? Then there is no better option than a protein bar. Protein bars are compact and easy, making them the perfect snack for any occasion. On the go and feeling hungry? Need a little pick me up at the office? An energy boost before or after your workout? A yummy protein bar is always a practical and satisfying option for anyone looking to maintain their fitness goals without missing out on flavour. That's why we at Body&Fit love our Protein bars and are here to give you an overview of our complete selection to help you choose the one that's right for you. And be sure, we set the bar high.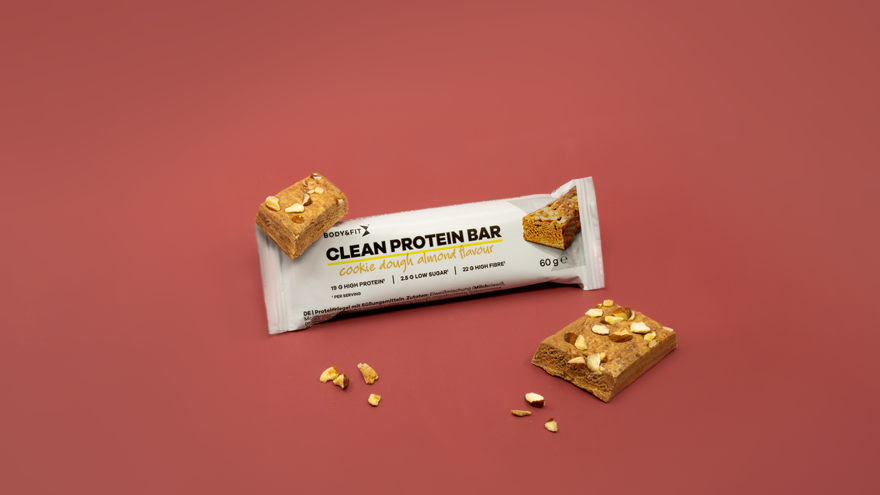 CLEAN PROTEIN BAR     
If you're in a cutting phase or just trying to eat cleaner — look no further. Our Clean Protein Bar has 94% less carbohydrates than a standard chocolate bar. With an average of 182 calories and 20 grams of protein per bar, it provides the necessary nutrients to keep you feeling full and energised throughout the day. Available in nine fun flavours such as blueberry yoghurt or choco coco. 
SMART BAR  
This one's a real all-rounder — 15-18 grams of protein, only 154 calories per bar, high in fibre and low in sugar. Our Smart Bar has it all. Available in six delicious flavours such as coconut or vanilla almond.  
SMART BAR CRUNCHY   
Introducing the Smart Bar Crunchy: our smartest bar but with that extra crunch and extra funky flavours such as Coffee & Dark Chocolate or White Chocolate & Cookies. With only 158 calories and 15-18 grams of protein per bar, it's definitely a smart one.  
VEGAN PROTEIN BAR  
Of course, we couldn't forget about our plant-based fitness enthusiasts. So, if you are eating vegan or are curious about trying out a more plant-based diet, you have to check out our Vegan Protein Bar. Fuel your body with 20 grams of plant-powered protein in three finger-licking flavours - Cookie Dough, Banana Chocolate, and Salted Caramel.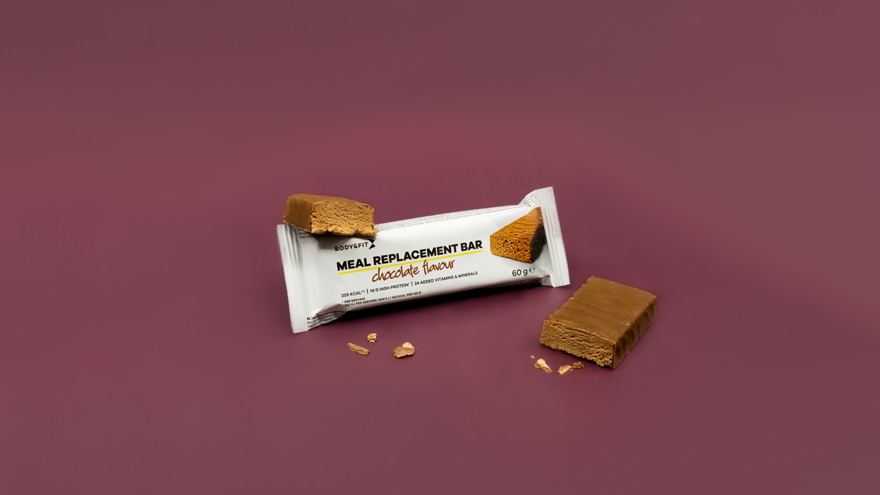 MEAL REPLACEMENT BAR  
If you want to lose some weight and are struggling to reduce your calorie intake, our Meal Replacement Bar is a great low-calorie option to rely on if you are craving a sweet sugary snack but don't want to compromise your diet. And who said that clean eating can't be tasty too? We are here to prove that you can have it all. Choose from three delicious flavours at 15 grams of protein and only around 205 calories per bar. 
PRO BAR  
If you are looking to build muscle or are in need of an extra protein-boost, make sure to get a look at our most protein-packed bar — the Pro Bar. You are in for a full 25 grams of protein per bar for those extra gains.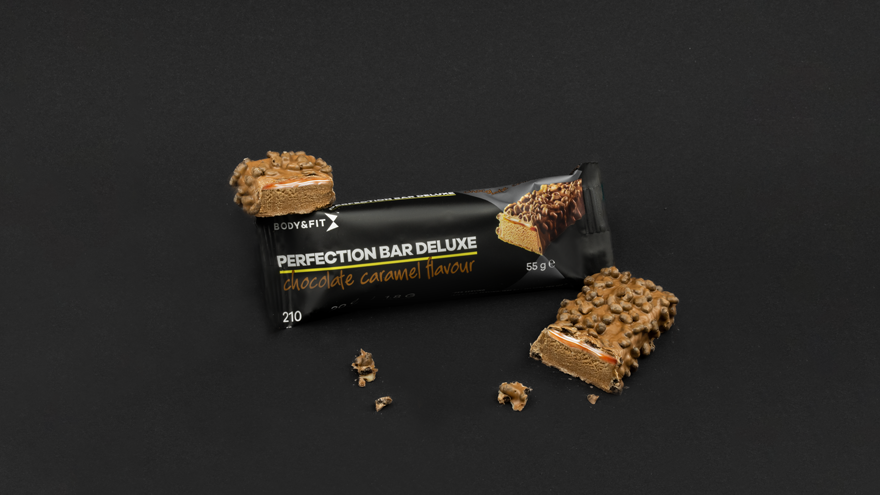 PERFECTION BAR DELUXE  
The name says it all. Our Perfection Bar Deluxe is a real treat for your taste buds and your muscles. A double layered dream of chocolate and caramel with a whopping 20 grams of protein per bar. Now available in 4 different flavours. Our favourite? Cookie dough & caramel! Why choose between a healthy snack or a chocolatey dessert if you can have both, right? 
PERFECTION BAR CRUNCHY  
If you like your bars with an extra crunch, you need to give our Perfection Bar Crunchy a go. Available in Chocolate Toffee or Milk Chocolate Cookie. Sounds like we are describing a candy bar? Well, believe it or not, this tasty bar is low in sugar, high in crunch and contains a whole 20 grams of protein per bar.   
Now that was a lot of information about protein bars. If you need a quick rundown of our bars and what they can do for you, we've summarised all the essential information for you one more time: 
| Bar | Protein | Kcal* |
| --- | --- | --- |
| Clean Protein Bar | 20g | 182 |
| Smart Bar | 15g | 154 |
| Smart Bar Crunchy | 15g | 215 |
| Meal Replacement Bar | 14g | 205 |
| Vegan Protein Bar | 20g | 184 |
| Pro Bar | 25g | 180 |
| Perfection Bar Deluxe | 20g | 205 |
| Perfection Bar Crunchy | 20g | 215 |
*can slightly vary per flavour  
Are there other ways to boost my Protein intake? 
As you can probably tell, we at Body&Fit love our protein bars, but of course they are not the only way to conveniently get your protein in. If you want to switch it up once in a while and are curious about other delicious protein packed snacks, check out these 16 delicious and healthy snacks for every moment. 
For now, get in touch with us @bodyandfit_official and let us know which protein bar you'll try first. If you have any further questions about our protein bars or any other products, feel free to get in touch with our team of Nutrition Experts. As always, we are here to support your health & fitness journey every step of the way and help you #FINDYOURFIT.