Desserts
Low-Cal Cinnamon Buns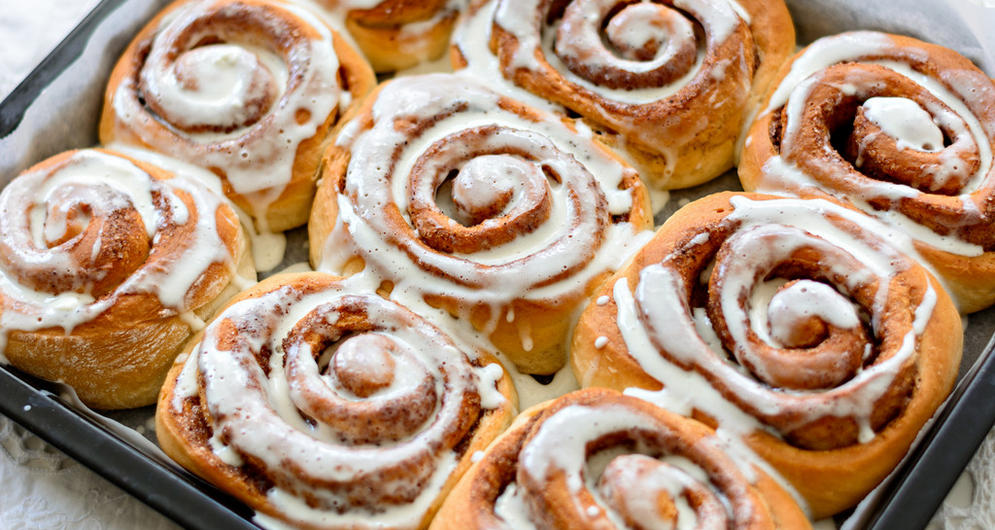 Directions
Enjoy these little swirls of heaven with a hot cup of coffee to get you through those cold winter afternoons without losing track of your health & fitness goals.
Gently warm the almond milk in a pan or microwave. Then, in a bowl, mix the warm almond milk, No Sugar and sifted yeast. Let this rise for 5 about minutes.

Meanwhile, in a large bowl, mix the coconut oil, egg, Natural Flavouring and pumpkin puree until a smooth mixture forms. Add the pumpkin puree mixture to the almond milk, No Sugar and yeast, and mix thoroughly. Finally, mix in the wholemeal flour and spices until a firm dough forms. Knead the dough by hand, or add it to a mixer for 3-5 minutes until you have a smooth, elastic dough.

Shape the dough into a ball and place it in a greased bowl. Cover the bowl with a tea towel and let it rise in the fridge for about 1-2 hours until it's roughly double in size.

Then, place the dough on a floured board and roll it out with a rolling pin to form a 35x40cm square. Spray some Smart Cooking Spray onto the dough and sprinkle it with cinnamon, No Sugar and pumpkin spice. Roll up the dough and cut into 12 equal spirals. Place them on a baking tray and let rise for another 30 minutes. Meanwhile, preheat the oven to 180 degrees.

Bake the rolls in the oven for 20-30 minutes until they're golden brown and a delicious smell fills your kitchen.

Mix the No Sugar, Natural Flavouring and almond milk to make a smooth icing. When the cinnamon rolls come out of the oven, let them cool off a little before drizzling a layer of glaze over the top.

These tasty treats are best enjoyed warm (as if you needed telling that!).
Tip: save this recipe for later on Instagram.