Snacks
Protein quark bread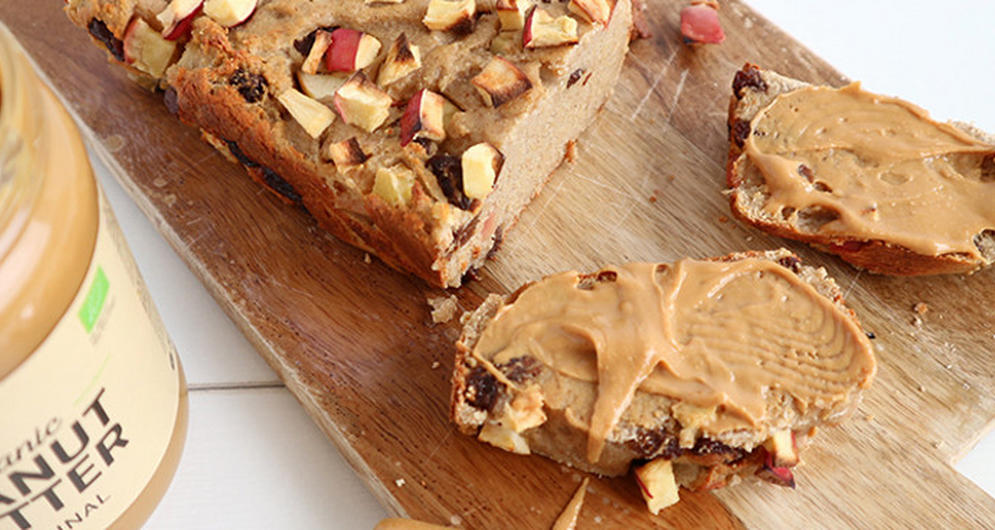 Directions
We all know banana bread by now, but have you ever made a delicious snack bread with quark? Quark bread has a wonderfully creamy taste and contains extra proteins that occur naturally in quark. Due to the subtle taste you can add any kind of fruit, nuts, seeds, dried fruit or other flavourings. This way you can easily fine tune this recipe to your favorite flavors.
Preparation method
Put the quark together with the egg in a bowl and stir well with a whisk.
Add the Whey Perfection, Ultra Fine Oats, baking powder and cinnamon.
Stir well until a solid batter is formed. If the batter is too thick to mix, add a splash of milk or water.
Add the Natural Flavoring, raisins and half of the apple and mix together.
Line a baking tin with parchment paper and pour the quark mixture into the baking tin.
Divide the remaining apple over the batter in the baking pan.
Bake the quark bread for 30-45 minutes in the middle of the oven at 220 degrees.
Cut into slices and serve with peanutbutter if desired.