Lifestyle
Healthy picnic food: ideas, recipes & snacks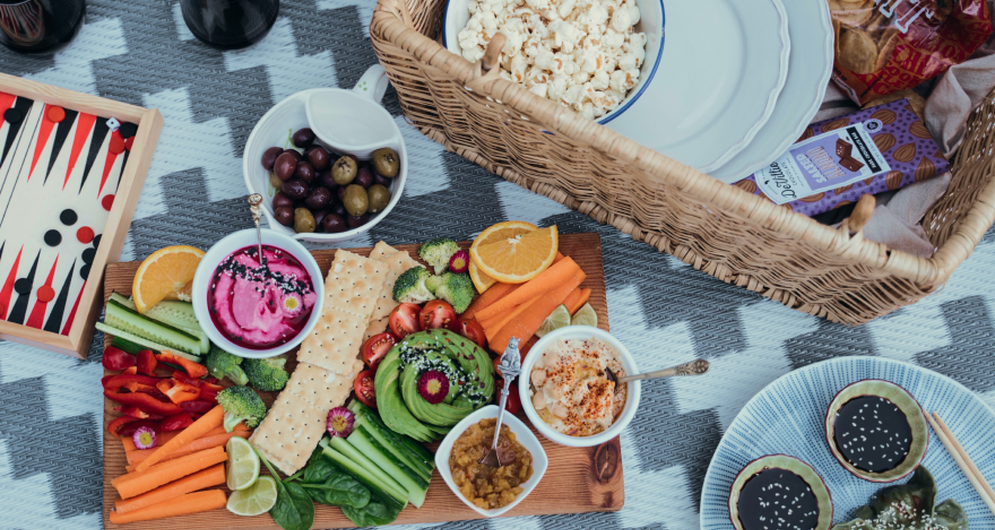 There's no better time than hitting the park, beach or hills and putting together a delicious picnic with family, friends or a loved one. If you're planning your own and want to continue making those better-for-you choices, you can find lots of healthy picnic food to fill up your hamper. Here, we're laying out some of the best healthy picnic ideas that are both easy to prepare and portable, giving you a dose of inspiration for your next outdoor foodie adventure. 
Why choose healthy picnic food? 
Eating healthy picnic food is great for your body, mind and overall well-being. Even more so when the sun is shining. Depending on your health & fitness goals, some of the top benefits of choosing nutritious options for your next picnic include: 
Boosting your energy levels 
When you choose healthy food options, you're giving your body the nutrients it needs to function at its best. Healthy foods like fruits, vegetables, whole grains, and lean proteins provide essential vitamins and minerals that can keep you feeling energised for that post-picnic kick about or Frisbee session. 
Supporting your weight loss goals 
When you're trying to lose weight, opting for healthy picnic foods over processed meats, sugary drinks or ranch-drenched 'salads' is going to help you stay on track. They're often lower in calories, fats and sugar, which can make it easier to maintain a healthy weight. Plus, you'll get to keep that light, fresh feeling that comes with eating clean. 
If you're just starting out on your weight loss journey, check out these other 11 mistakes to avoid when losing weight to make the most of all your hard work. 
Maintaining muscle mass  
While exercise is important for building muscle, diet plays a key role in providing your muscles with the necessary building blocks to grow and repair. Foods that are lean and high in protein, like chicken breast, turkey, fish, eggs, and low-fat dairy products are ideal. If you're living a vegan lifestyle, plant-based sources of protein such as beans, lentils, and tofu are also great healthy picnic ideas if you're getting after those gains. 
The best healthy picnic foods from Body&Fit 
No matter what your goal is, we've got plenty of healthy picnic food to match your needs. Here are some bestsellers handpicked from our FOOD Series.  
Smart Protein Chips — the perfect high-protein, high fibre snack for any picnic. Each bag contains only 95kcal and you can choose from seven tasty flavours.  
Smart Wraps — available in two varieties (original and chia), each of these high-fibre wraps have 14g of protein. If you're looking to build muscle, they're the perfect high-protein base for your favourite filling.  
Superfood & Nuts Mix — a delicious high-fibre mix of raisins, cranberries, hazelnuts, cashews, brazil nuts, walnuts, almonds, mulberries and goji berries. Serve as a snack on the side or sprinkle over a picnic salad for some extra crunch.  
High Protein Crackers — these delicious crackers contain 82% less carbohydrates compared to similar crackers out there. They're made with multiple grains, seeds and superfoods and available topped with cheese or sunflower seeds. 
Smart Break — this light, low-sugar hazelnut wafer contains only 130kcal, making it the perfect sweet treat for your healthy picnic.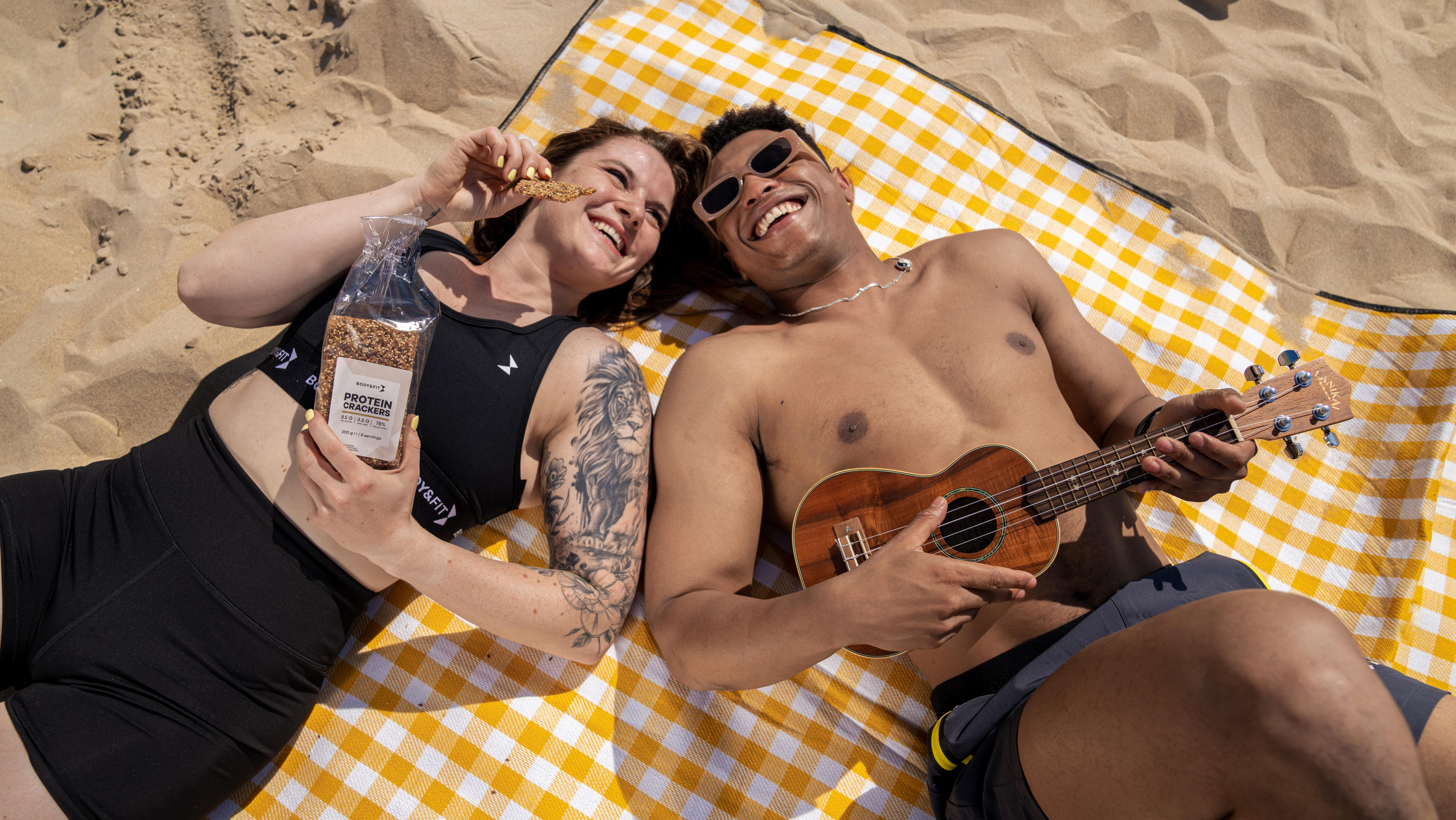 Tips for choosing healthy picnic food 
Now, let's look at some tips for choosing the best healthy picnic foods, so you can prepare with the confidence and know-how you need to make it a success.  
Choose whole foods 
Whole foods like fruits, vegetables, and whole grains are often the healthiest options for a picnic as they're packed with nutrients and fibre. Most of the time, you can eat them raw, too, which is handy when it comes to prepping and storing your picnic. 
Avoid processed foods 
We've already said it — processed foods like sausage rolls, salami, crisps, cakes and sweets are often high in calories, sugar and unhealthy fats. They can also leave you feeling sluggish and tired, not great if you're hiking or have activities planned later in the day. 
Consider portability 
When choosing healthy picnic food, it's important to consider how easy they are to transport and serve. Look for options that are easy to pack, don't require refrigeration, and can be eaten with your hands. 
Healthy picnic food ideas 
Now, the moment we've all been waiting for. Let's dive into some delicious and nutritious healthy picnic ideas.  
Fresh Fruit Salad 
Fresh fruit salad is a classic picnic option that is both healthy and refreshing. You can customise your fruit salad with your favourite fruits, such as strawberries, blueberries, kiwi, and mango. You can also add a drizzle of honey or a squeeze of lime juice for extra flavour. 
Veggie and Hummus Wraps 
Veggie and hummus wraps are a portable and nutritious option that can be made to your liking. Fill a whole-grain wrap with your favourite veggies like bell peppers, cucumbers, carrots, and lettuce. Add a dollop of hummus for a creamy touch. 
Quinoa Salad 
A tasty Pure Quinoa salad can be served cold or at room temperature, making it perfect for picnics. Cook the quinoa according to package instructions and add your favourite veggies like cherry tomatoes, cucumbers and bell peppers. You can also add some feta cheese and a squeeze of lemon juice for extra flavour. 
Grilled Chicken Skewers 
Grilled chicken skewers are a protein-packed option that can be easily prepared ahead of time. Cut chicken breast into cubes and marinate in spices and herbs. Thread the chicken onto skewers and grill until cooked through. Serve with a side of Greek yogurt and cucumber dip. 
Watermelon Salad 
A watermelon salad is a refreshing and hydrating option that is perfect for picnics on hot summer days. Cube the watermelon and add some fresh mint leaves and crumbled feta cheese for a delicious and unique taste sensation. 
Infused water 
A great tip for staying hydrated is to infuse your water. It's much more fun and tasty to sip on during a hot summer picnic. Use fruits, herbs or our Body&Fit Natural Flavouring and bring along some ice for some extra freshness.  
Find out the best way to infuse your water and more in our article: the secret to drinking more water.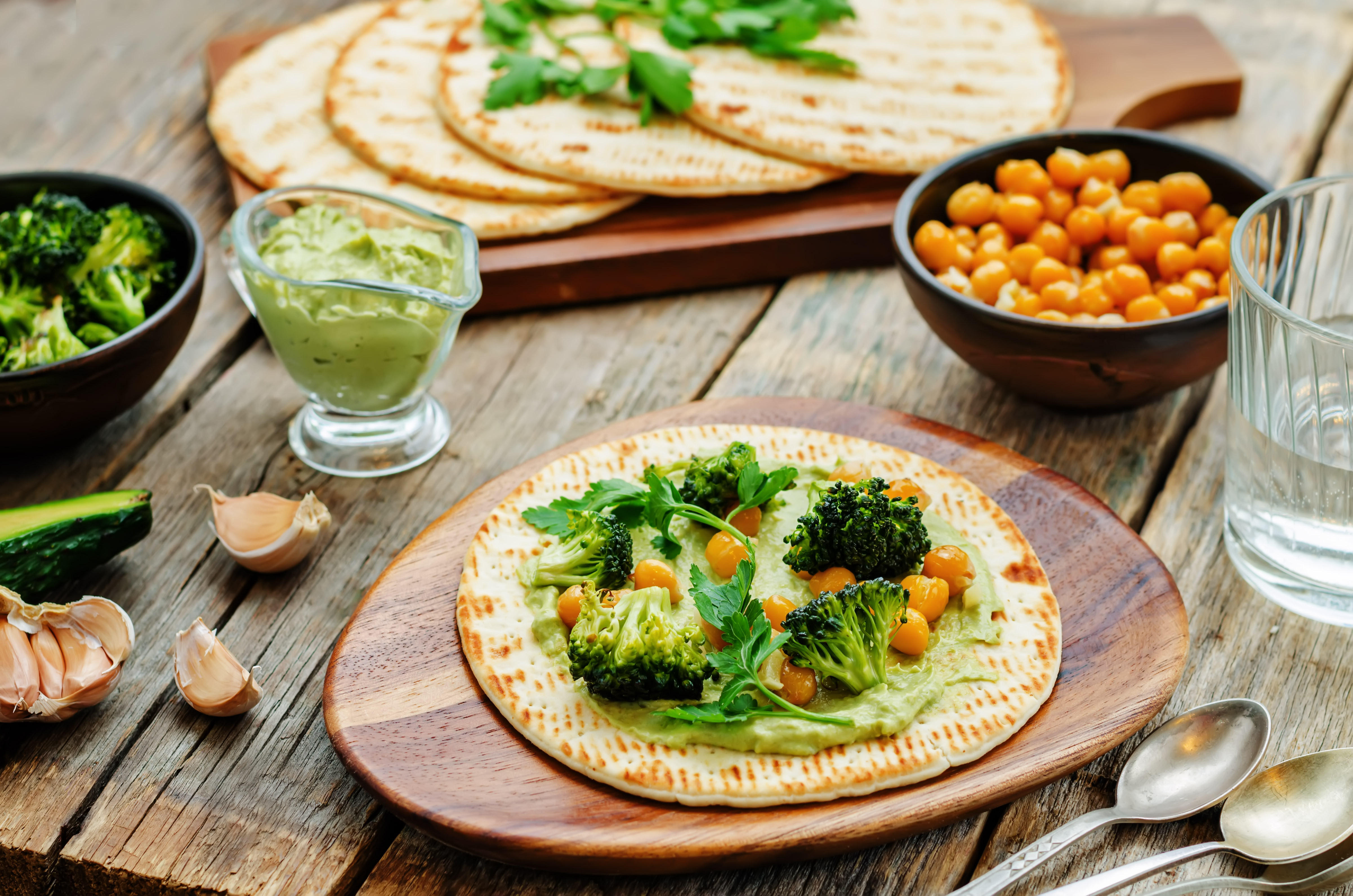 Healthy picnic food: FAQs 
Your most frequently asked questions about healthy picnic food are answered right here. 
How can I make sure my healthy picnic food stays fresh? 
To ensure your picnic food stays fresh, pack it in a cooler with ice packs or frozen water bottles. You can also bring a thermometer to check the temperature of your food. Prepare your hamper with healthy picnic foods that stay fresher for longer, like raw vegetables, fruits and grains. On especially hot days, you may need to find a shady place to store your hamper.  
Can I make healthy picnic food ahead of time? 
Yes, in fact, it's even better to make healthy picnic food ahead of time. The last thing you want to be doing is making your recipes outside. The options listed above are all ideal for prepping the night or morning before your picnic.  
What are some healthy picnic ideas for drinks? 
As we've already seen, you don't need to settle for water on a healthy picnic. You can infuse it or go for something a little different like some homemade lemonade, organic iced tea or kombucha. For a refreshing boost of energy, bring along some of our FIT ENERGY — a unique formulation of naturally sourced caffeine, amino acids and electrolytes.  
Find out everything you need to know about FIT ENERGY in our dedicated article. 
– 
There's no doubt that healthy picnic food can make your outdoor adventure more enjoyable and fulfilling. By selecting whole foods, avoiding processed options, and considering portability, you can make nutritious choices that are both delicious and easy to prepare. Whether you opt for fresh fruit salad, veggie and hummus wraps, quinoa salad, grilled chicken skewers or watermelon salad, you're sure to have a healthy and satisfying picnic experience that's sure to help you #FINDYOURFIT.