Lifestyle
People of Body&Fit: Jenthe van Houdt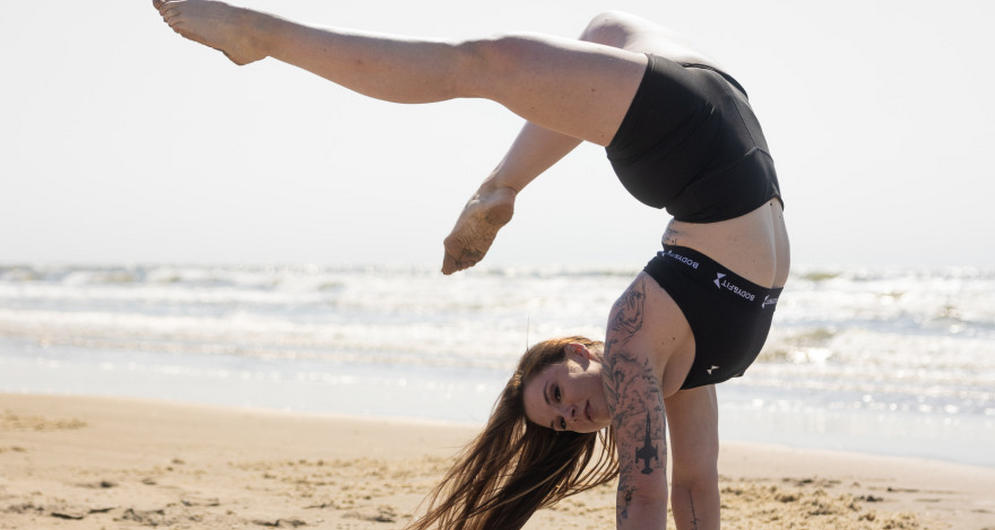 Everyone has their own unique version of what 'fit' means to them. For some, it's about being the best. For others, fitness means staying active, trying out new things, or simply doing what makes them happy. For Body&Fit ambassador, Jenthe van Houdt, it's the latter. These days, at least. We spoke to the happy-go-lucky Belgian about her passion for exercise, insecurities in the world of professional dance, and recovering from major hip surgery.  
Body&Fit x Jenthe van Houdt
Body&Fit: So nice to speak to you, Jenthe. Why don't you start by telling us how your journey to becoming a four-time European dance champion began.  
Jenthe: "I started exercising like crazy at a young age. When I was 3 years old, I started gymnastics, horse riding and competitive swimming until I was around 10. At some point, my parents made me choose one sport to focus on. I guess it was all becoming a bit too much. I ended up choosing something completely different from the sports I'd been doing until then. I wanted to dance. For me, it was similar to gymnastics, but where gymnastics is quite tight and static, dancing is more sensitive and fluid. I liked to combine the two and kind of developed my own style. Like acrobatic dancing. The fluid movements of dancing with the strength and agility of gymnastics. I did this at European level until I was 21.  
My whole youth revolved around training, dancing competitions, performing, and constantly working hard to be the best. Dancing was my life. "  
Body&Fit: So much training as a child must've required a lot of discipline.  
Jenthe: "That's true, but it's part of who I am. I always wanted to be the best. This mindset and all the hard training is why I won so many titles. As a solo dancer, I became Belgian champion nine times and European champion four times. I also won awards for duo and group dancing.  
It was extremely tough, but I loved it. I still seek out that kind of intensity in life. Besides working in a gym, I give personal training on flexibility and train a lot myself — strength training and other sports. I love the hustle and bustle."  
Body&Fit: So what made you stop dancing?  
Jenthe: "I stopped dancing in 2017 and did almost nothing active for six months. I noticed right away that sitting still didn't suit me. I got depressed. I needed to move again. So, I dragged myself to the gym. Funnily enough, it was the same gym I work at now."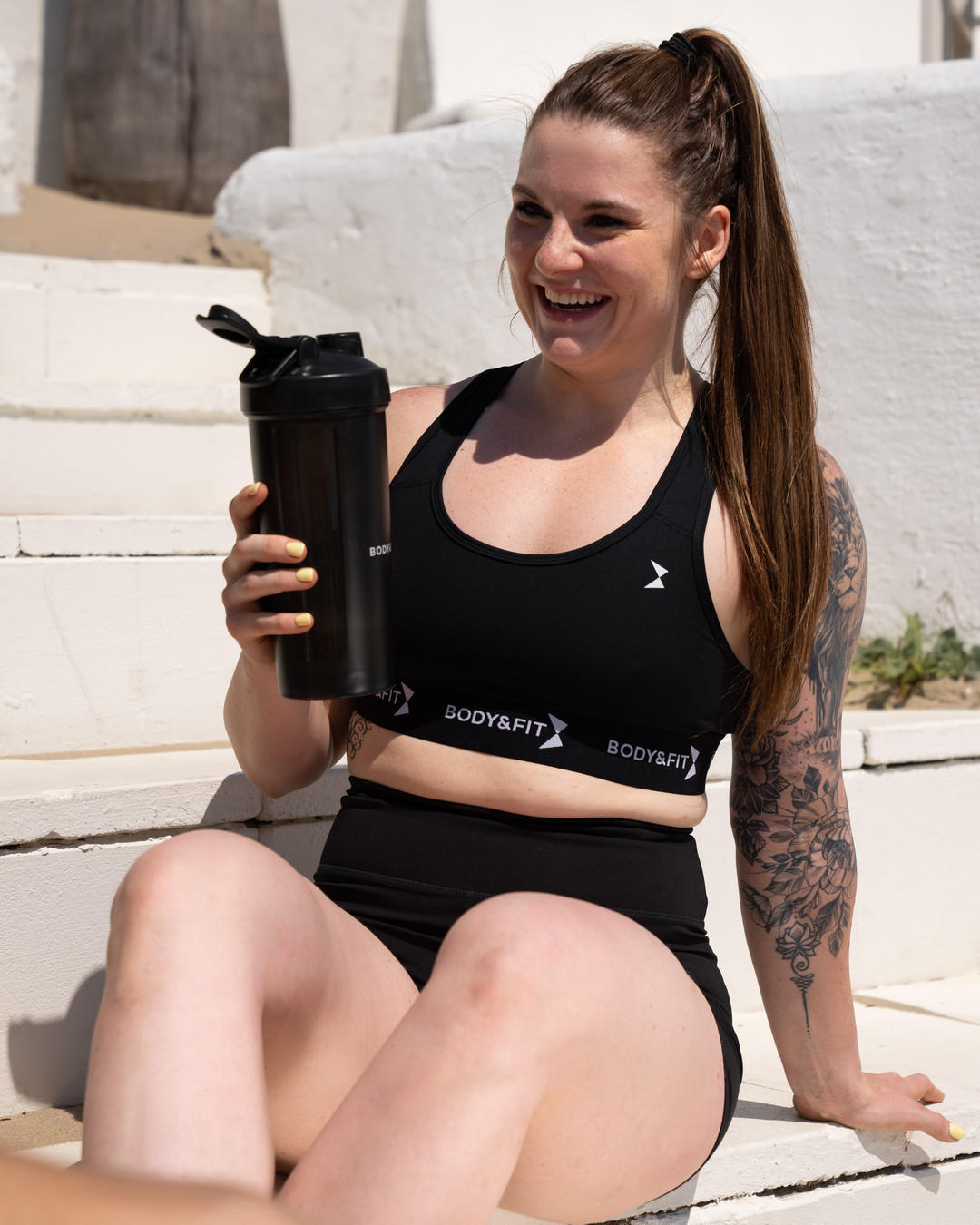 Body&Fit: Why did you end up choosing fitness?  
Jenthe: "After doing nothing for six months, I wanted to gain more muscle mass and get strong again. I pushed myself to learn more about nutrition and training. From that point on, fitness has always been in my life. It's not necessarily the sport I want to keep doing continuously, but it's the foundation for other sports. It supports me in all the other things I do and helps my body perform better in other disciplines."  
"For me, fitness is a foundation for other sports. It supports me in all the other things I do and helps my body perform better in other disciplines". 
Body&Fit: Can you give us an example?  
Jenthe: "Definitely! So, I've always been able to do a handstand, but when I gained strength in my shoulders, my body control and balance got so much better. Now, I'm confident enough to do one on the corner of a roof because I know I can do it. Mentally, I no longer have a fear of falling. I know I have that power. 
Not many people expect me to be so flexible either. I've always been a bit firmer, especially compared to prima ballerinas. That created a lot of insecurity back then."  
Body&Fit: Do you mean insecurity about your body, or about dancing?  
Jenthe: "I was mostly insecure about my physique. In the dance world, the body is super important. The girls on my dance team and my competitors had physiques of real ballerinas — very narrow, long legs… and then there was me. I was strong and muscular. Nobody expected me to be a good dancer. It's just my build. I accept that now, but it did make for grim moments sometimes. When we had to try on clothes with the whole group before a performance, I would get the biggest size by default. I was even put aside from the group because I didn't fit the team photograph. I can tell you: mentally, that's tough."  
"I never fit in to that perfect prima ballerina picture. I always felt insecure about that."  
"It wasn't until I started working out that I noticed my body could handle so much more than I thought. It motivated me to pay attention to the right nutrients. When I did, I gained muscle and lost fat fast. That's when that switch completely flipped for me. I had to stop wanting to be skinny, like I'd been told for 20 years. I find muscle mass very beautiful and elegant, and my body is ideal for that. So, I embraced it.  
Body&Fit: What other challenges have you've faced in dancing, fitness, or life in general?  
Jenthe: "I had surgery on my hip two years ago. All the twisting and turning in dancing had caused a torn membrane. I could hardly walk up the stairs. They basically needed to smooth out my femur and hip socket so they could fit back together again.  
I completely underestimated the operation. I was laid up for four months. I couldn't sit, I couldn't stand, I couldn't turn. I could only lie flat. It was terrible. I had to do lots of stabilisation exercises in order to learn how to walk again. That was intense. It took six months before I could walk decently, let alone exercise." 
Body&Fit: Not doing a handstand for six months… that must have been tough for you.  
Jenthe: "It was! Although I secretly did a few during the rehabilitation process. I remember, right when I was first allowed to try walking again, I did a handstand. I just wanted to see if I could still do it. It was in a hallway where the walls were close together. I supported myself against the wall with one leg and then stood on my hands. It was such a relief that I could still do it. 
Still, it was a long time before I could really exercise again. Initially, I was afraid of doing something wrong and having to start rehab from scratch. Once I realised I was getting stronger, I went full steam ahead. I started doing CrossFit. That's a pretty intense form of exercise, but it worked for me. The more often I trained, the less painful my hip felt. The stronger I got, the more I could handle. Now, I'm fully fit. I dance. My fitness is back. I still train a lot and I'm just as lean as I was two years ago."  
Body&Fit: What does sport, nutrition and health mean to you?  
Jenthe: "Sport is my life. Everything I do revolves around sport. I wake up with it. I go to sleep with it. There's no other way to describe it."  
Body&Fit: At Body&Fit, we do everything we can to encourage you, and the rest of our community, to #FINDYOURFIT. What's your 'fit' at the moment?  
Jenthe: "I've focused all my life on one sport, which is dancing. I've practically "given up" my life for it. Going out, going on holiday with friends, I always had to say no because I had a competition or had to train. When I stopped dancing, it gave me a certain sense of freedom. I'm now in a place where I want to try everything. Fitness, Thai boxing, CrossFit, running, cycling, swimming, gymnastics. I still dance, of course, but I couldn't choose one favourite sport or activity right now. At the same time, I love competing. I might focus on one thing at some point, but for now, I'm enjoying everything so much."  
You can check out Jenthe's incredible skills and follow her fitness journey at @jenthe.van.houdt. If you have your own People of Body&Fit story, don't hesitate to reach out via @bodyandfit_official. You can also find advice, the latest product information and next-level recipe and workout inspiration to support your unique goals. See below for a selection of Jenthe's Body&Fit essentials expertly made to help you #FINDYOURFIT.