Dinner
Courgette lasagna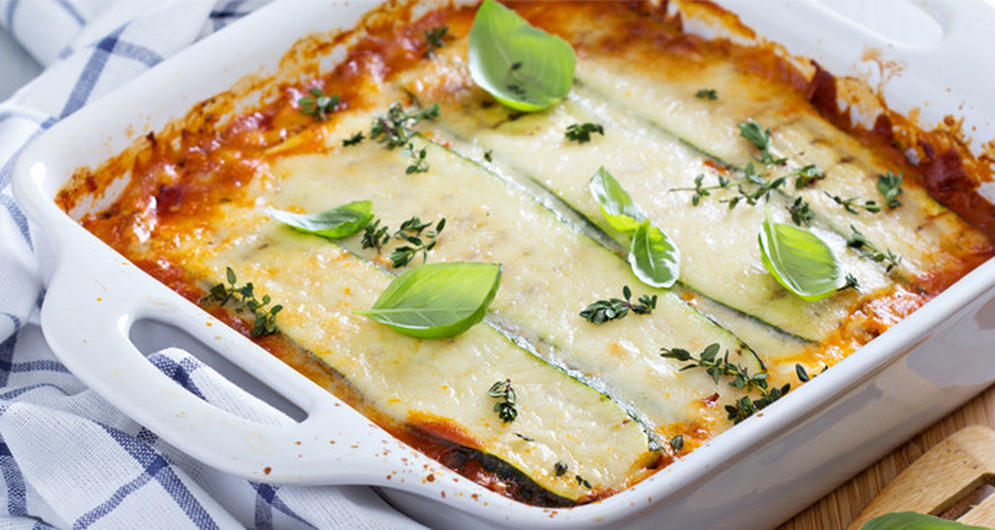 Directions
Mmm… Do you also prefer to eat lasagna every day but does this not fit in your diet? We have found a solution for that! This delicious and healthy lasagna is made with courgette instead of lasagna sheets. This means you can now enjoy your favorite dish completely guilt-free. Quickly gather all ingredients and cook up this delicious lasagna with a healthy twist .
Preparation method
Preheat the oven to 180 degrees.
Cut the zucchinis into thin slices with a cheese slicer.
Heat the coconut oil in a grill pan and alternately fry the courgette slices until golden brown. Drain the courgette slices on a plate lined with kitchen paper. Meanwhile, heat a frying pan and fry the minced meat.
Add the bell pepper, onion and aubergine and continue frying for another 5 minutes.
Remove the pan from the heat and stir in the cottage cheese.
Heat the pasta sauce briefly in a saucepan to let it thicken. Add extra fresh Italian herbs if necessary.
Grease a baking dish and start with a layer of courgette slices on the bottom. Top this with a part of the minced meat-cottage cheese mixture and a part of the red sauce.
Then continue with the courgette slices and repeat this until the sauce is finished.
If necessary, sprinkle the lasagna with cheese for a nice crispy crust.
Bake the lasagna in the middle of the oven for 25 minutes. Delicious with fresh basil and a fresh, green salad!