Stay Healthy
How to meal prep: tips, ideas & recipes
Today, we'll talk about why and how to meal prep, plus give you some great healthy meal prep ideas that you can bring to the kitchen and share with the whole family. After all, we live busy and, at times, hectic lives. Finding time to eat home-cooked meals every day is not always easy. So, read on to find out how prepping your meals can ease the pressure and help you focus even more on achieving your goals.
What is meal prep?  
Meal prep is simply preparing a recipe and portioning it out into grab-and-go meals to enjoy throughout the week. It's popular amongst athletes and/or busy people looking to stay on top of their nutrition, weight loss or bulking goals or just save time in their daily life. You can prep your meals in various different ways: one pot batch cooking (lasagne, casserole, pasta bake etc.), dishing out individual portions into separate Tupperware containers, or just washing, peeling and chopping your ingredients in advance. The way you choose to meal prep all comes down to your unique routines and goals.  
What are the benefits of meal prep?
When we say meal prep makes your life easier, we're not kidding! Let's go over the main benefits of prepping your meals in advance:  
When you only have to shop and cook once or twice a week, you'll spend less time slaving away in the kitchen after a long day at work.

If there's a healthy, nutritious meal ready and waiting for you in the fridge, you're less likely to turn to takeaways and fast foods.

When your meals are all planned out, you'll also be less tempted to spend on things you don't really need and you can take advantage of supermarket discounts.
Our top meal prep tips
If the thought of cooking for a whole week is a slightly overwhelming, check out these tips and you'll be a meal prep master in no time! 
Plan your meals in advance
Calculate the amount of calories you need every day to reach your goals. If you want to lose weight, for example, you'll need to be in a calorie deficit (consuming fewer calories than your body requires). There are many calculators on the internet, such as the Harris & Benedict formula, which gives a good estimate of your BMR (basal metabolic rate), i.e. your daily calorie requirements.  
Think about what you want to eat and when. Decide if you want to cook for a few days or for the whole week. This will allow you to work out your meals per day and list the ingredients and quantities needed.  
Next, choose the day and time you will prepare your meals in advance. This will help you to find a routine that works for you. Many people cook for a few hours on Sundays to have a perfect meal prep week.   
Shop smart
When you've planned your meal prep like a pro, you'll know the dishes you want to prepare in advance and will have a clear and defined list of ingredients to buy. Some ingredients may have a long shelf life, so you can buy them in bulk. This is the case for rice, pasta, canned vegetables and even frozen foods, if you have room in your freezer.  
Cook efficiently
A good chef always has a mise en place (a French expression for having all your utensils ready and ingredients measured, peeled, sliced, chopped, grated etc. before cooking). Do this for yourself. Grab all the bowls, pans, containers, scales, small appliances (a rice cooker, chopper or blender can save you a lot of time), herbs, veggies and meats you need before you even switch on the gas. This way, you won't be doing any stressful last minute measuring while the garlic is burning on the stove.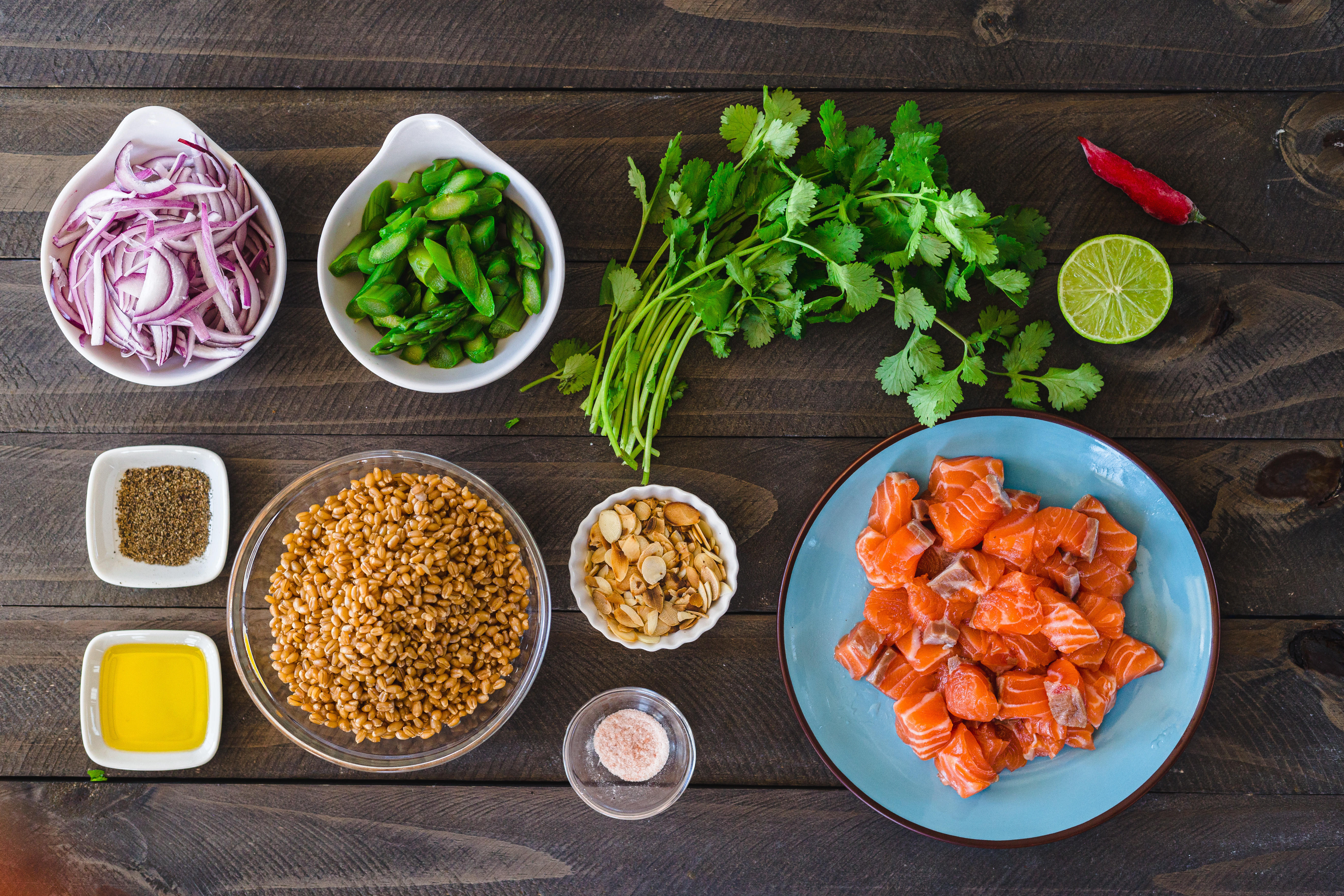 Preserve 
Fully prepared meals can be stored in the refrigerator for an average of 2 days. If you are preparing for a longer period, it's best to freeze your dishes. This refrigerator and freezer storage chart is handy to print out and stick somewhere, so you know how long certain ingredients and meals will last in the freezer. A quick rundown: 
Vegetables: up to 3 months in pieces and up to 12 months if they are whole.  
Fruit: 10 to 12 months.  
Prepared meat: up to 3 months.  
Soup: up to 3 months.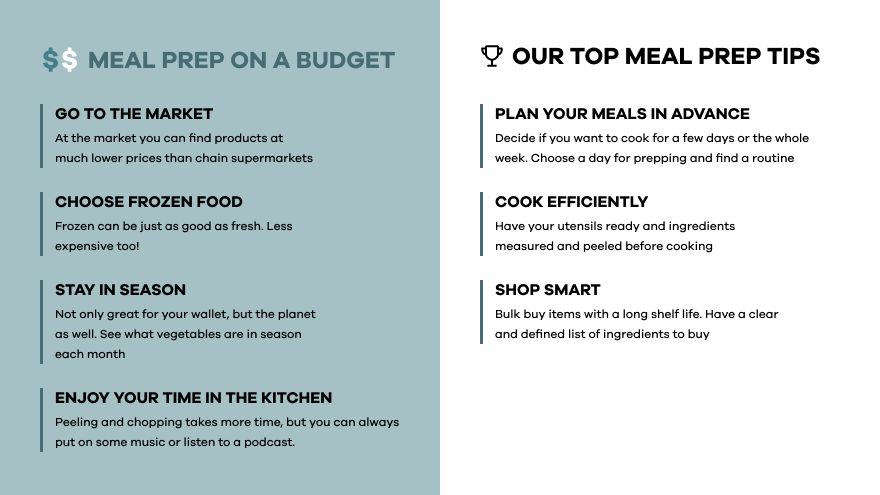 How to meal prep on a budget  
Go to the market 
Besides being a fun activity, going to the market is a great way to find products at much lower prices than chain supermarkets. Find out when and where your nearest market is and stock up on fresh, local ingredients for the week.  
Choose frozen foods
As great as fresh produce is, frozen can be just as good. Frozen vegetables, for example, still have all the nutritional benefits of fresh vegetables as they are frozen right after being harvested. They're usually less expensive, too, so a great option for meal prepping.  
Stay in season
Try to learn what vegetables are in season each month and adjust your meal prep recipes accordingly. You'll pay more for strawberries in winter, for example, a season where fruits like apples and pears are more available and therefore less pricey. You can explore all the seasonal fruits and vegetables across Europe with this handy tool from the EUIFC (European Food Information Council). Not only is it great for your wallet but the planet will thank you, too! 
Enjoy your time in the kitchen
When vegetables, fruits and meats are pre-cut and washed, they're often more expensive than whole pieces. Sure, peeling and chopping takes a little more time, but it's easy to do and you can always put on some music, listen to podcast or catch up with a friend while you're hard at work. 
 When you buy vegetables in season, it's great for both your wallet and the planet.
The best meal prep ingredients
If you lack inspiration, here are some classics that will always find a place in your meal prep creations.  
Vegetables: broccoli, green beans, leeks, spinach, asparagus, cauliflower, zucchini and mushrooms.  
Carbohydrates: rice, sweet potatoes, pasta, wraps, quinoa.  
Fat: coconut oil, peanut butter, nuts, olive oil, avocado.  
Protein: chicken, turkey, ground steak, canned tuna, tofu, eggs, salmon, cod, liquid egg whites.  
The best meal prep recipes
If you're looking for some healthy meal prep ideas, we've got you covered. Here's a list of some delicious meal prep recipes for the week that'll get you started.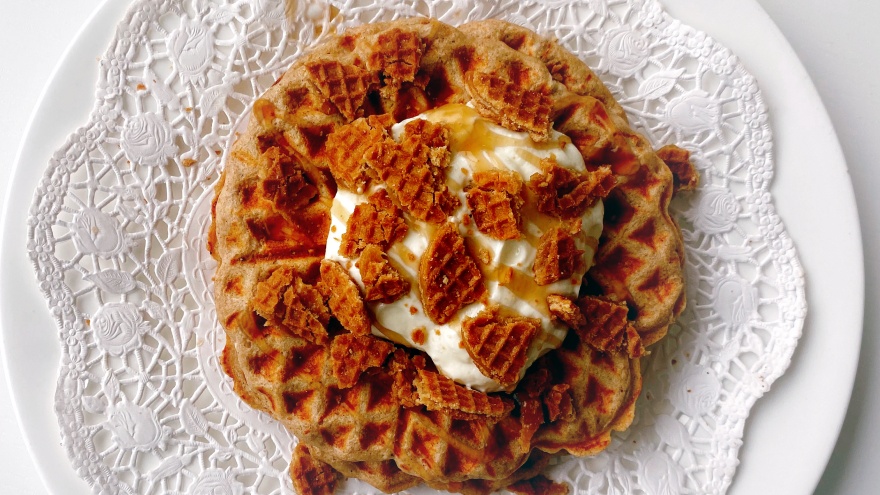 Meal prep recipes for breakfast
Chia Protein Pudding: an easy protein pudding to have ready every morning, all week long.  
Vegan Banana Bread: gluten free, vegan and super quick to make.  
Protein Waffles: no need to wait for International Waffle Day to enjoy one for breakfast! 
Meal prep recipes for dinner
Courgette Lasagne: a delicious, guilt-free lasagne recipe that uses courgette strips instead of pasta.  
Stuffed Pumpkin: a warm, autumnal recipe that can be eaten all year round.  
Poké bowl (fish, meat or vegan): three recipes in one, for all tastes, including those looking for vegetarian meal prep ideas.  
Whether you want to lose weight or gain muscle mass, meal prepping is an effective method for all goals and can save you bags of time and money. Now, it's time to discover even more meal prep recipes and get cooking! Don't forget to show all your best preps via @bodyandfit_official and inspire our community to live fitter and healthier lives.