Lunch
Egg wrap with smoked salmon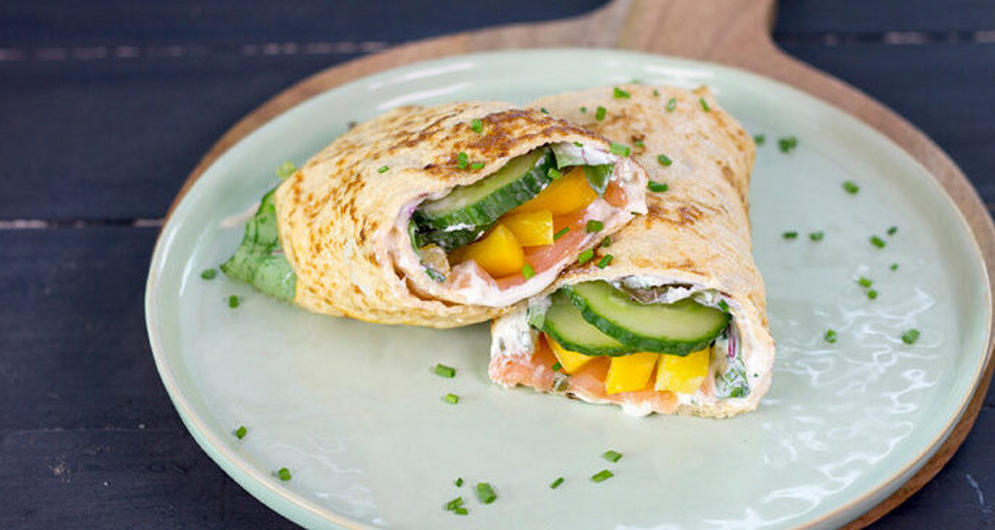 Directions
If you are a fan of salmon, this is the perfect recipe for you! When you have a busy day or little time, it is understandable that you do not feel like standing in the kitchen for a long time. If you still want to cook up something healthy, this recipe for egg wraps is really the solution. The wraps are simple to make and taste delicious. Also easy to take with you as lunch or snack.
Preparation method
Beat the eggs in a bowl together with the skimmed milk.
Heat Smart Cooking Spray in a frying pan.
Put half of the batter in the frying pan on low heat.
Flip the wrap when the top is almost completely set and bake briefly.
Make the other wrap in the same way.
Place the wraps on a plate and divide the cream cheese, smoked salmon, cucumber, bell pepper, chives and lettuce in the center of the wrap.
Add salt and pepper to taste.
First fold the sides in and then roll up the wrap.
Tip: Also delicious with slices of avocado.