Stay Healthy
5 meal prep tips on a budget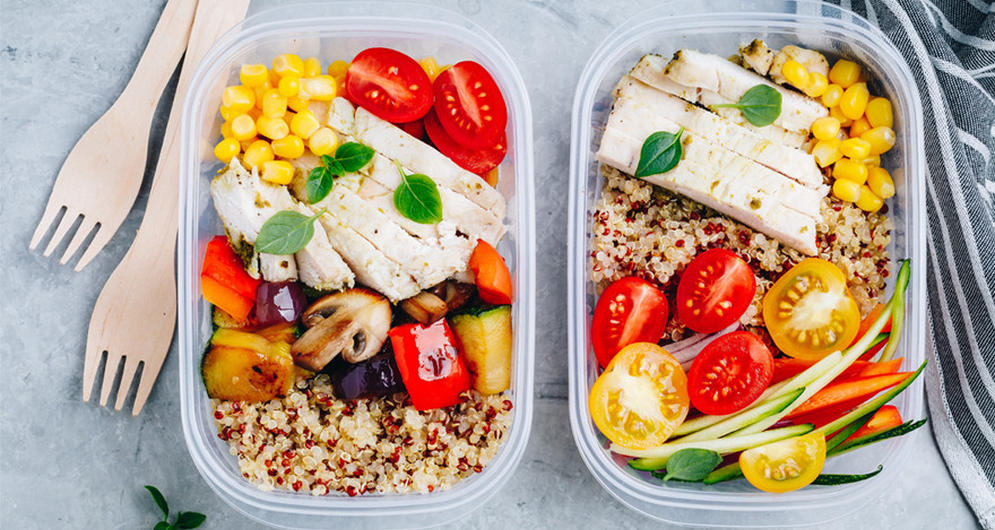 Meal prepping is the perfect tool to make your healthy lifestyle a lot easier. This way you can enjoy a nutritious homemade meal anytime, wherever you are. When you are meal prepping it becomes really easy to resist all the unhealthy temptations and you get closer to your goal. You can also easily prep meals in a budget friendly way. We give you the perfect tips!
5x budget-friendly meal prep tips
1. The market is the place to be.
Go to the market and stock up on a lot of your supplies for the next week. Fruit and vegetables (in particular) are often less expensive on the market and sometimes you get a discount if you buy a lot things at the same time. In some cases you even can buy at the end of the day the leftover fruit and vegetables for almost nothing. Not a bad idea to check if this is the same in your area. In any case, the market is a great place to shop when you have less to spend.
2. Choose fresh from the freezer.
A common misconception is that fresh products are always better than frozen products. But no less true! The vegetables that eventually end up in the freezer are immediately frozen after harvesting. This preserves the nutrients and freshness. In contrast to fresh vegetables that sometimes have to make a very long journey and are also in the supermarket for a long time, frozen is not that bad. And of course it also makes a difference in euros.
3. Bargain hunter.
Check out the upcoming week's offers from different stores and adjust your meal prep accordingly. For example, do this on Sunday and make a list for each meal prep day of the upcoming week. This way you know exactly what and how much you need and where you can buy it cheapest. It may seem small amounts, but together this can really make the difference. Give it a try!
4. Choose wisely.
Sliced ​​vegetables, fruit and meat are always more expensive than if you buy these products uncut. But is that really worth it? Shelling green beans, grating beets or cutting chicken is easy peasy and you can easily do it yourself, it just takes a little more time. It is also better to choose vegetables that are in season. For example: take a look at the price of strawberries in the winter they are really not budget proof. Check each month which vegetables are in season, and adjust your meal prep accordingly.This will not only be nice for your wallet, but also for the environment!
5. Shopping.
Shopping lists may sound very boring and unnecessarily, but they are very efficient. Not only to prevent you from forgetting products, but they also can help you not to buy things you don't actually need. When you go shopping without a list, you give yourself much more time to orientate yourself on all the products that are in the supermarket. There will always be more products in your basket or cart than you had planned when you are not using a shopping list. Lists are your best friend!