Easy, Do-able Weight Management That Works

At Slimfast, our mission is to make weight management as simple, safe, tasty and effective as possible. Today, Slimfast is the go-to for easy do-able weight management for millions, by providing tasty balanced nutrition and products rich in vitamins and minerals.
 
PROSCIUTTO CHICKEN WITH MUSHROOM SAUCE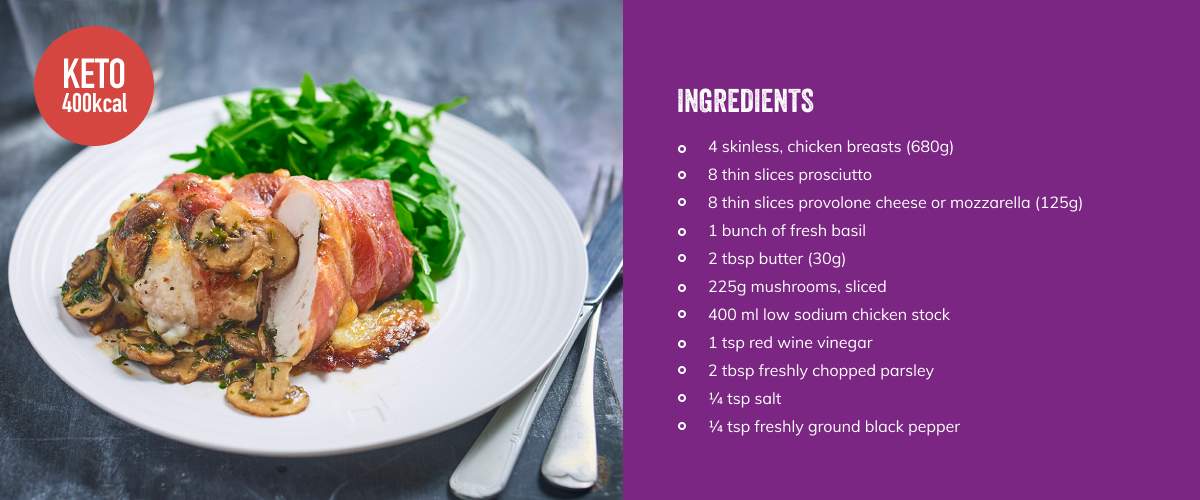 1. Preheat the oven to 200C /gas mark 6.
- Halve the chicken breasts horizontally, keeping 1 long side attached and open halves like a book.
- Pound breasts until 1/4-inch thick.
- Season on all sides with salt and black pepper.
2. Lay 2 prosciutto pieces out, top with 2 slices of provolone or mozzarella then lay over basil leaves.
- Top with a piece of chicken and roll up so chicken is covered with Prosciutto.
- Sit it in a roasting tin, cut side down.
- Repeat with remaining chicken pieces.
3. Add 1 tbsp butter to the tin and put it in the oven to cook for about 40 mins until cooked through.
- Remove, cover with foil and leave the chicken to rest for 10 minutes.
4. Meanwhile, melt the remaining butter in a frying pan, add the mushrooms, cook for about 5 minutes until golden and season well.
- Add the vinegar and stock and bring to the boil, then reduce to a simmer, stir in parsley, taste and season some more if needed.
5. Transfer chicken pieces to serving places, slice in half on the diagonal and spoon over the mushrooms and sauce to serve.