Stay Healthy
People of Body&Fit: Dushi Runners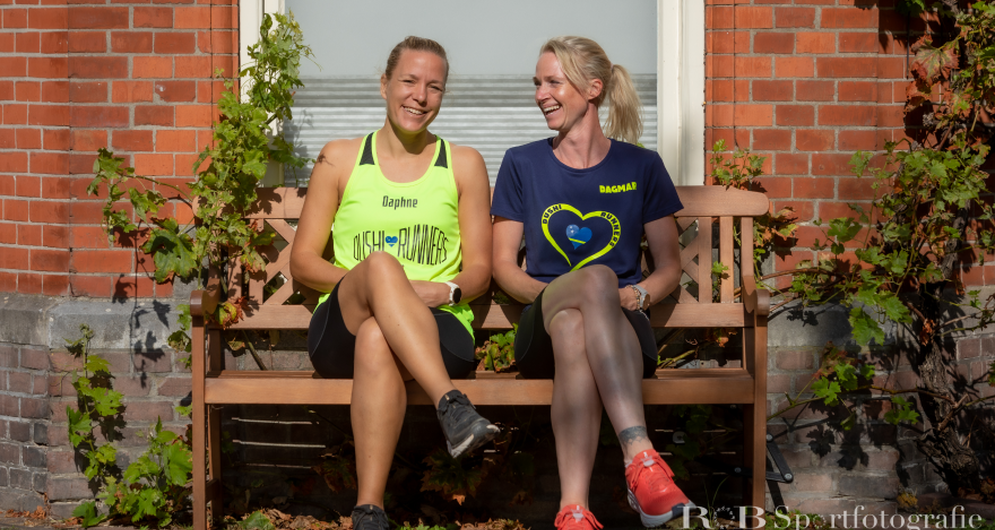 In this month's People of Body&Fit, we continue to celebrate our diverse community of fit seekers with the Dushi Runners — Daphne and Dagmar. After meeting when they were both in the military, these inspiring women discovered a shared passion for endurance running and began their journey to become six star marathon finishers together. It's a story of commitment, dedication and friendship, and we couldn't be more excited to share it with you. Read on to find out how they continue pushing each other towards their goals, despite the challenges of training, raising a family and living on opposite sides of the globe.
A match made in Curaçao
In 2016, Dutch nationals Daphne and Dagmar moved to Curaçao (a Caribbean Island just off the northern coast of South America) as part of their service in the Royal Netherlands Navy. Although they were both keen runners, training in the intense heat proved dangerous and running alone at night was simply a no go. So, their husbands matched them up as running partners.
"When our husbands realised that we both dreamt of running the New York marathon, they just had to put us in touch. We started chatting via WhatsApp and soon arranged our first run together. It was an 8km run filled with chatting and laughter. We realised we were a perfect fit and entered the 2018 New York marathon."
In the build up to their first major marathon, Daphne and Dagmar trained 3-4 times per week. As they motivated, inspired and sometimes dragged each other out to run, the foundations of a special friendship were formed. Over long distances, the two runners were evenly paced, but during interval training (slower periods of running interspersed with high-intensity sprints), Dagmar was a little bit faster on the sprints. Still, because of their military background, it was important for them to always stay together and finish at the same time. This became a key part of their philosophy, whether in training or in a competition, and so, Dushi Runners was born.
(Wondering where the name comes from? Then you need to look to Papiamento, a creole language spoken on Dutch Caribbean islands like Curaçao, Aruba and Bonaire. The word 'Dushi' is commonly used to describe the good things in life, like food, the beach, or music. It can also be a term of affection, like 'sweetheart' or 'babe'. For Daphne and Dagmar, running is Dushi, and so are they. So, they're the Dushi Runners!)
The passion for running came after starting a family
Although they've always enjoyed keeping fit and strong, it's something that naturally took a back seat for both Daphne and Dagmar when they started a family. After the birth of their second children, they started running, and even though they didn't know each other yet, they'd done so for quite similar reasons.
"We were both ready to lose weight, get back in shape and feel good about our bodies again. It was very difficult to work full time, raise a family, and still find time to train. We try to run early in the morning, then it's off to work and back home to cook and spend time with the kids. It can be so busy, but the passion for running is so strong, so we just keep on going."
Daphne and Dagmar each have two children, who run, do athletics and play football. Their husbands are also great friends who regularly play football together.
"Yes, we have active families, but they still think we're crazy for running marathons!"
Let's hear it for New York — the Dushi Runner's first major marathon
After some hard months of training, Daphne and Dagmar headed to New York to run the famous New York marathon.
"It was absolutely amazing. At 5km, we both got goosebumps hearing Alicia Keys with the words NEW YORK blasting from the speakers. We just looked at each other and said 'yes, we are here and we're going to make it'. Our goal was to finish in under 4 hours, but it was so crowded that we crossed the finish line a little bit over. It didn't matter too much, though, as it was such an incredible experience and we got to spend the next few days shopping and enjoying the city together".
Unfortunately for the husbands, they didn't get to come along for the ride. The Dushi Runners take their goals seriously.
"We didn't want to do too much before the marathon — just prepare, eat a lot of carbs and not get too distracted. Of course, we would've loved our husbands to be there, but the focus needed to be on ourselves. It was also just the two of us for the Washington Marine Corps Marathon, and the Berlin marathon, too. It's something we do together and celebrate together afterwards. In Berlin, the celebration was very big as we ran it in under 4 hours, so we were super, super pleased".
Inspiring each other every day despite living 8000km apart
Dagmar returned to the Netherlands in 2020, yet the Dushi Runners continue to push and motivate each other to train. When Daphne wakes up and sees on Strava (a social networking app for runners) that Dagmar has completed her morning run, it only fires her up to go and do hers. It's a healthy form of competition that goes both ways.
"We're so similar to each other that our husbands call us twins — our work, our compassion, the way we raise our children. Daphne is the most competitive, though. She wants to go 100% in everything, whereas I'm a little more laid back. If we give ourselves a time goal, for example, it doesn't bother me if I go over by a minute or two. Daphne always wants to be 10 minutes under!"
In general, it's also Dagmar who is more relaxed when it comes to nutrition, although she does get stricter during intense training periods like when a marathon is coming up. Protein is important, as well as the right amount of carbs. As a true chocolate lover, she satisfies her cravings with chocolate-y protein bars when she's trying to be good, something we can all relate to!
The Dushi Runners do their best to meet up as much as possible. They'll often go to see each other in the Netherlands or Curaçao for a 'run-cation' or arrange a trip someplace else. Right now, they're focussing on their main overarching goal…
Becoming six star finishers
A six star finisher is someone who has completed all six of the World Marathon Major marathons — London, Berlin, New York, Tokyo, Boston and Chicago. With New York and Berlin ticked off the list, Daphne and Dagmar have four more to go. Next up — Chicago 2023.
"We'd originally planned to run Chicago in 2022, but due to differing circumstances, things got a little complicated, so we decided to postpone it. In the meantime, we're going to run the Berenloop, a marathon held on a small island in the Netherlands called Terschelling. It's a tough run with a 7km stretch of beach, so it'll be great preparation for Chicago!"
In true Dushi Runners style, Daphne and Dagmar aim to finish their six star journey exactly as they started it back in New York — together.
You can follow their story and all their progress on Instagram (@dushi_runners) and if, like us, you've been inspired by Daphne and Dagmar, then it's time to grab your best friend, get out there and do the things you love to do together. Don't forget to look out for more upcoming People of Body&Fit portraits via our blog or social channels (@body&fit_official). It doesn't matter where you are on your journey, you can find all the advice and motivation you need to achieve your goals with Body&Fit and our inclusive community of go-getters and fit seekers.