Stay Healthy
People of Body&Fit: Sanctum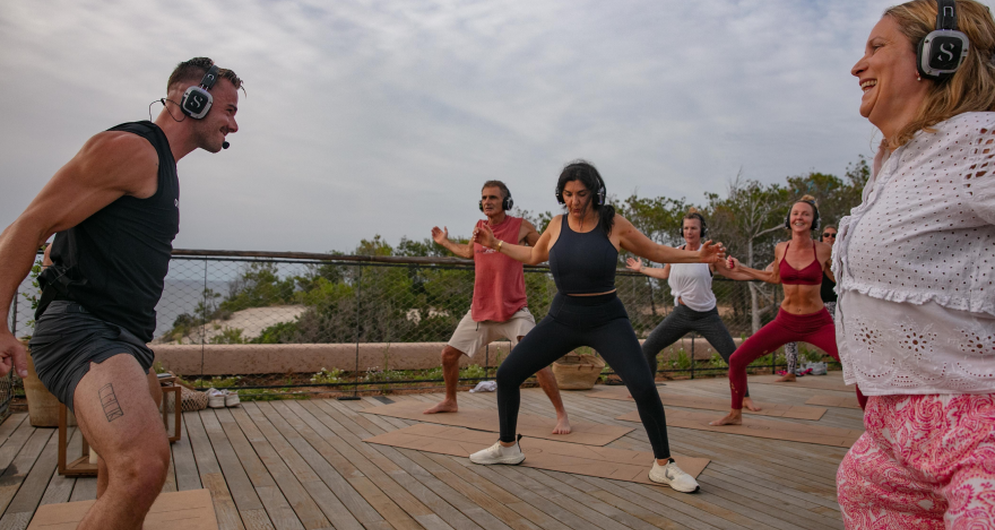 Everyone has their own unique goals, bodies, and versions of what 'fit' means to them, yet there's nothing better than being inspired by the people we move with. In the summer of '22, our community of influencers and ambassadors got together to try out Sanctum — a holistic workout experience combining elements of HIIT, mindfulness and functional movement. The power of repetition and a carefully curated playlist drive the 50-minute sequence that builds towards a cathartic sense of joy and release. We sat down with its co-founder, Luuk Melisse, to find out the story behind what Vogue magazine named one of the top 5 fitness trends of 2021.
Body&Fit: Why don't you start by telling us how it all began?
Luuk: The story, yes! So, Sanctum was started by myself and my partner Gab Olszewski. I have a background in dancing, so I developed a passion for movement from a very young age. For me, using my body was a way of expressing myself. What I love so much about dancing is that you use movement to create emotion. It's not just about strengthening the body but also telling a story. After dance academy, I went into theatre for a few years and quite naturally fell into the sports scene. I wanted to create more impact in the moment and to do that I thought it was better to move together with people instead of just for people. I went on to work at many different studios and got acquainted with various practices, which is when things started to get interesting.
Body&Fit: How so?
Luuk: I knew my body. I knew how to be on stage. I knew how to teach a sports class. But I've always been interested in the spiritual side of things as well. My mum has been a medium, so she did a lot of Reiki and energy work. My dad is a businessperson. I'd grown up in those two different worlds already. Together with Gab, I wanted to create something new. What it was, we didn't know yet, but we thought to ourselves, let's travel around the world and see what's out there.
Body&Fit: In terms of wellbeing practices?
Luuk: Exactly. We went to New York and LA to try all the hip studios, but we also went to Asia. We lived with monks for a week, did a kundalini retreat and practiced all kinds of mindfulness and meditation. That was when we had that "a-ha!" moment. What if we take the young, vibrant energy of the western world of fitness and combine it with going inwards, becoming 'less', the more spiritual practices of the eastern part of the world. That's how Sanctum was born.
I wanted to create more impact in the moment, to move together with people instead of just for people.
Body&Fit: How did you approach developing the sequence?
Luuk: We chose a few methods that we already knew were effective in themselves — kundalini yoga, primal movement, release therapy, ecstatic dance, HIIT — put them into a blender and pressed the on button!
Body&Fit: What was the result?
Luuk: A complete fusion of all those methods to balance the body with the mind and spirit. The ultimate Sanctum experience. We call it our Signature Sequence.
Body&Fit: Will you run us through it?
Luuk: The first part is all about building up the energy through simple, repetitive moves and breath work. This lasts around four to five minutes. Why? To exhaust the body and get into a certain state of trance. Imagine a tribe doing the same move around a fire. Over and over again. We take you out of your head and into a new level of consciousness.
Then, we bring the energy fully down for active meditation. Mindful movement. When the body is so exhausted, you're open. You listen to the music. You listen to yourself. You start to feel.
From there, we bring the energy up but only from the intention. It's not about the moves anymore but about releasing. We jump. We let go. And eventually we start to dance. It's like a story. It has a start, a middle and an end. For me, coming from a background in theatre, that's so important.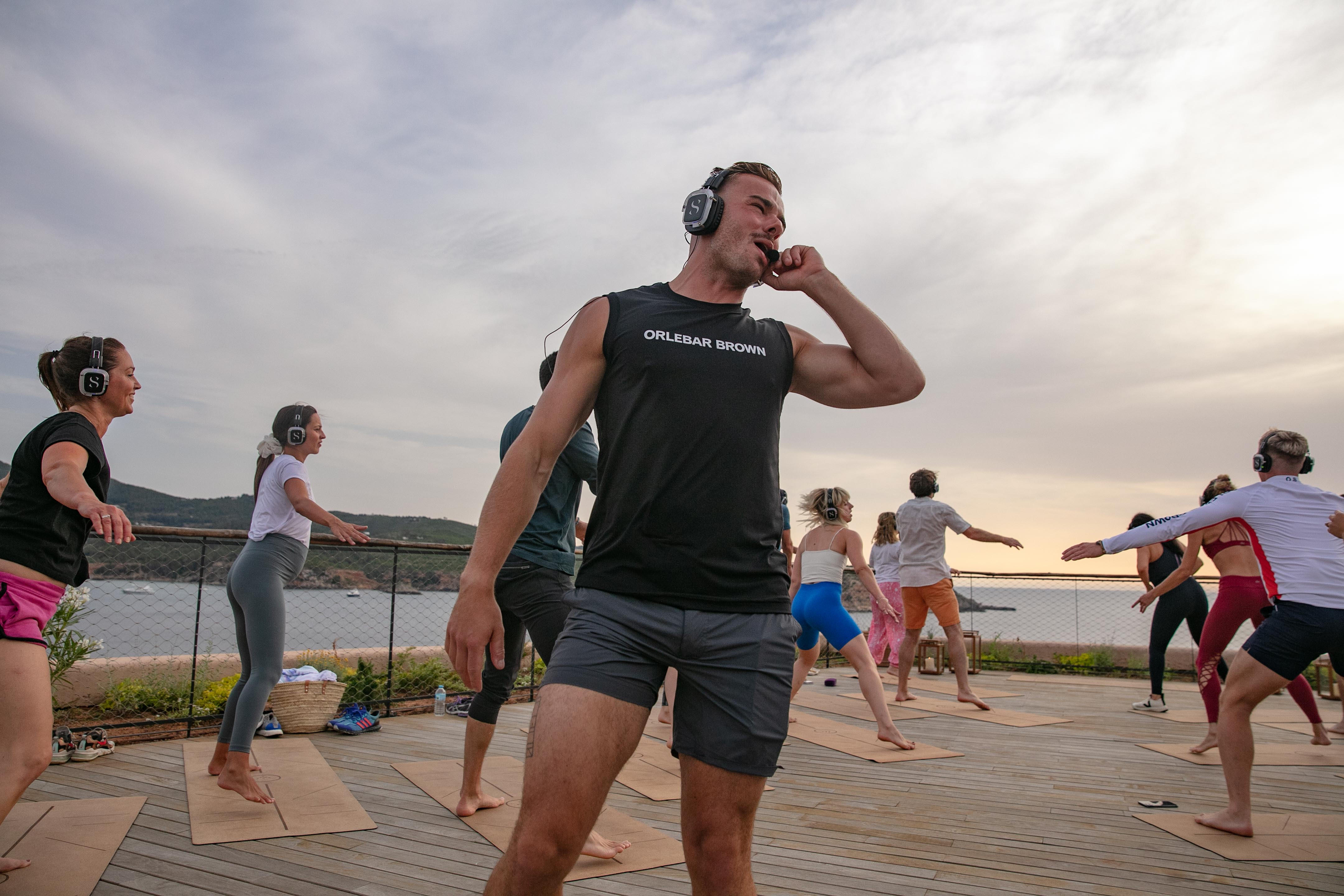 Body&Fit: So how does your Signature Sequence differ from other Sanctum classes?
Luuk: Well, we have the Spirit class, for example, which is less of a workout than the Signature Sequence. It focusses more on the emotional self. The movements are slower. We use techniques like shaking therapy, visualization and breath work to explore paths towards self-enlightenment. Then we have the Sync class — more of a slow, full body burn combined with expressive breathing techniques — and the Sculpt class, which is a more body-oriented experience.
One of the main elements of every Sanctum class is to 'let go and release'. In a world where a lot of crazy things are happening — financial crises, religious discord, the social media boom — we wanted to create a safe space where everybody is allowed to simply be. We don't focus on the 'summer body' or becoming the 'best version of ourselves'. We're peeling back those layers to become less rather than more. One of the ways we do that is through the headphones. You put them on and go straight into your own world. You don't hear anything around you. Only the music, which goes from soundscapes to techno to spoken word and pop… you name it.
When the body is so exhausted, you're open. You listen to the music. You listen to yourself. You start to feel.
Body&Fit: You hold these classes in some impressive locations.
Luuk: We do, indeed! We believe in a full experience. Sanctum is a holistic workout because of the multiple methods we use, yet we make it even bigger with our locations. We're based in Amsterdam, where we give classes at a magnificent church, an art gallery, the park and a warehouse. On top of that, we're starting to give classes abroad. We're collaborating with Six Senses in Ibiza, a beautiful luxury hotel that really values sustainability, spirituality and wellbeing. In Israel, we'll be giving classes at the Global Wellness Summit. We're always looking for unique places and collaborations to create the most beautiful holistic experiences for people all around the world. . We're always looking for unique places and collaborations to create the most beautiful holistic experiences for people all around the world.
Body&Fit: What's next for Sanctum?
Luuk: We're actually in the process of organizing multiple Sanctum retreats. The first one is going to be in Austria with a theme surrounding our connection to nature. We're planning others in Ibiza and the deserts of Dubai. It's very cool because instead of one hour, we have four days. We use the Sanctum philosophy — holistic wellbeing with an edge — but we'll also be working with inspiring experts in fire and cacao ceremonies, treatments and nutrition.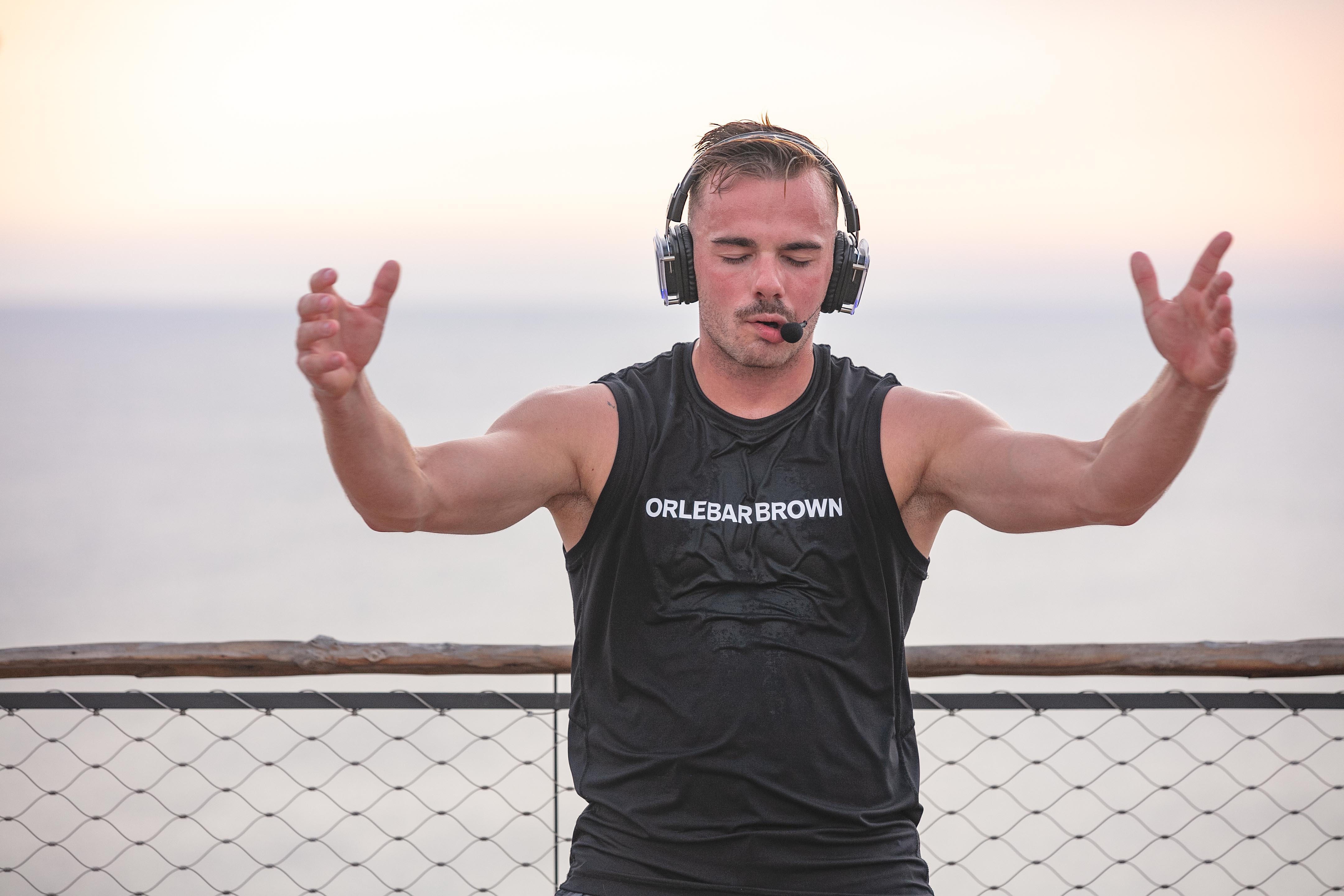 We at Body&Fit are always looking to bring you the most innovative, unique and exciting ways to #FINDYOURFIT. If you're based in Amsterdam or happen to be in the area, you can try out Sanctum every Monday at the Dominicus Church and every Saturday at Vondelpark Rosarium. Feel free to book a drop-in class, choose from the flexible sign-up options or go all out with a monthly membership, where you can join as many classes as you like. Don't forget to follow @wearesanctum and check out Sanctum – Mindful Movement Community for information about pop-ups, events and upcoming wellness retreats. Until then, get a taste for the Sanctum experience by listening to their curated playlist on Spotify.
For more ways to mix up your fitness routine, check out these 5 new sports to try out and tell us your favourite @bodyandfit_official.