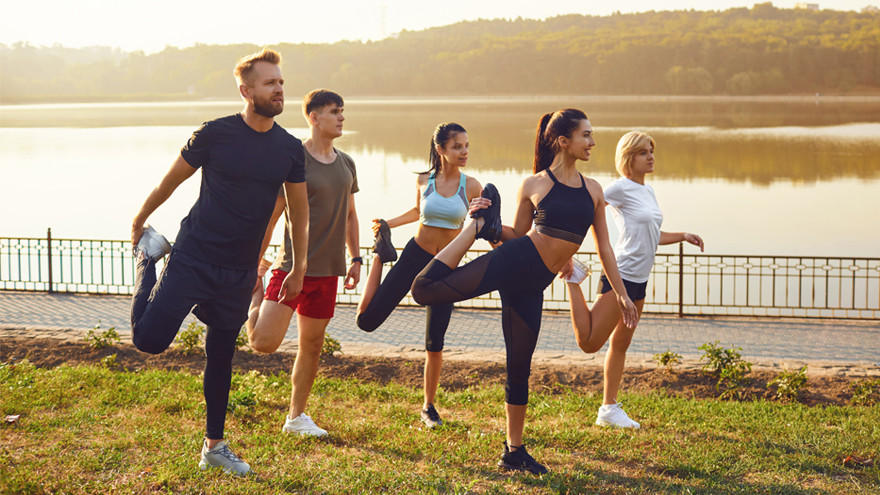 November 7th 2020
Outdoor workout inspiration
9 x outdoor workouts inspiration
With this wonderful weather you want nothing more than to exercise outside! Enjoy the sun, the singing birds and the bright colors of nature. Maybe you do not have much experience with sports or you want something different than the usual fitness equipment in the gym. Below we provide you with the 9 best outdoor workouts!
Off-road running
Besides the fact that it is just super fun to run on something other than asphalt, it is also more challenging for your body. For example, with off-road running you have to deal with uneven paths, loose sand, height differences, tight turns and sometimes muddy puddles. A true adventure and a considerable physical effort! Go outside and plan your route through nature. For example, a forest, heathland or the beach. In the summer it is often a lot cooler than in the city. Lovely!
Jumping on the trampoline
Do you prefer to stay at one location but do you want to go outside? You can jump a trampoline from your own garden! (provided you know someone with a trampoline or purchase one yourself). Trampoline jumping is not only fun (you can jump around as crazy as you want), but also a real effort. You can burn up to 500 calories with an hour of jumping. And it doesn't even feel like a workout!
Bootcamp
Nowadays you can find them in every village or town; the boot camp clubs! With a boot camp training you often go outside where you use the environment and simple equipment. Think of tree trunks, sandbags, jerry cans filled with water or car tires. Everyone can scale these workouts at their own level. So whether you are going to exercise for the first time or already have the necessary experience; a boot camp lesson is suitable for everyone.
Roller skating
Together or alone; roller skating is very good for your condition. While you are building up your condition, you also put your leg and butt muscles to work. Who wouldn't want to steal the show on the beach with a pair of toned legs and buttocks ?! Your stomach and back muscles also involved to keep your body in balance. Make sure you have good fall protection and practice braking. You can get hurt if you crash. Wheels on and go!
TRX Suspension training
This training form was created by American Navy Seals. They had no fitness equipment at their disposal and so came up with something that allowed them to stay in incredible shape. This is how 2 ropes with loops were created. Simple, but super effective! All you need is an anchor point. Think of a tree or a climbing frame in a playground. Attach the ropes and you're ready for a killer workout. You use your own body weight and gravity for this.
Do you want your core workouts? Knee tucks: Get on all four and place your feet in the loops. Then straighten your legs, putting you in a high plank position. Make sure your hands are firmly under your shoulders, tighten your core and pull your knees towards your chest. Then extend your legs again. Make sure that in the start and end position your body remains straight and your hip does not drop down. Are you ready for it? You can find a lot of exercises on the internet!
Swimming
Nice in an outdoor pool or in a suitable lake: swimming will train your whole body! If you have a good pace, you burn up to 10 calories per minute. That's over 600 calories per hour! And there is another advantage of swimming as a workout: the risk of injuries is minimal. After swimming, lie down on your bath towel and relax in the sun.
Survival training
Survival training is done at a survival club. On the internet you can easily find out if there is a club near you. Survival training is for real tough guys. With a group and a trainer you go outside and learn rope climbing, swingover over beams, monkey hang, side lianas and much more. From spring to fall there are also a lot of surival runs organized. Besides being a super fun activity, it is also a tough physical and mental ordeal. Don't confuse a survival run with an obstacle run. Survival runs often involves a lot more technique.
Jumping rope
Do you prefer to stay away from the great heights and trees? Jumping rope can be done anywhere and is very budget friendly. For a few euros you can get a suitable rope and jump yourself into shape for the summer. With a 10 minute session you can burn more than 130 to 150 calories. That's a lot more than on a treadmill! In addition to being good for your fitness and fat burning, you also work on coordination and stability. Are you looking for a challenge? Try double unders . The rope turns under you twice while you jump high once.
Cycling
The Netherlands is a real cycling country and for good reason! The Netherlands has no less than 37,000 kilometers of cycle paths! The great thing about cycling is that you can do it completely at your own pace. So if you have significant muscle pain from a heavy workout the day before, cycling is often still fine. At the same time you can enjoy the nature around you and it is the perfect way to get to know the area. Cycling is also a great sport to build up your condition. If you keep on cycling, you'll burn 480 calories in an hour.
We hope you have enough inspiration to enjoy sports outside again. Do you like to do other sports in the open air? Let us know, we are curious!