Stay Healthy
Tips & advice for holiday workouts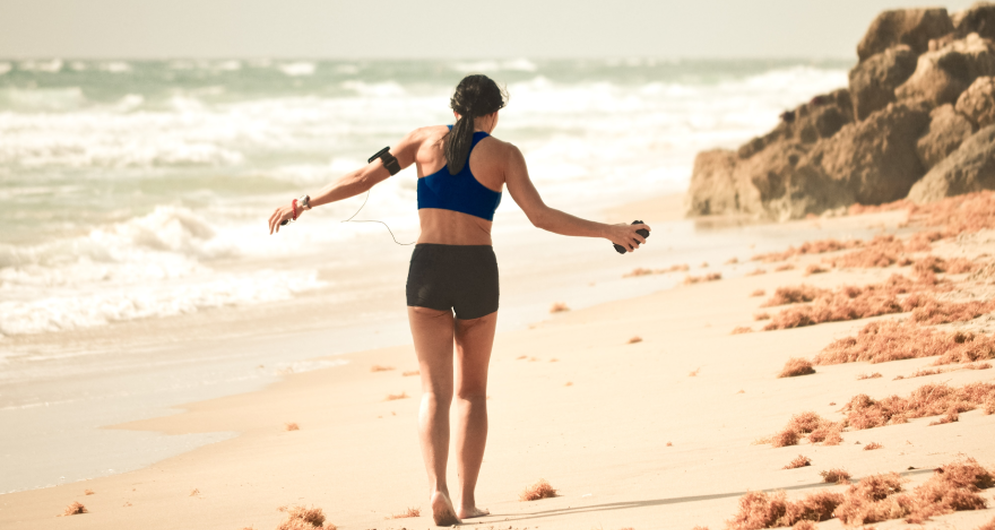 It's summer. The sun is shining more. You notice that people smile at you more in the streets (or your local gym), and everybody wants to show off their sleek, tanned bodies. But what we love the most is it's summer holiday season, which means it's also the chance to give your usual workout a break too. Why keep hitting the hotel/apartment gym when you can do something new to work out while on holiday. We've brought you 3 ways some of our fit-seeker community stay fit, even while their most pressing appointment for the week is to sit all day on the beach. It also gives some quick and easy ways to keep up most of the hard work you've put in all year, and what you can think about packing in your suitcase to make it easy for you to snack on the go, wherever you end up visiting this summer.
Sarah, 32, is an ex-competitive swimmer from Wokingham, UK
How Sarah keeps her everyday fitness going strong on summer holidays:
"I used to swim a lot as a kid, so I keep a little of my everyday fitness going when I'm on holiday by taking advantage of warm pools and seas. I'm a big fan of holidaying in places where the weather is (almost) guaranteed to be great. And swimming in the pool or sea takes me back to my competitive swim-training days which I did up to the age of 16. For me, there is nothing quite like swimming in a pool when it's completely empty, so I like to find the times that the hotel or apartment pool is quiet or completely empty and get myself in there. It can mean swimming quite late at night before getting ready to go out, or early in the morning before anyone else is up.
I also like sea swimming - it's totally different to swimming in pools with actual waves, currents, tides and weather to contend with. I'll swim out beyond my depth and then parallel to the shoreline. Getting out against the waves coming in is already a workout, once in deeper water you can do the sea swimming and get a feel of the saltwater buoyancy, see some of the sights like distant land or boats further out in the sea, and I enjoy to float around on my back before heading in and practising my body-surfing to the shore."
Body&Fit: Swimming is a great all-round sport which combines toning many different parts of your body at once with aerobic exercise. Additionally the rhythmic breathing calms your central nervous system and floods your body with muscle-powering oxygen. It is a lovely form of exercise to do in warmer climates, and if you're a strong swimmer then swimming in the sea will really work you out more than you expect. However, always make sure you don't swim in the open sea without anyone knowing where you've gone, avoid really quiet times when there is no one on the beach, check the tides and currents to make sure it's not dangerous, swim between any flags or designated areas, and try to swim at times when there are lifeguards on duty. If there isn't a lifeguard, it's a good idea to take someone with you to keep an eye on you while you swim.
Packable suitcase snacks for swimming success:
Swimming is a sport that requires a lot of extra energy as you work out many different muscles at once, but you should always eat at least half an hour before going into the pool or sea and not eat anything too heavy to avoid cramps. We advise packing some healthy snacks into your suitcase like these Smart Protein Chips. These healthy alternatives to classic crisps are high in protein and fibre while being reduced in fat. Prefer a protein bar, but are worried about the chocolate melting in your bag? This Clean Protein Bar is a great snack with a focus on 20+ grams of high quality protein, without any extras like a chocolate coating or caramel layer. Lastly, while a focus on protein is understandable, healthy fats and carbs can really help with the aerobic part of swimming. With our organic Protein Snack Mix, containing soybeans, sunflower and pumpkin seeds, you'll hit all three macros at once. These organic ingredients are additionally naturally high in magnesium, zinc and iron so also contribute to normal muscle function.
Jaap, 28 is an avid amateur bodybuilder and local sports fanatic from near Amsterdam, the Netherlands.
How Jaap changes up the gym for extreme sports when away for the summer:
"When I'm home I spend 4-5 days out of every 7 in the gym, so it's the last thing I want to do when I'm on holiday. On the other hand, I'm not the sort of guy who can sit by the pool and relax all day so I like to figure out what is nearby in terms of sport. A couple of years ago I went to Tarifa, Spain, and learned how to kitesurf. Now that's one crazy sport where you basically attach yourself to a surfboard and that's attached to a kite in the air. You use the wind to propel yourself along the sea and (when you're good enough) do these high jumps and stunts. I just learned how to do the basics, to get up on the board and keep on with the wind picking up. Last year I couldn't get back for obvious reasons, but once I can go again I hope to get even better so I can start doing the stunt part."
Body&Fit: You don't necessarily need to take up extreme sports to keep up your fitness levels, but it's nice to research what's available in the areas you're visiting before you go and make some bookings to ensure they have space. For example, in the south of France you might want to try surfing, while in Rio de Janeiro you can join a local beach volleyball team, and if you go to a lake in the UK you can do windsurfing instead of kitesurfing. Some beaches in the Netherlands do offer local kitesurfing lessons during the summer as well, on windy days.
Packable suitcase snacks for summer sportiness:
It's important to keep yourself both hydrated and full of energy while you're away doing your holiday sports. Especially if it's on the extreme side, where you'll expend a lot more energy than normal. We suggest you throw in some ready-to-drink Amino NRG + Electrolytes RTD into your bags, and perhaps some Rocket Fuel Energy Bars for that quick-release energy. It's great to make sure you have something tried and trusted on hand when you need it.
Mathilde, 24, is a dancer and yoga instructor from Paris, France
How Mathilde incorporates dance and yoga into her holiday away from home:
"I'm lucky in that my choice of exercise is very easy to do wherever I go. I can always pack my yoga mat and I usually do. Dance is also something you can do anywhere that has enough space. I like to find the coolest remote places while I'm away to put my mat down and do some intense yoga poses. Some of the best places so far have been South Africa, the Lion's Head Hike near Cape Town with a view of Table Mountain across the way, the Indonesian Borneo rainforest (that was quite some experience being 80% humidity there!), and in Bali I visited an ancient holy temple called Sewu Temple near Yogyakarta. While I was there practising some yoga in front of this amazing temple backdrop, some girls visiting from a local school came over. I ended up hitching a lift with them back to their school and giving an extra-special yoga class in their schoolyard. It was also good English practise for them — a subject they were studying. I also like to try out some different forms of dance from the countries I'm going to, so when I went to Ibiza I actually tried out some hula hooping fitness classes. I knew the basics from school when I was little, but had no idea you could make such beautiful routines with the hoop."
Body&Fit: Yoga can be done almost anywhere; simply roll out your mat and you're good to go. It's an exercise form that even if bodybuilding or endurance running is more your thing, it's good to do as it keeps up your joint mobility, flexibility and contributes to all over suppleness. It's also something your body will thank you for as you age, the younger you start with it, the easier it is to keep mobile throughout your life. Dance classes are available everywhere in the world, so why not try something new, Tango in Malta anyone? Try to enrol in a class before you head off to your holiday destination to keep yourself motivated to do it. Pack some resistance bands and you can even add a bit of resistance into a yoga or dance routine if you want to.
Packable suitcase snacks for dancing or stretching the day away:
We suggest packing Optimum Nutrition's Fruit&Nut Protein Crisp Bar and Smart Protein Drink to make sure that you can practise as long as you want without an empty stomach, and this Isotonic Sports Drink is a good one with the electrolytes needed to keep hydrated in hot or humid countries.
Many countries do offer flexible gym memberships for travellers as well. If this is still your fitness regime of choice when you're on holiday, it's fairly easy to get into a gym, be it at the hotel, a flexi local gym membership, or even to find an outside park gym. Again, we advise you to research it before you go. Enjoy your holiday this summer and most of all remember to get enough rest as well as exercising, so you can come back re-energised — ready to tackle your next few month's health and fitness goals with the motivation they deserve.