Side dish
Healthy cheat: celeriac fries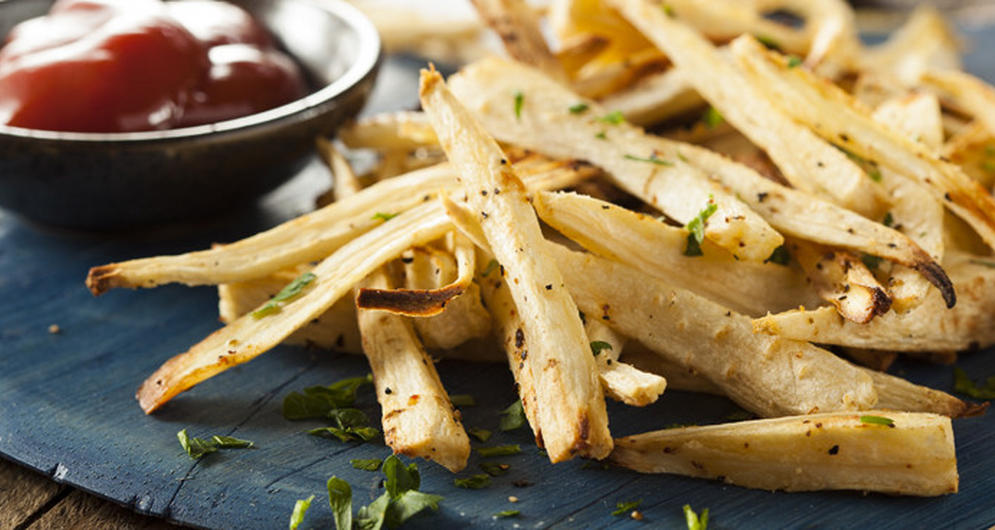 Directions
Do you want to enjoy delicious fries without feeling guilty? Then try this recipe that makes celeriac fries. It may sound a bit crazy, but it tastes really good. Celeriac is also super healthy and is packed with vitamins, minerals and fiber. Vitamin K in particular is abundant, which is known to improve the absorption of calcium in the bones.
Preparation method
Preheat the oven to 180 degrees. Cover a baking tray with a piece of parchment paper. Peel the celeriac and cut into strips so that they resemble French fries.
Put a pan on the stove and let the celeriac strips cook briefly for 3 to 4 minutes. Then drain them and pat them dry with a clean tea towel.
Put the celeriac in a bowl and spread the coconut oil, herbs, pepper and salt over it. Make sure all strips are well covered with oil and spices.
Divide the strips over the baking tray. Bake the fries in the oven for about 30 minutes until crispy. Do not forget to turn them in between.
Delicious with a yogurt dip, hummus or guacemole.
Tip! Make a nice yogurt dip with: 150 ml Greek yogurt, 1 clove of garlic, 1 tbsp parsley, pinch of salt and pepper. Deliciously fresh and creamy!