Stay Healthy
Level up your baking with Body&Fit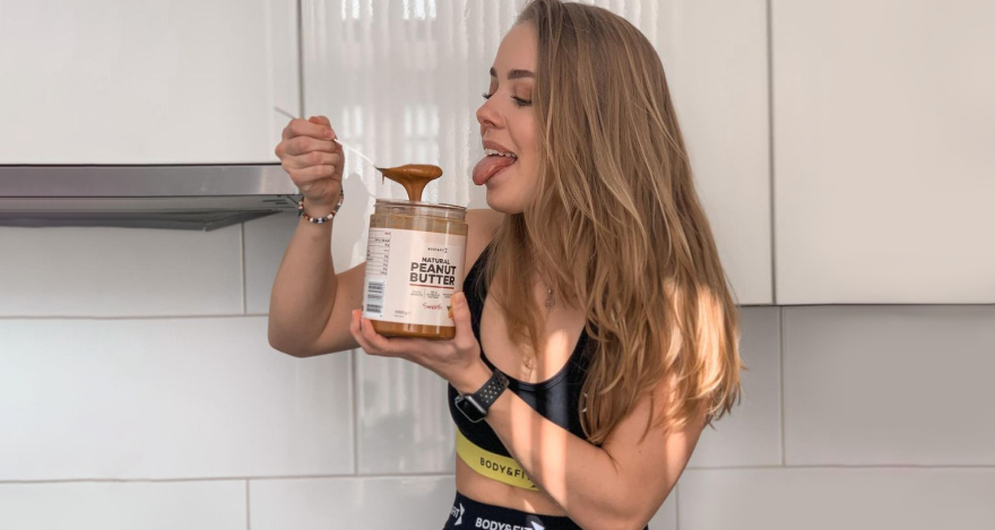 As the legendary British baker, Mary Berry, once said: "cooking and baking is both physical and mental therapy". If, like us, you're looking to give your baked goods a delicious and healthy twist, there are tons of tips and tricks out there. Plus, you'll be surprised to learn how easy some of them are. Keep reading for a selection of our favourites that we've discovered, and perfected, in the Body&Fit kitchen.
Replace butter with nut butters
Nut butters, like our Natural Peanut Butter, are a great source of protein, fibre and fat and adds way more flavour than ordinary butter. It's an easy hack for everyone preferring plant-based recipes, too. Unfortunately, peanut butter won't add air to your baked goods as well as butter. We recommend starting with replacing half of the butter your recipe calls for by a nut butter. You can get away with replacing all of it with recipes that don't require as much air, like cookies for example. Peanut butter is a classic for a reason but don't forget there's more delicious nut butters, like our Organic Almond Butter, Organic Hazelnut Butter and Organic Cashew Butter.
Give it a boost of protein
It's pretty easy to add protein powder to things like cakes, muffins, pancakes and cookies. The biggest rule to live by is to add a little extra moisture to the recipe to prevent the end result from becoming dry and rubbery. Flavourful sources of moisture are smashed bananas, thick forms of dairy, like Greek yoghurt or quark, or apple sauce. When choosing a protein powder, pay attention to whether it is sweetened. If it is, it's obviously going to add sweetness to your baking. So, you might have to compensate for that. These are our top protein powder picks for baking:
Sweetened whey protein powders to use for baking:
Unsweetened whey protein powders to use for baking:
Sweetened vegan protein powders to use for baking:
Unsweetened vegan protein powders to use for baking:
Make your life easier with a baking mix
Sometimes you want the warm comfort of home-baked goods, but don't have the time to make everything from scratch. We developed baking mixes to solve that problem. They're also low in sugar, meaning you don't have to compensate on your health and fitness goals. Try our Easy Baking mix for muffins, brownies, or cakes. All you have to do is add water! If you have a few extra minutes and fancy more flavour, add some chopped nuts and/or sugar free chocolate to the batter.
The right way to separate eggs is to… not!
If your recipe only requires egg whites, such as this Protein Granola or these Coconut Macaroons, you've probably found yourself messing around with separating eggs. We've done the hard work for you with our super convenient Liquid Egg Whites. 30g of our Liquid Egg whites is equal to one egg white, and with 500 grams in a carton, it's safe to say you'll come a long way with it.
Never use too much oil with a spray
Greasing your baking pans is a great way of preventing your cakes or muffins from sticking to the pan when you take them out of the oven. There's nothing more heart-breaking than seeing your masterpiece collapse in front of your eyes. Using a Smart Cooking Spray will make this messy task a lot easier. Even better, you're able to thinly coat your baking pan with oil so you don't use unnecessary amounts.
There's more out there than wheat flour
This requires some experimenting, but we encourage you to try substituting regular wheat flour with other types of flours. This gives your baked goods a different flavour, texture and even a different nutrient profile. Flour-heavy recipes like bread will likely be more difficult compared to things like cookies or pancakes, so give those a try first. Here are some rules of thumb for our favourite flours:
With these tips, we're sure you can take your baking skills to the next level. If you're in need of some more inspiration, check out our recipe page as well as our Instagram page for even more healthy recipe content. Don't forget to share all your successes (and failures!) and inspire our community using #LETSMOVETOGETHER on our socials.