Desserts
Sweet rhubarb crumble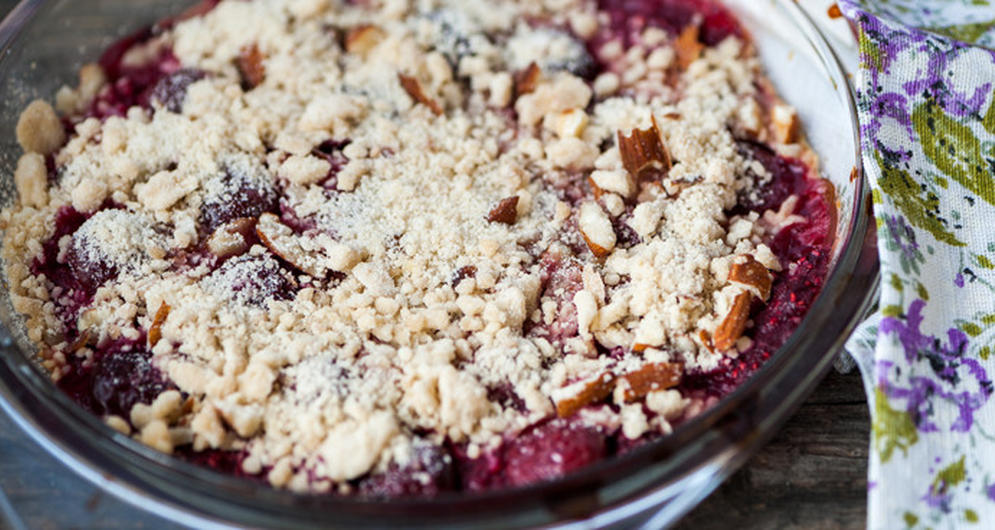 Directions
Oh yes, cake for breakfast… Can it get any better? With this recipe you don't have to worry about it being unhealthy. Only healthy ingredients are used for the rhubarb crumble. The perfect recipe for a lazy weekend morning or any other time of the week!
Rhubarb is packed with fiber, vitamins and minerals such as calcium and magnesium. Rhubarb is usually used in compote as a side dish or dessert. From now on you can also enjoy rhubarb for breakfast with this delicious cake, or at any other time of the day.
Quickly collect all the ingredients and try this irresistible rhubarb crumble. And remember, with a guilt-free cake for breakfast you start every day with a party!
Preparation method:
Preheat the oven to 180 degrees Celsius.
Cut the rhubarb into small pieces and boil it in water over low heat.
Drain the rhubarb after 5 minutes. Place it in a (not too large) baking dish and add blueberries, honey, cinnamon and orange juice. Mix this well together.
Melt the coconut oil and add oatmeal, honey, salt and vanilla powder or Natural Flavoring .
Stir everything together well to create a crumbly mix. Then spread this on top of the rhubarb mix in the baking dish.
Place the baking dish in the oven for 30 minutes until a golden brown and crispy crumb layer forms.
Let it cool down for a while and then: enjoy!
TIP : top your rhubarb crumble with quark or (coconut) yogurt to complete your breakfast.
Love, Carolina