Dinner
Emmeke's vegan chickpea curry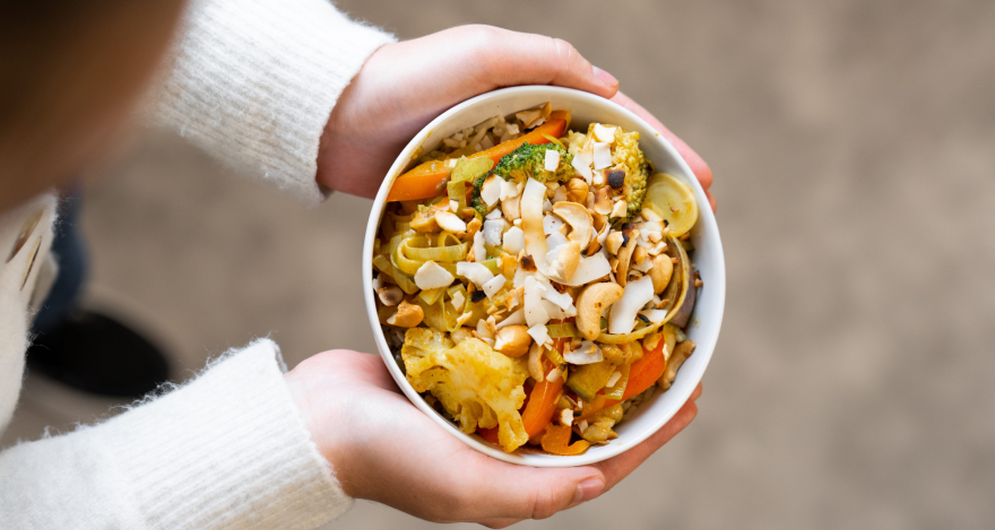 Directions
Our very own Body&Fit foodie and nutritionist writer Emmeke has been vegetarian since she was 7 years old. When hosting friends, this is her go-to recipe to showcase how good a vegetarian meal can really be. This creamy chickpea curry has tons of veggies and a delicious, crunchy topping. Best of all, it will take you just 20-25 minutes to make and is great for the Sunday food prep. It happens to be both vegetarian and vegan so it fits into any lifestyle. On top of all that, it's very tasty, filling and healthy — her non-vegetarian friends now make it regularly.

1. Cook the rice according to manufacturer's instructions. Cover until it's time to serve. Meanwhile, wash and cut up your veggies, strain the chickpeas, chop up the cashews, and dice the onion and garlic.
2. Heat the oil in a wok or frying pan and fry the onion with garlic for 2 minutes. Add in the curry paste – Emmeke usually uses a yellow Thai curry paste. Be careful with the heat, as this stuff usually burns quickly. Add your veggies and cook for another 5 minutes.
3. Add the coconut milk and chickpeas, let simmer for 5 more minutes.
4. While your curry is simmering, heat another pan without oil or butter. Toast the cashews and coconut until golden brown.
5. Serve the rice with the curry and sprinkle on your toasted cashews and coconut for the final crunchy touch.

Tips and tricks
This is a great curry recipe which you can adjust to your personal goals. Want more protein? Add tofu, egg, chicken, or beef. Need a caloric deficit for cutting? Consider switching to low-fat coconut milk or swapping half of it for water. Like an extra saucy curry? Add some extra coconut milk. Bulking? Top your curry off with an extra handful of nuts. Also, this is the perfect recipe to empty your fridge of any left-over veggies. From eggplant to bell peppers, and from Bok Choy to broccoli, you can have fun experimenting with this recipe to find your own, tasty fit.
Read more about Emmeke and how she found her foodie fit in the full blog post.