Dinner
Steak salad with grilled courgette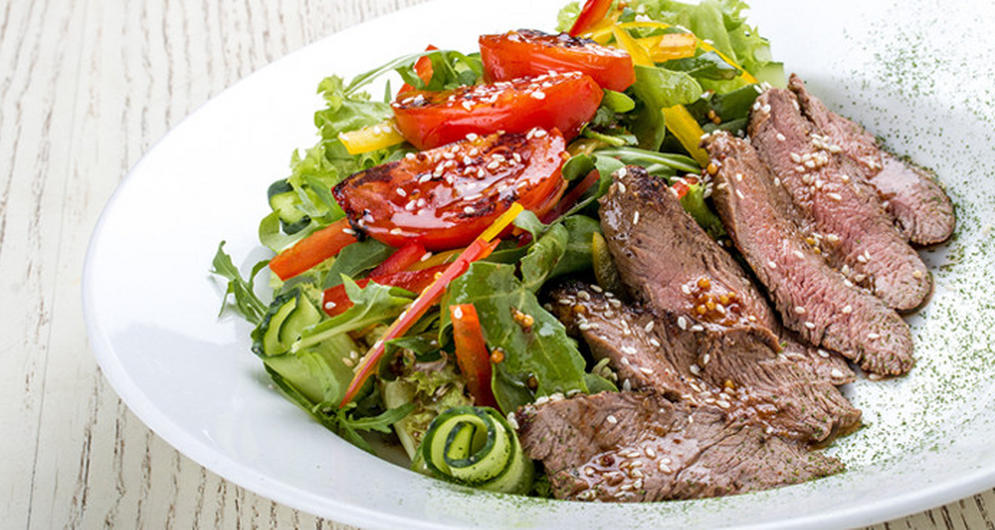 Directions
You can put this delicious salad with steak and grilled courgette on the table in no time! Deliciously filling, easy to make and super nutritious. Grilling courgette provides a delicious grill flavor and completes your salad.
Preparation method
Remove the steak from the refrigerator and let it rest for a while. Cut the courgette into long thin slices. Meanwhile, heat a grill pan on the stove with olive oil.
Grill the courgette slices in the grill pan until light brown. Set the grilled courgette aside for a while and put olive oil in the grill pan again.
Pat the steaks dry with kitchen paper and place them in the grill pan.
Fry the meat for about 5 minutes to the point desired. Flip the meat halfway through. Remove the steaks from the pan and let rest in aluminum foil for a while.
Finely chop the spring onions and halve the cherry tomatoes. Decorate the plate with lettuce, cherry tomatoes, spring onion and divide the courgette slices. Cut the steaks into strips and divide over the plates along with balsamic vinegar.
Finish the dish by adding salt and pepper to taste.