Snacks
Banana bread with a twist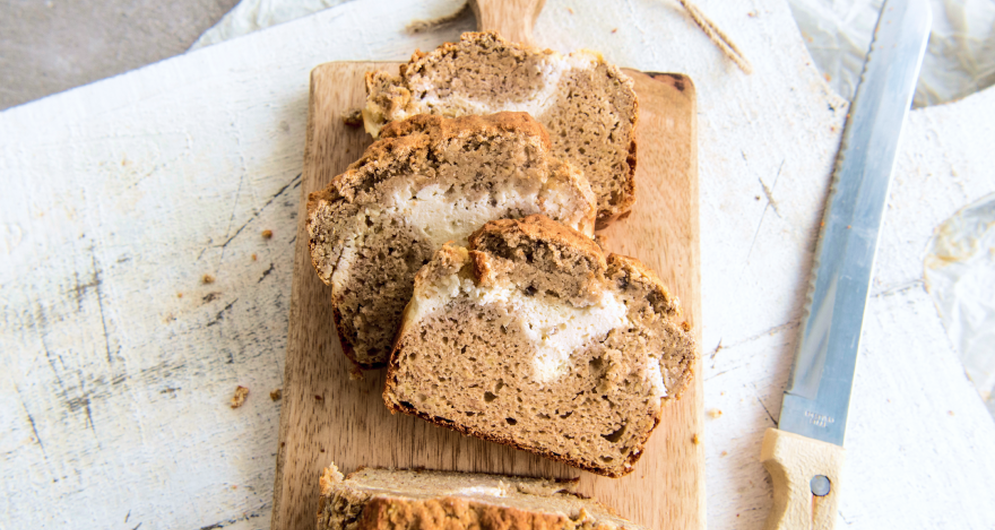 Directions
We all know the standard banana bread by now. That's why we thought it was a great idea to give this recipe a surprising twist. The cream cheese filling on the inside of the bread will blow your mind. Perfect as a snack. Who will you surprise with this fantastic recipe?
Preparation method:
Preheat the oven to 180 degrees and line the baking tin with baking paper.
Mash the bananas completely in a deep bowl with a fork. Add the eggs and beat everything well with a whisk or fork,
Then add the spelt flour , coconut flour , Whey Perfection , baking powder and a pinch of salt to this mixture and mix well with a whisk.
Does the dough stay a little dry? Then add a little bit of water to the batter.
Then start with the cream cheese filling. Mix the cream cheese with the ricotta, egg and vanilla extract until smooth.
Pour half of the banana bread batter into the baking pan.
Divide the cream cheese filling on top and spread it out a bit.
Pour the second part of the batter over this and put in the preheated oven for about 40 minutes.
Let the banana bread cool for 15 minutes before serving it.