Snacks
Choco Peanut Protein Balls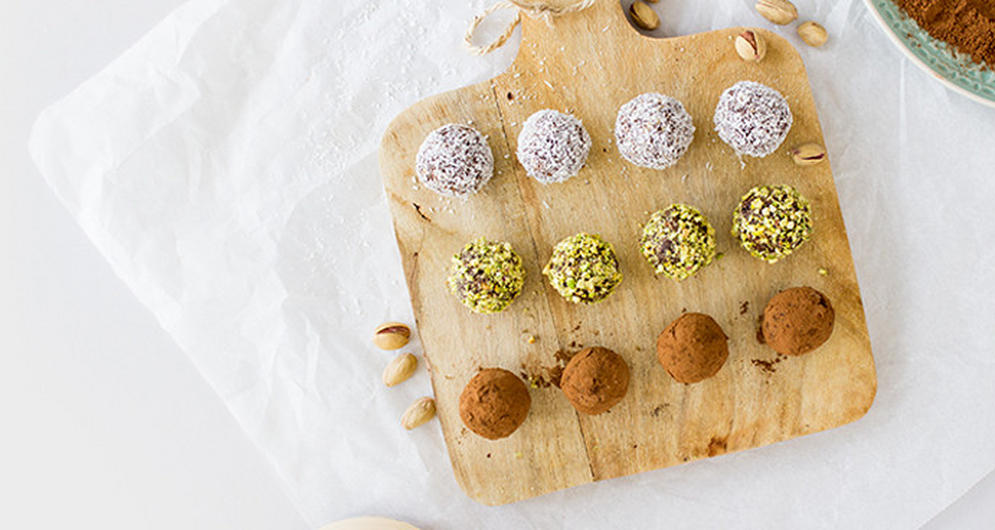 Directions
Fancy a tasty sweet snack? These Choco Peanut Protein Balls are healthy and super easy to prepare! You don't have to spend hours in the kitchen! Once you've tried these balls, you'll never want anything else. Deliciously sweet and creamy and the perfect snack for coffee or tea or to take to work. We have rolled the Choco Peanut Protein Balls through ground coconut, cocoa powder and pistachio pieces, but you can of course also use your own favorite topping.
Preparation method
Combine the Pure Dates and Pure Oat flakes in a food processor and grind.
Put the mixture in a bowl and add the Pure Cacao Powder, Natural Peanut Butter, Pure Peanut Pieces and Whey Perfection Special Series. Mix well.
If the mixture turns out to be too dry, you can add some water, this will make it a bit smoother .
Turn the mixture into 15 balls and set aside.
Peel and finely chop about 10 pistachios. Divide over a plate.
Also divide the Pure Ground Coconut and Pure Cocoa Powder separately on a plate.
Wet the balls with your hands and roll them through the Pure Ground Coconut, Pure Cacao Powder and pistachio pieces.
Tip: you can also keep them in the freezer!