Snacks
Healthy vegan nachos & cheese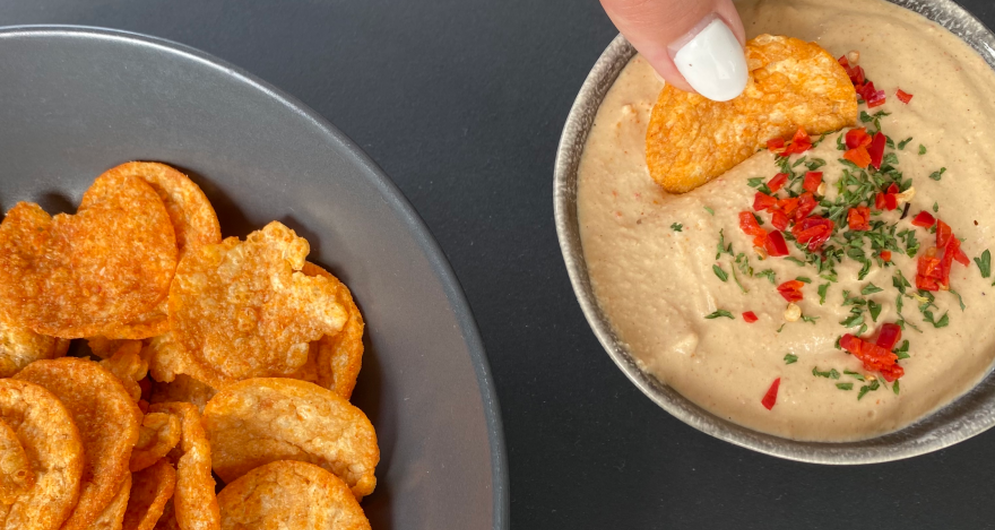 Directions
We all have our favourite meals, and vegan nachos with vegan cheese sauce is definitely always a popular one. We, at Body&Fit, like to make it easy for everyone to enjoy vegan options that are tastier and healthier than ever. Here's our tasty version of nachos with a vegan cheese sauce that's simply perfect for a summer party or any get-together with friends year-round. It'll help keep on top of your healthy eating goals while enjoying a tasty homemade snack – yum.
Put the cashews in salted boiling water, soak for 30 minutes and then drain.
Add water, nutritional yeast, garlic, salt, onion powder, chilli pepper, smoked paprika and cumin into a blender and blend until creamy.
Put the sauce into a bowl, then add the chopped chilli pepper and parsley to the cheesy sauce.
Put your Body&Fit Smart Protein Chips into a bowl and dip them into the cheese. Enjoy!
TIPS AND TRICKS
You can also make your own dippers and swap the Body&Fit Smart Protein Chips for Body&Fit Smart Wraps. You heat up the oven to 220C, cut your wraps into strips and then into 'nacho' triangles. Put your triangles onto a metal baking tray, brush with olive oil and place them in the oven to bake for about 10 minutes until golden and crisp. Keep an eye on them as they tend to crisp up fast. Want to try dipping something different? Find a recipe for a homemade guacamole and enjoy your nachos/dippers and cheese sauce with an extra avocado superfood boost.