Nutrition
16 HEALTHY SNACKS FOR EVERY MOMENT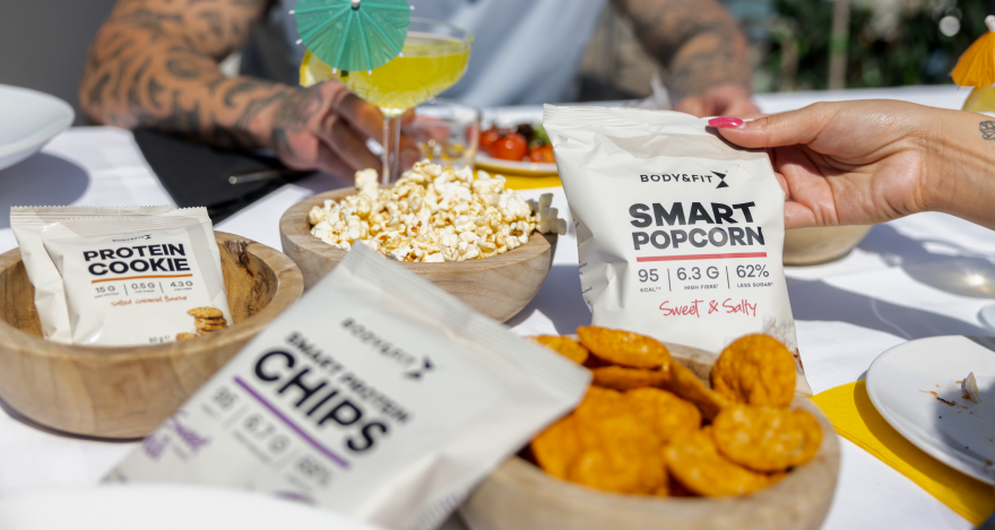 We all love a good snack, whether it's after a hard day at work, in front of a nail-biting movie or over a coffee with friends. For us, healthy snacks are a normal part of any active lifestyle, especially if you're eating intuitively or mindfully. That's why we've put together this list of delicious and healthy snacks filled with our tops picks for savoury lovers and sweet toothed snack-attackers alike. It's time to fill up that precious drawer with some low sugar, high protein goodies and get after those goals.  
HIGH PROTEIN SNACKS: PROTEIN BARS  
Healthy high protein snacks like protein bars are ideal for stashing in your gym bag, at work or enjoying when you're on the go. Plus, they're a great alternative to your everyday chocolate bar. They come in all sorts of tasty flavours like Cookie Dough & Caramel, Chocolate & Caramel and Peanut Caramel. Our most popular high protein snacks include: 
Perfection Bar Deluxe 
Our Perfection Bar Deluxe is a double layered delight containing no less than 20 grams of protein per bar. Enjoy before or after training, or any time of day, to help support the growth, maintenance and recovery of muscles.  
Smart Bar Crunchy 
There are only 164 calories in each Smart Bar Crunchy, yet we've still managed to pack in 15-18 grams of protein per bar. A simple, healthy high protein snacks that fits right into your pocket. Pretty smart, right? 
Clean Protein Bar  
You won't find any chocolate coating in our Clean Protein Bar, just 20 grams of protein, an average of 182 calories and 94% less carbohydrates than a standard chocolate bar. These bars are great high protein snacks for maintaining muscle when you're in a cutting phase or just trying to lose weight in general. 
| Snack | Kcal | Protein |
| --- | --- | --- |
| Perfection Bar (55g) | 210 | 20g |
| Smart Bar Crunchy (45g) | 164 | 15-18g |
| Clean Protein Bar (60g) | 184 | 20g |
We have many more protein bars in our range. So many that we wrote a whole article about them in fact. If you're looking for more options, you're sure to find the right Body&Fit protein bar for you here.   
EVEN MORE HEALTHY SNACKS 
As great as protein bars are, it's important to mix up your healthy snacks. Here's a selection of bestsellers from our FOOD Series — a range of delicious pantry essentials with a healthy twist. 
Chocolate Moment 
The ultimate chocolate snack, Chocolate Moment contains 86% less sugar than similar chocolate wafer bars. A generous layer of Belgian chocolate and only 105 calories per piece make it simply irresistible.   
Protein Cookies
No cookie jar is complete without a couple of our Protein Cookies. Try in Double Chocolate or Salted Caramel flavour and benefit from 15 grams of protein each time those cravings kick in.  
Protein Bites 
A bag of Protein Bites is a perfect healthy snack for movie night with friends. Alternatively, you could keep a bag of Salted Caramel at your desk to get through those afternoon dips. 
Smart Chips    
When it comes to savoury healthy snacks, you can't go wrong with a bag of Smart Chips. They're available in six great-tasting flavours and contain just 92-96 calories per pack. The secret to their more-ish crunch? We air fry them. This not only reduces the intake of harmful substances but also keeps the calories low. 
Smart Popcorn  
Another healthy snacks favourite for movie night, our Smart Popcorn is a delicious option with only 95 calories per serving and 62% less sugar than regular popcorn. 
Nuts 
Did you know that nuts naturally contain good fats? They're also satiating and keep you full for a long time. Choose walnuts, cashews or our Protein Nut Mix. Feel free to add a handful to hot and cold dishes like curries, tagines and salads. 
| Snack | Kcal | Protein |
| --- | --- | --- |
| Chocolate Moment (21,5g) | 105 | 1,5g |
| Protein Cookies (50g) | 178 | 15g |
| Protein Bites (10g) | 34 | 3,5g |
| Smart Chips (23g) | 96 | 7g |
| Smart Popcorn (24g) | 95 | 1,9g |
HEALTHY VEGAN SNACKS
The vegan lifestyle has become increasingly popular in recent years. Whether you're following a completely plant-based diet or just being more conscious about healthy snacks, you can find a range of plant-based healthy snacks at Body&Fit.  
Vegan Protein Bar  
A high-fibre, low-sugar snack, our Vegan Protein Bar is just as good as any dairy-based protein bar. It contains 20g of soy and rice protein per bar, making it an ideal way to feed those gains the vegan way. Try in salted caramel, cookie dough or banana chocolate flavours. 
Vegan Protein Cookie 
Our Vegan Protein Cookie — a delicious plant-based version of our Protein Cookie — is packed with 13g of protein per serving.  
Crunchy Chickpeas 
A super tasty high protein snack, these Crunchy Chickpeas are also high in fibre and 100% plant-based. Choose from Dark Chocolate, Hummus or Japanese Tamari flavours and feature in a smorgasbord of healthy snacks or stash them in your car for those long hungry trips. 
| Snack | Kcal | Protein |
| --- | --- | --- |
| Vegan Protein Bar (60g) | 186 | 20g |
| Vegan Protein Cookies (50g) | 178 | 13g |
| Crunchy Chickpeas (20g) | 65 | 3,5g |
MAKE YOUR OWN HEALTHY SNACKS 
What's better than a lazy Sunday spent in the kitchen cooking up some healthy snacks? Check out our recipe page for a whole bunch of easy recipes made to support your goals, like these: 
Protein donuts — not the first thing you think of when you think of a healthy snack, but with the right ingredients, you can easily whip up a more conscious version of this treat.   
Banana coconut bread — this banana bread is perfect as a side dish with a warming cup of tea or coffee and can be made in no time. Enjoy this healthy snack fresh from the oven.  
Protein brownies — not only absolutely delicious, but also full of protein. We use stevia instead of sugar and delicious coconut flakes for that little extra zing.  
Chocolate caramel ice cream — ingredients like dates, low-fat quark and dreamy dark chocolate make this the perfect healthy snack to cool off during the next heatwave.    
We're here to support your health & fitness journey every step of the way, whether it's losing weight, building muscle or simply living a healthy lifestyle. Follow us at @bodyandfit_official for even more healthy snacks ideas and news of the latest Body&Fit treats coming your way. Until then, happy snacking.  
#FINDYOURFIT