Supplements
EVERYTHING YOU NEED TO KNOW ABOUT BF10 PRE-WORKOUT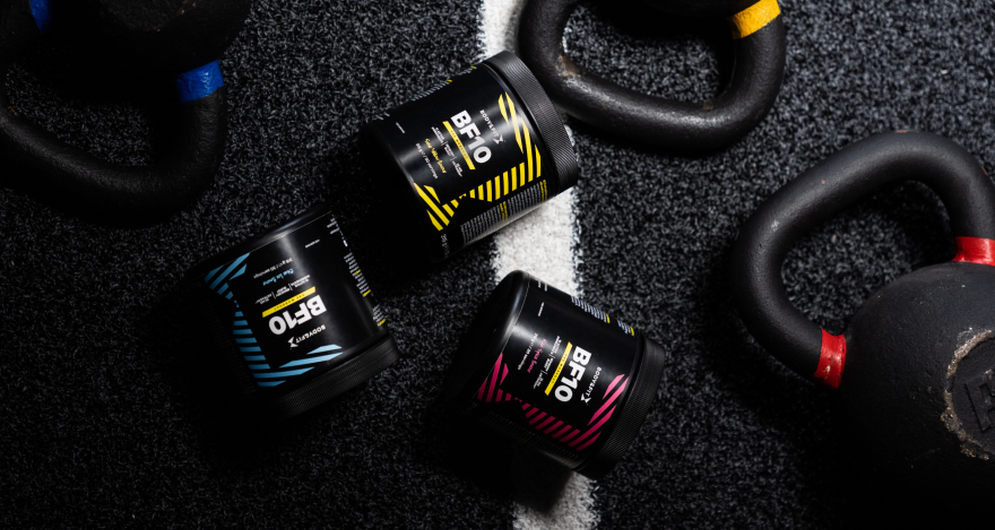 We at Body&Fit are on a mission to demystify the world of sports nutrition and inspire people all over the world to live fitter and healthier lives. We've been leading the industry for over 25 years, developing next-level performance supplements for all levels, goals and aspirations. When it came to creating a new pre-workout, we wanted to create a powerful, fun and truly unique product to give you the sustained energy, focus and alertness. The result? Our most explosive pre-workout yet! Here, you'll learn all about BF10 pre-workout and how it can energise your body, awaken your senses and inject some WOW into your pre-workout routine.
What makes BF10 pre-workout so special?
No less than 10 active ingredients power this premium Body&Fit pre-workout powder. If you use pre-workout supplements regularly, you might be familiar with some of them, such as citrulline, beta alanine, caffeine and taurine. Others, like AstraGin®, are a result of cutting-edge innovation in modern sports nutrition. Each is optimally dosed to help you push yourself to the max.
It's not only the ingredients that make BF10 pre-workout with AstraGin® a cut above the rest. The vivid colours, punchy scents and bold flavours of BF10 instantly stimulate your senses. The sharp, zesty kick from Sour Yellow, the cool rush of Blue Ice and the hot fire from Red Spice have each been engineered to bring out the 'you' who knows no limits.
See how some of our community reacted to the taste sensations of BF10's three unique flavours. 
Who is BF10 pre-workout for?
If you're a serious athlete, cross fit fanatic, or just a general gym enthusiast who loves to max out your potential with a quality pre-workout — BF10 is for you. It's optimally dosed to deliver a strong, effective and sustained boost that's not for the faint-hearted, making it ideal for experienced pre-workout users looking to try something completely unique.
New to pre-workout powders and supplements? We have a complete range of pre-workout formulations available in a variety of strengths and flavours. Our pre-workout 101 is a must read when trying to find the right one to support your health & fitness needs.
What are the 10 active ingredients in BF10 pre-workout?
We are so excited by this game-changing blend of 10 active ingredients that we just had to feature them in the name (BF10 = Body&Fit + 10)! See the list below to get the lowdown on each one and how much you'll get per serving.
AstraGin®: a 100% natural compound extracted from Astragalus root and San-qi Ginseng root. Each serving of BF10 pre-workout delivers 35mg of this patented ingredient.  

Vitamin B3: vitamin B3, also known as niacin, contributes to the reduction of tiredness and fatigue and a normal energy-yielding metabolism, so we added 40mg to every serving of BF10 pre-workout.  

Citrulline: we didn't hold back on giving you a full 4000mg dose of this expensive amino acid.  

Beta alanine: we've added 2000mg of beta-alanine, a naturally occurring amino acid, in each serving of BF10 pre-workout. 

Vitamin C: aside from helping to maintain the normal function of the immune system, vitamin C also contributes to an energy-yielding metabolism. Every serving of BF10 pre-workout contains 80mg of this essential nutrient.    

Taurine: taurine is a popular ingredient found in many well-known energy drinks. We added 315mg in each serving of BF10 pre-workout. 

Caffeine: one of the most effective stimulants in the world, caffeine has been shown to help increase alertness and improve concentration. Get a potent 200mg hit in every serving of BF10 pre-workout to get you focused for your workout. 

Tyrosine: the amino acid tyrosine is a precursor to both dopamine and noradrenaline, so you'll find 100mg of it in each serving of BF10 pre-workout.  

Vitamin B12: each serving of BF10 pre-workout contains 100mcg of vitamin B12 to help reduce tiredness and fatigue. 

Betaine: also known as trimethylglycine (TMG), betaine is a natural derivative of the amino acid glycine. Get a full 1500mg dose per serving of BF10 pre-workout.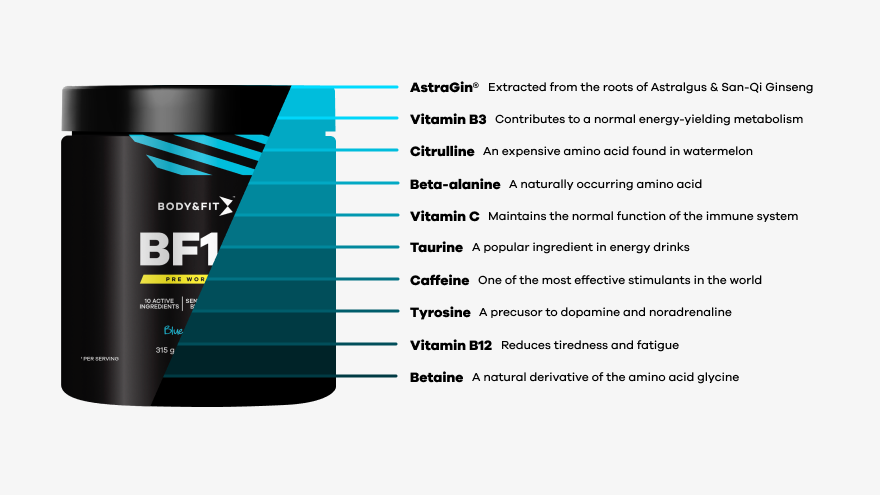 What do I feel from BF 10 pre-workout?
Unlike any other pre-workout supplement out there, this Body&Fit pre-workout with AstraGin® stimulates your body and mind right from the moment you open the tub. It all begins with the hard-hitting scents of each flavour that come bursting out. When you mix them with water, be struck by their vivid colours and the spicy, fresh and sour tastes that tingle your taste buds. It all works to awaken your senses and get you fired up for the best workout of your life.
Then, the 10 active ingredients get to work. Remember, BF10 pre-workout packs a punch, so you'll soon feel your focus, drive and energy build. It'll give you more than just a quick boost, too. We've designed the energising effects of BF10 to last the duration of your workout, from first set to final rep and beyond. 
Note: experienced pre-workout users will be familiar with the tingling feeling of beta alanine. If you've never felt this before, it's a perfectly normal effect of most pre-workout supplements (the theory is that beta-alanine activates sensory neurons in the skin).  
Is BF10 pre-workout safe?
Yes, BF10 pre-workout with beta alanine is perfectly safe for healthy adults to use. It is important, however, to follow the instructions on the packaging (the same goes for any health & fitness supplements) and keep track of the amount of caffeine you consume, especially on the days you use BF10 pre-workout. It's recommended for adults to have no more than 400mg of caffeine per day. One serving of BF10 pre-workout contains 200mg, so it's a good idea to take note of any extra coffees, teas or other supplements with caffeine you've had (or might have later on) that day.
Does BF10 pre-workout contain calories?
In general, pre-workout supplements are low in calories. A serving of BF10 contains just 2 calories and it's sugar free. If you're trying to lose weight, you can use BF10 pre-workout alongside other supplements like fat burners (again, be mindful of your caffeine intake), meal replacement shakes and glucomannan. Alternatively, you can use BF10 pre-workout in combination with bulking supplements like protein shakes, mass gainers and creatine when trying to gain weight, muscle and mass.
What is the difference between creatine and pre-workout supplements?
Although creatine and pre-workouts are different types of supplements, they are often confused, especially by those who are new to the world of sports nutrition. Pre-workout supplements are usually a blend of ingredients like vitamin B12, caffeine, beta alanine and citrulline and are made to help you push through intense workouts.
Creatine, on the other hand, is a naturally occurring substance in the body. It helps make adenosine triphosphate (ATP), which is responsible for providing energy for muscle contractions. Creatine increases physical performance in successive bursts of short-term, high intensity exercise.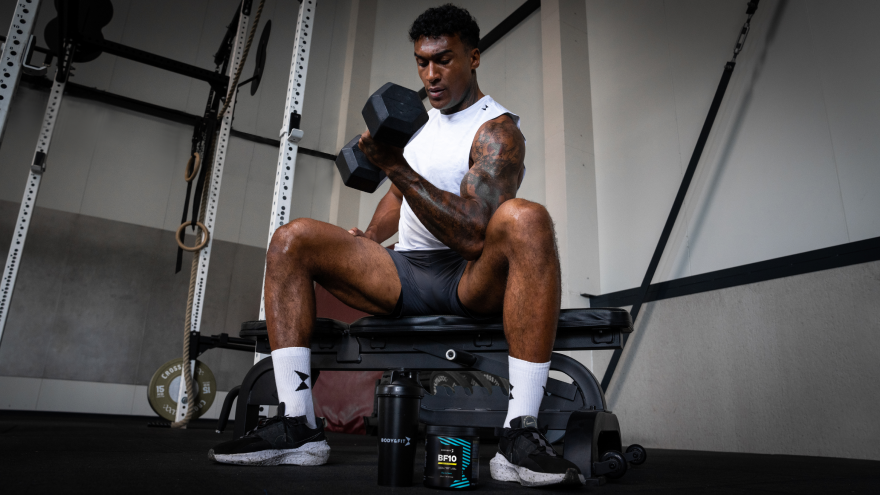 Why doesn't BF10 pre-workout have creatine?
As creatine is proven to help improve performance during high-intensity exercise, many pre-workouts contain it. These are particularly handy for users who choose to take creatine at the same time as their pre-workout, although it has no immediate effect. So, it doesn't really matter if you take creatine before, during or after exercise, as long as you take it consistently.
We left creatine out of BF10 pre-workout so you can stay on top of your intake in a way that works for you, especially on rest days when you don't necessarily need to use a pre-workout. Additionally, with separate creatine supplementation, you can decide exactly how much you want to take without being bound by the dosage of the pre-workout. Our Body&Fit Creapure® Creatine is a premium source of creatine monohydrate that's easy to add to your protein shakes, smoothies and drinks. Alternatively, if you do want a pre-workout with creatine, our Body&Fit Crazy Pre-workout contains 1320mg per serving.
When is the best time to take BF10 pre-workout?
The best time to take BF10 re-workout is around 15-30 minutes before your training session. Just mix 1 scoop (10.5 grams) with 250-300ml of water and experience the BF10 pre-workout sensation.
Energise. Awaken. Experience.
Get the sustained energy and focus to achieve all your health & fitness goals with this fun, powerful and invigorating pre-workout experience. Don't forget to let us know your favourite BF 10 pre-workout flavour by leaving a review or tagging us @bodyandfit_official, where you can also stay up to date on future product launches. Whether you're a cross fitter, weightlifter, endurance runner or general fitness enthusiast, you can always find the support you need to #FINDYOURFIT with Body&Fit.