Stay Healthy
Stay on top of healthy-eating goals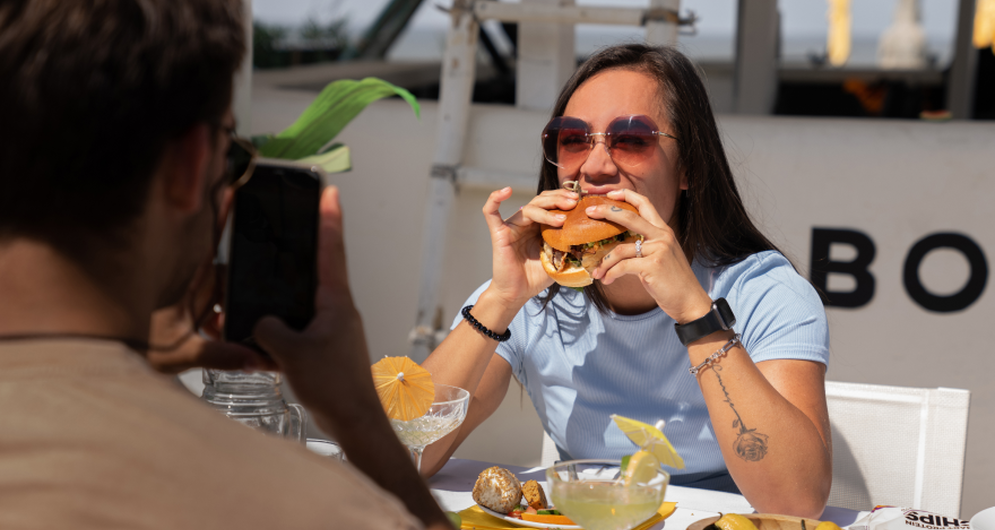 Summer has finally arrived and just like you, we're ready to live it up to the max. It's an exciting time with so much to look forward to — picnics in the park, family BBQs and, for those of us lucky enough to get away, a well-deserved holiday. If your goals end up taking a bit of a back seat, there's nothing to worry about. The past years of unexpectedness have taught us the importance of letting go and enjoying time with family and friends while the sun is shining. Still, we're here to keep everything as light as possible and help you stay on track of your health and fitness goals. Here's some creative ways to enjoy healthy meals, snacks and drinks this summer, safely in the knowledge we've got your every need covered.
Drink water… No, drink

infused

water
When the temperature gets sky high it's essential to stay hydrated. As we already know, fuelling our bodies with enough water does wonders for physical performance, energy levels and brain function. There are lots of ways to give your plain old tap water an upgrade. Experiment with infusing fresh summer fruits like grapefruit, strawberries, coconut, pomegranate, kiwi, watermelon, and herbs/spices like rosemary, mint and ginger — you get the idea. Simply chop up the day's combination, throw it in a jug of water and leave it in the fridge for an hour or two to cool off. The flavours will come together perfectly.
A quick and easy addition to water can also be adding these Body&Fit Natural Flavouring drops to your water for a zero sugar, calorie-free burst of sweetness in a range of summer flavours, including raspberry, blueberry, vanilla and banana.
Fuelling our bodies with enough water does wonders for physical performance, energy levels and brain function.
Make the great summer BBQ work for you
Is there any better way of bringing family and friends together than a summer BBQ? We don't think so. Great food, drinks, summer games and the shining sun; they're just the best. Thing is, when you've got food coming at you left, right and centre, sticking to your routine can become a challenge. Whether you're in the midst of a lean bulk programme, staying healthy, or trying to lose weight, there's always a way to make it work and still enjoy those beloved BBQ vibes.
Summer BBQs with healthy vegan food
A recent study claims that vegan BBQs are 43% healthier than meat-based BBQs. And anyway, grilled veggies are always a popular choice — which means you can still get that smokey BBQ taste even when steering clear of meat. You can throw pretty much all of your favourite veggies on the grill, from peppers to mushrooms, pak choi to sweet potato. Alternatively, enjoy with a drizzle of olive oil or cut into cubes and mix with a fresh dressing (like this top notch garlic sauce from 2BSlim) for a delicious summer salad.
What's more, you can use your grilled veggies to make your own burger buns. It's a tasty way to cut the carbs if you're trying to slim down or just be healthier for the day. Our favourites for this are portobello mushrooms, little gem lettuce leaves, or aubergine. Of course, you can always go completely bun-less but where's the fun in that?
Lean meats and staying smart this summer BBQ season
For those who are bulking up or training extra hard to reach some summer holiday goals, you can always turn to lean red meats, chicken, turkey or fish as a healthier option to fatty cuts and processed burgers. The problem is, these meats tend to be quite dry and bland all on their own. Try spicing them up with rubs like Egyptian Dukkah, Bengalese Panch Phoron, or Bulgarian Sharena Sol. Alternatively, you can use our Body&Fit Smart BBQ Sauce for more of a classic taste that's low in sugar and fat-free. They all go perfectly with healthy foods like grilled veggies, white meats or fish, and make getting your protein quota a whole lot tastier.  
For more BBQ inspiration, check out these healthy barbeque recipes from health.com. Meanwhile, when it's time for dessert our heavenly healthy Tiramisu recipe will definitely impress your friends.
Healthy foods and snacks for summer holiday
Holidays are a time to relax, sip cocktails by the beach and watch the waves roll in. You've earned it. Yet, at the same time, it doesn't mean all your hard fitness work should go to waste. Bring along some healthy foods and snacks to graze on at the beach or when you're chilling in your hotel room (like our Smart Protein Chips, an Omega, Chia and Flaxseed Mix, or even some good old-fashioned nuts). Use the heat to your advantage as big, heavy meals aren't exactly appetising under the hot sun anyway, so try to order light lunches like salads or seafood. You'll feel better for it and have more energy to go for a dip in the sea or out for a dance later on.
The same goes for thick Protein Shakes, while they're easy to throw into your case and drink when you feel like a protein hit, maybe you want to pack something more refreshing like our Body&Fit Juicy Whey Isolate to stay on top of your protein intake in a lighter way. This is ideal if you plan on hitting the hotel gym or making sure your muscles stay as maxed as possible while you lounge by the pool. You only need to mix it with water and it comes without the heaviness of standard shakes.
Holidays are a time to relax, sip cocktails by the beach and watch the waves roll in.
Mocktails are really the best new cocktail
We all know how hard it is to turn down an ice-cold beer or a G&T when the sun is beaming and the conversation is flowing. Of course, it's possible to enjoy alcohol while staying fit and healthy, but if you want to cut back on the cocktails the fun doesn't need to stop. Garden cocktail parties are big this year and mocktails are a fun and tasty way to enjoy an alcohol-free day. Check out our 5 favourite summer mocktail recipes for some fresh inspiration. There's also a whole range of alcohol-free spirits, beers and healthier options on our site, like this delicious Kombucha from Captain Kombucha. It's never been so easy to enjoy the flavours of summer.
Remember, there's no such thing as a 'cheat day'
With Body&Fit, the term 'cheat day' is really a thing of the past. Why add 'cheat' to anything that's enjoyable and part of a normal, healthy lifestyle? As soon as we start involving feelings of guilt into anything we eat, it takes away from the overall goal: creating a healthy mindset around your fit. Yes, you're allowed to enjoy the summer without feeling guilty, just as much as any other season. If anything, the long days and the nice weather it brings helps us make healthier choices and enjoy our workouts even more than ever.
Why add 'cheat' to anything that's enjoyable and part of a normal, healthy lifestyle?
It's clear there's a whole lot to look forward to this summer and, however you decide to enjoy it, do it your way. Whether it's training outside, enjoying some healthy snacks, tasty mocktails or vegan BBQs, we're here to give you all the inspiration and motivation you need to stay on track of your goals all summer long. Get out there, enjoy the sun and remember it's your summer, your fit.