Stay Healthy
5 tips for successful meal prepping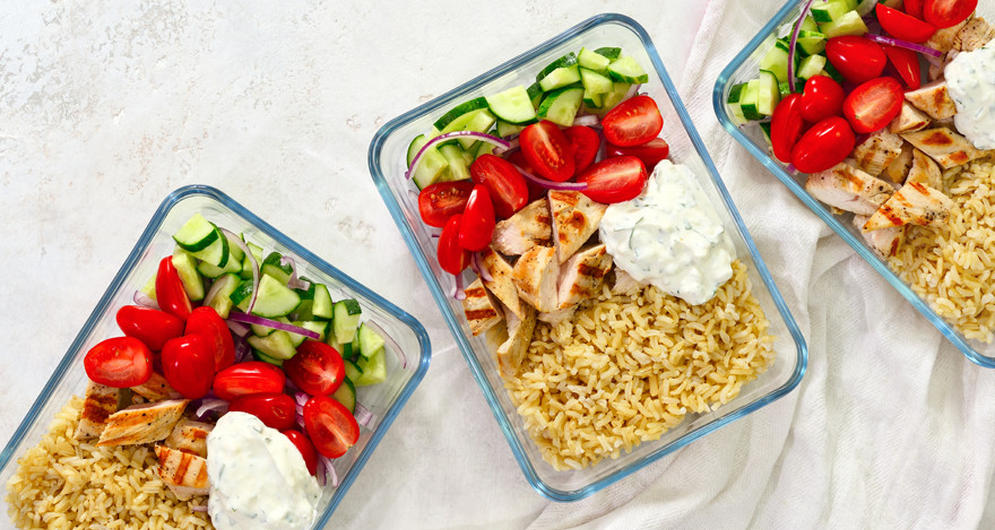 Sports, working (or studying), housekeeping, maintaining a social life, getting enough sleep and cooking every day. What if we could cram more hours into a day? Unfortunately, we cant! However, there are ways that we can manage our time more efficiently. Namely by meal prepping! Meal prepping is definitely going to make your life easier anyway.
What is meal prepping?
Meal prepping is simply preparing your meals for several days ahead. Meal prepping is not only for athletes, but for anyone who wants to use their time more efficiently.
Why meal prepping?
We said it before: meal prepping is going to make your life easier. These are the biggest advantages:
It saves time. Because you cook for several days, you only get groceries once or twice a week and you only cook once or twice a week. Yes, no more cooking in the kitchen after every long day!
You eat healthier. Because your healthy meal is already ready, you are less likely to go for a quick (often unhealthy) meal when you come home after a long day. You also do your shopping less often and are therefore less tempted to buy snacks.
You save money. You buy larger portions, which often yields benefits. You are also less likely to buy food that you do not actually need. You have planned your meals and are less likely to be found in the supermarket.
Have you become enthusiastic about meal prepping? Please take a moment to read through these 5 tips. A successful prep guaranteed.
Plan your meals
Calculate how many calories you need every day to reach your goal. Various tools can be found on the internet, for example the Harris & Benedict formula. It is also important to calculate how your macros (proteins, carbohydrates, fats) are distributed. If you search for 'Macro Calculator' you will find several websites that help you with this.
Think about what you want to eat. Do you cook for a few days or a whole week? What do you need and how much? Choose variety and eat what you like. Otherwise you will be fed up quickly! When preparing hot meals, consider if you have access to a microwave everywhere.
Then choose a day and a moment to prepare a meal and make it a routine. The first time often takes a little longer, but over time it goes faster and faster!
Ultimately, you write down the planning. This way you can quickly create a shopping list and easily adjust the plan if there is something you don't like.
2. Work efficiently
Get everything ready before you start. Containers, scales, spices and kitchen utensils. A rice cooker , airfryer or oven can make meal prep even easier.
See if you can combine tasks. For example marinating chicken while cutting vegetables, preparing sauce while rice is cooking, etc. Think about this in advance and choose your order.
3. Food containers
Food containers come in different shapes, sizes, materials and prices. So there is something for everyone! Invest in freezer and microwave resistant containers. You also want them to close properly so that no moisture escapes.
Also take into account the dimensions and shapes of the containers. Very handy if they fit in your freezer and / or bag! Square containers allow you to make optimal use of the space in your freezer.
Did you know that you can also prepare smoothies? Prepare portions of (sliced) fruit and keep them in zip lock bags. This way you only have to add liquids later. For example yogurt!
4. Shelf life
Your meals can be kept for an average of 2 days in the refrigerator. If you prepare for more than 2 days, put your meals in the freezer. How long you can keep it in the freezer differs per food.
Vegetables : cut vegetables can be kept for about 3 months. Uncut for up to 12 months.
Fruit : can be kept for up to 10 to 12 months.
Prepared meat : can be kept for 2 to 3 months.
Soup : can be kept for 3 months.
There are also products that you should not freeze. Such as; vegetables with a lot of moisture (cucumber, lettuce, tomatoes), avocado, raw potatoes, fresh herbs, yogurt and eggs in shell.
5. Which foods?
Need some inspiration? These foods always do well in your meal prep:
Vegetables : broccoli, green beans, leeks, spinach, asparagus, cauliflower, zucchini and mushrooms.
Carbohydrates : rice , sweet potato, pasta , wraps (do not freeze), noodles, quinoa .
Fats : coconut oil , peanut paste , nuts , olive oil , avocado (do not freeze), linseed (oil) .
Proteins : chicken, turkey, beef tartar or burgers, lean ground beef, canned tuna (do not freeze), tofu, eggs (do not freeze with shell), salmon, cod, pangasius, liquid egg white .
Body & Fit meal prep essentials
Liquid Egg White : super handy for your scrambled eggs, omelette or a high protein pancake!
Herbs & Spices : with these spice mixes you are a top chef in your own kitchen! Low in salt, no preservatives, no MSG (artificial flavors).
Smart Cooking Spray : delicious baking and roasting without excess calories or fat.
Organic Peanut Butter: you can use peanut butter in many dishes. For example in a sauce or as a snack on a rice cake !
Protein Nut Mix : peanuts, cashews, almonds and walnuts. Perfect as a snack or as an addition to (baking) recipes!
Smart Wraps : contain an average of 45% less carbohydrates *. Not for freezing, but you can quickly and easily turn them into a delicious meal. You can freeze filling, for example chicken or fish and vegetables.
* Smart Wraps contain an average of 45% less carbohydrates compared to commonly available tortilla wraps.